Large Flat Thai Wok, 20"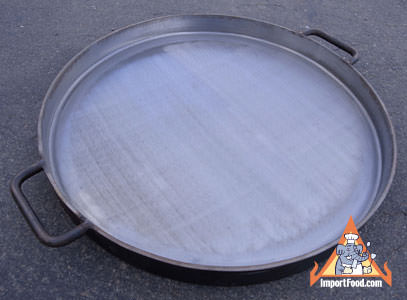 Add to cart
Large Flat Wok - $265.00

Custom-made of very thick (1/4") steel, these flat woks are made for street vendors and restaurants, not home use in Thailand. They are so large and heavy that they resemble manhole covers that you see on city streets. Weighing 45 lbs, with a massive 20" diameter, this is not something you can move around in your kitchen. It would only be suitable for a serious outdoor home chef or a commercial kitchen, or perhaps someone interested in cooking at local street fairs.
We featured the large flat wok in two street vendor videos: Hoi Tod, and Flat Wok Pad Thai. Several people emailed us to express interest in having a large flat wok, so we imported a few from Thailand. They just arrived.
We set one on top of a Tao charcoal burner, and it cooked Pad Thai nicely (see photo below). The entire wok gets hot, but the highest heat is in the center. After cooking one dish you can slide one serving to the side to keep it warm, and cook another in the center.
In Thailand these typicallly set on top of a street vendor cart or a round base made of clay, then heated with a gas burner underneath. We did not import a clay base because they are too large, but a creative person could build a base for this wok using bricks, steel (welding), etc.
Two thick solid steel handles are welded to the sides. Diameter of wok is 20". The steel is 1/4" thick. The rim around the side of the wok is 1.75" high.
You might also like our Wok Turner sold separately.
Made in Thailand.
---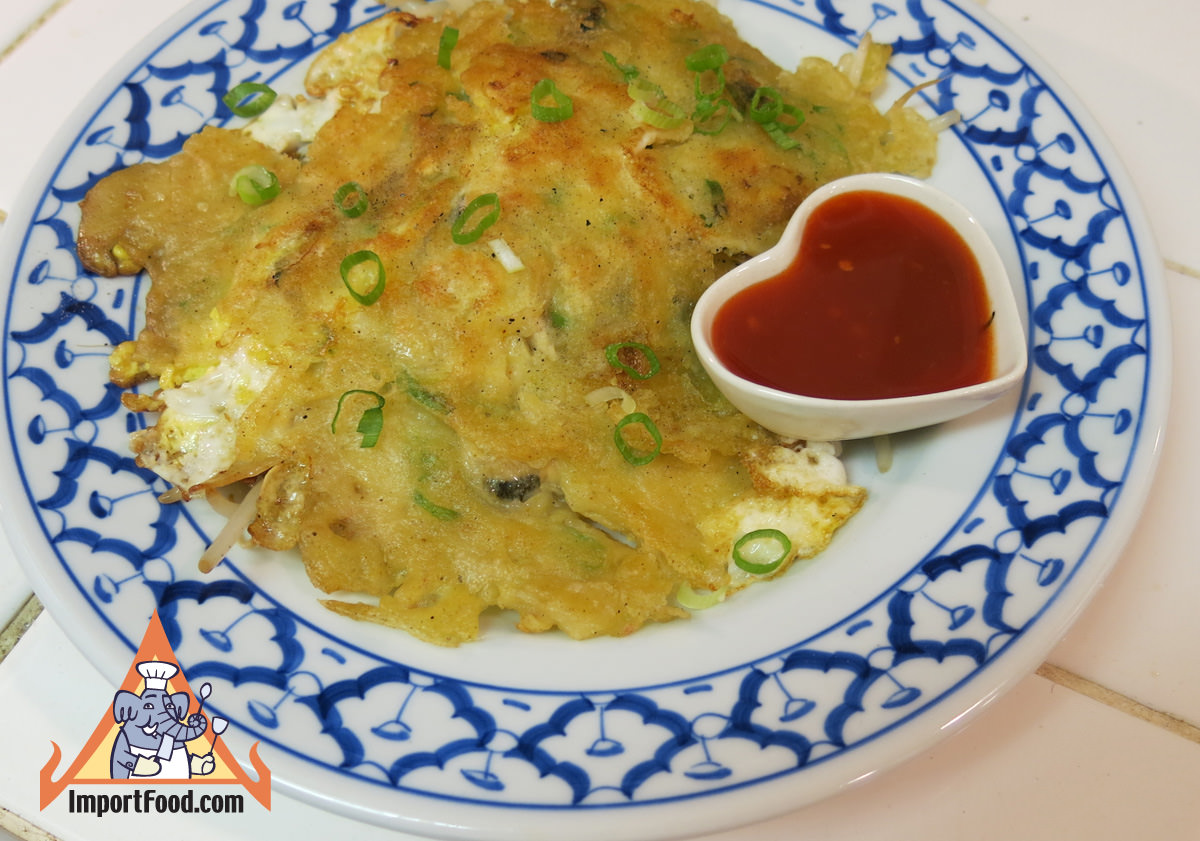 Thai-Style Fried Mussels, 'Hoi Tod'
Hoi Tod is typically a small dish and it's enjoyed all day long. Mussels are common in Thailand and served in a variety of dishes, often on pizza among the various pizza chains. Here we show our recipe for hoi tod, and scroll lower left to watch our sidewalk chef video filmed in Bangkok. NEW: We offer a large hoi tod pan (flat wok).
We mixed the ingredients together from scratch for each serving, so the ingredients below are to make one hoi tod. You can make a larger batch of the batter if you prefer, but we found it just as easy, with better results, to make a new mix for each hoi tod
---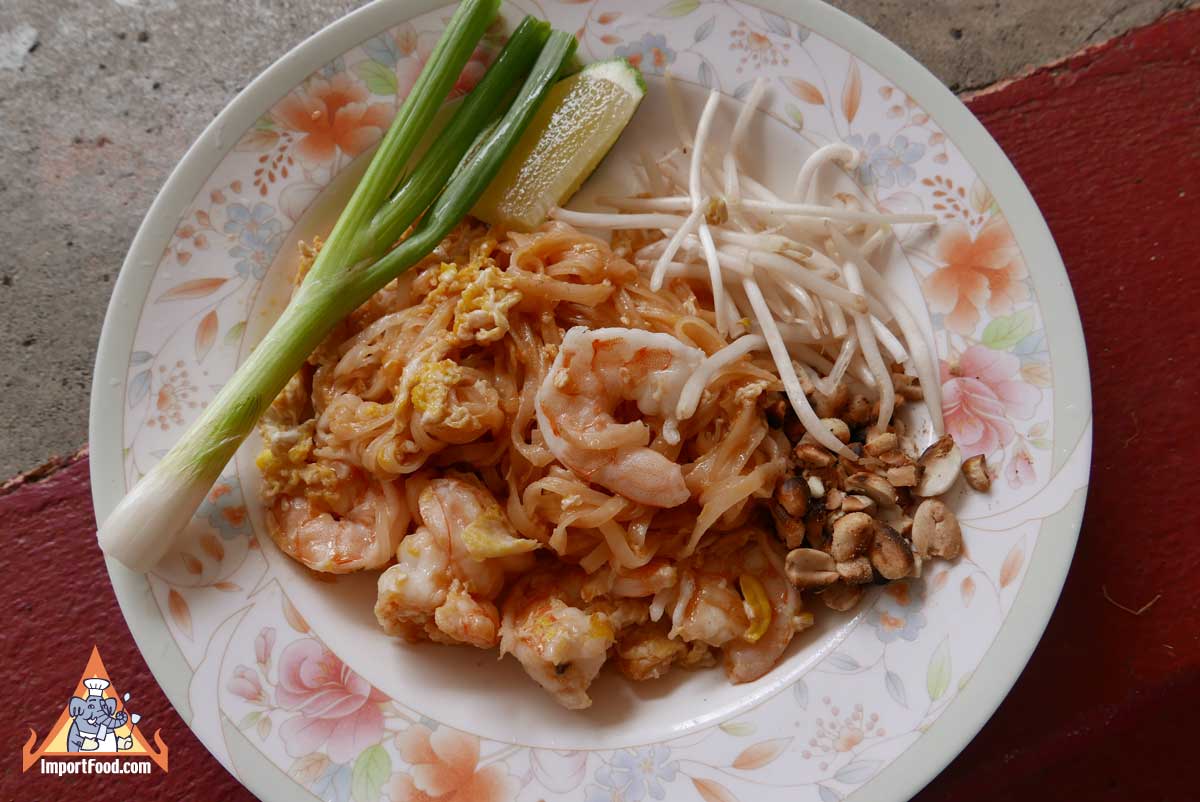 Pad Thai
Pad Thai is often called the signature dish of Thai cuisine. There are several regional variations, indeed it has been said that Thailand has not only a different curry for every day of the year, but also a different pad Thai for every cook in Thailand! This is our variation, and please see our street vendor photos & videos (below left) for others.
Also consider our Picnic Table Pad Thai Recipe
---
---
How to Season Your Wok
Seasoning a steel wok is simple, and very important because it gives your wok an all-natural non-stick coating. Food glides over the surface of a properly seasoned wok without sticking at all. This is a smoky process, so you'll need to have good ventilation or do it outside.
Cleaning. Start by thoroughly cleaning your wok. Our street vendor woks come with a sticker right in the middle of the cooking surface, inconvenient but not difficult to remove. Peel away what you can, then use fingernail polish (acetone). If you don't have any around the house, you can buy a bottle for about $1. Acetone is an organic solvent, excellent for cleaning your wok the first time. Pour 1-2 tablespoons directly into the wok and swirl it around, then scrub with a paper towel or rag. Thoroughly clean both sides of your wok this way, removing all dirt, oil and residue. Next wash it with soap and water, and wipe dry. Now you have a bare, perfectly clean steel wok ready to season.
Seasoning. Put a few tablespoons of peanut oil in your wok, and as it heats up, swirl the oil around to coat the entire inside of the wok. Let the wok get really hot (so the oil smokes), then use a folded paper towel to wipe the oil around the sides of the wok. Hold the paper towel with chopsticks or tongs. Keep doing this for a few minutes or more, pulling the wok away from the heat occasionally to wipe the oil around. Dump any remaining oil out.
Put a tablespoon or two of oil back into your wok, and add several cloves of garlic. Using garlic and/or shallots is a great way to season your wok. Put it back on the heat, this time tipping your wok so the heat goes directly onto the side of the wok. Keep spreading the oil around, and rotate the wok so the entire inside surface becomes blackened. Throw out the blackened garlic.
With 1/2 cup of oil in a dish, dip folded paper towel into the oil and start seasoning again, over medium/high heat, wiping the insides of the hot wok with oil. You can repeat this half a dozen times. After 30 minutes or so, the entire inside of the wok is nice and brown/black. This coating is essentially carbon, and is no risk to your health. Congratulations! You've created a homemade nonstick surface, naturally.
Our Thai Street Vendor Wok sticker says the following in Thai language: 1. For the first use. Roast your wok by turn it over on top of the fire for 10 minutes keep moving until all turn to dark gray evenly. 2. Clean and wipe dry then roast your wok same way above for 20 minutes until the wok color change to dark brown. 3. Clean and wipe dry.
Care. Never scrub your wok with a scouring pad, as it will remove the seasoning. Just use water and a mild sponge after use, and wipe dry. Restaurant chefs simply pour water into a wok after each dish is prepared, bring the water to a quick boil, wipe the wok with a bamboo brush, dump the water and start the next dish. If your wok is used infrequently, wipe the dry wok with vegetable oil and this will prevent rust in storage.
Wok Seasoning Tips from Ronald in Holland. Ok, I'll try my best English here. Obviously I didn't buy a wok set from these guys because I live in Holland. Then again I recognized the brand they sell immediately. It's slightly thicker than China wok sets. Go ahead and buy them if your serious about cooking. By all means you won't regret it. Don't ever think you have a wok burner in your home similar to what street vendors have. That's where the thicker carbon steel is a plus. Fortunately I have a stove with a reasonable large burner but I never lower the heat, instead I take the wok away from the heat for short moments. (Never touch the controls!)
About seasoning: Use detergent only once with hot water to remove oil residue etc. Flush/rinse and set your gas-burner to the max and leave it this way. Now really burn-in your wok. Making sure the flames hit every corner (if any) on your wok. Typical colouring should appear (OCC exhaust type) when you think you're done, continue until the steel turns nearly dark, and turn of the heat. Now moisten? (slightly wet) a paper towel with good quality sesame oil or if you're allergic to that, sunflower oil. Rub the inside of your wok with this towel, it should smoke a lot. That's it you're done. Cleaning: Bamboo brush and hot water, goodbye Mr. Muscle and other crxp!. Enjoy!
Do I need to tell you more. Yes I'm afraid so. Get yourself 3 woks! 1 for sweet and sour dishes. 1 for spicy either meat or fish dishes. Finally 1 for egg/omelet dishes and only for that!. You can use your meat/fish; wok for noodles and or rice recipes just as long as you remember to make it piping hot!