Honey Panko Bread Crumbs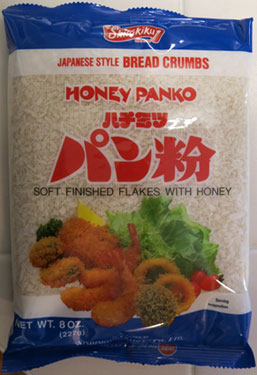 Add to cart
Temporarily Out of Stock

Honey Panko Japanese bread crumbs are used to coat foods before frying. Mostly used for dishes such as Tonkatsu, Lovely to eat with Sugarcane Prawns also. Deep fried shrimp, meat, and vegetables. The crumb offers a light and airy appearance and produces crunchy crust.
We are pleased to offer these premium quality imported from Japan Shirakiku brand.
Ingredients: wheat flour, water, shortening (palm oil, rapeseed oil), yeast, honey, glucose, salt. yeast food (wheat flour, corn starch, salt, ammonium chloride, calcium sulfate, L-ascorbic acid, amylase from aspergillus oryzae, magnesium sulfate).
One 8 oz package is enough to feed several people. We suggest you order a few packages to have it on hand for when you need it.
We recommend this product in the following ImportFood.com Japanese recipes