Thai coconut milk, Aroy-D Preservative Free 14 oz can
Thai coconut milk, Aroy-D Preservative Free 14 oz can
Add to cart
$2.89-14oz can

Expect excellent coconut flavor and consistency from Aroy-D canned coconut milk. Aroy-D is famous throughout Thailand, and the parent company is Thai Agri Foods which is one of the few truly "premium" food processors in Thailand using the finest state-of-the-art machinery.
This canned coconut milk is all natural and has no preservatives. Ingredients: coconut extract 60%, water
We also offer:
Savoy (Aroy-d) Coconut Cream, cans
Chaokoh Coconut Milk, cans
We always have the freshest stock on hand. Coconut milk is prevalent in Thai cooking, from main dish to appetizer to dessert. Below are just some of the many recipes that require coconut milk, find much more in our Thai recipe section.
Ingredients: coconut milk 55%, water, potassium metabisulfite (as perservative). Unsweetened.
Product of Thailand.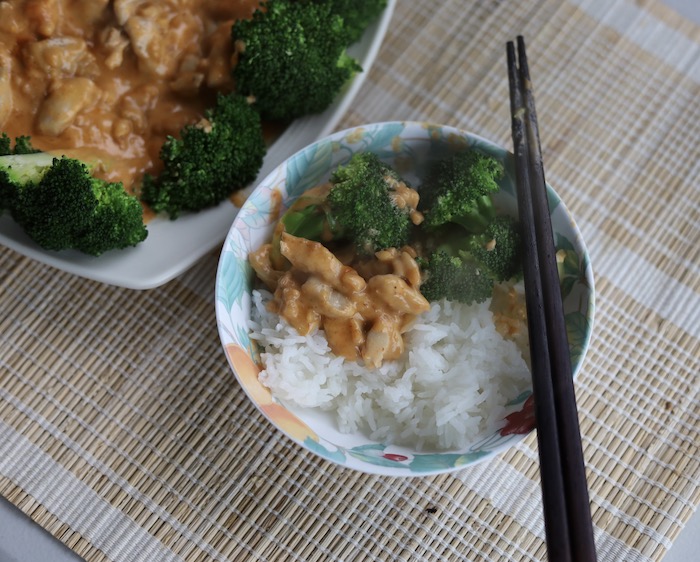 Thai Rama Chicken, 'Praram Long Song'
This dish dates to the time of King Rama 5, about 140 years ago. Originally it was made with beef, but nowadays pork and chicken are often used. Praram is a name for the God Rama, or King Rama, in The Ramkian. The Ramakian is the Thai version of an Indian Hundu epic written 2000 years ago. Long Song translates as 'take a shower'.
Praram Long Song is a popular dish in American Thai restaurants, but not often found in Thailand. Americans are fond of the peanut sauce, and in our recipe it's quite delicious. Sometimes called Swimming Rama, you can use broccoli, spinach, or other greens of your choice.
---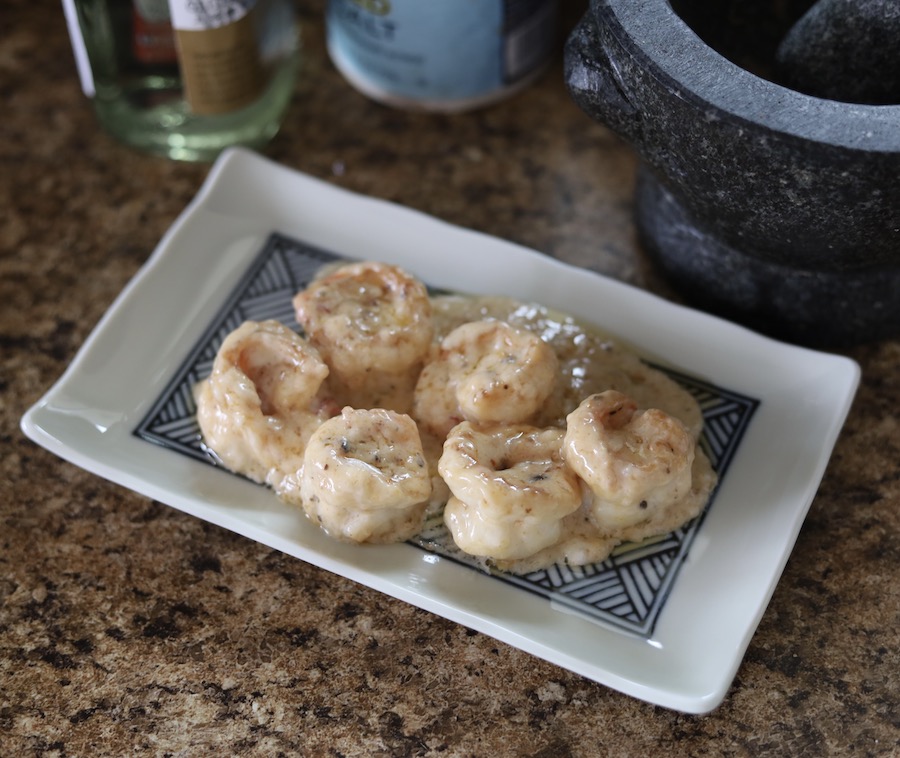 Thai Coconut Shrimp
Our coconut shrimp recipe made with all natural coconut milk, sweetened and simmered then poured over large shrimp that we prepare two different styles - 1/fried in butter, and 2/deep fried in oil in tempura batter. We love both styles and highly recommend this recipe.
---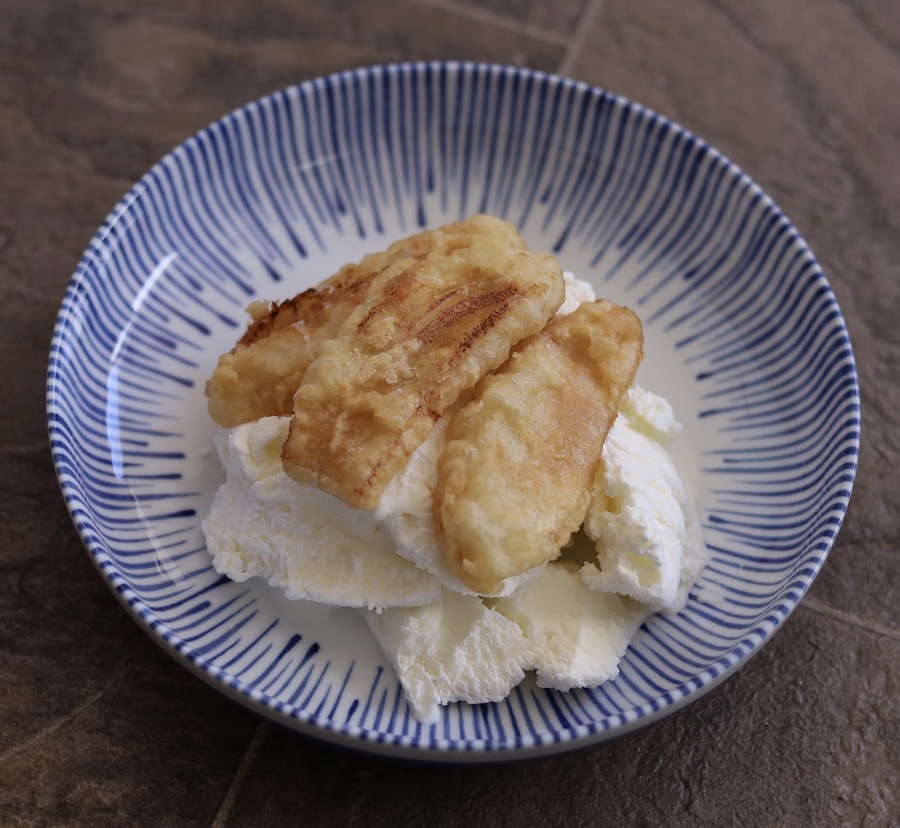 Thai Crispy Fried Bananas Over Ice Cream
These fried bananas were a smash it at a recent weekend get-together; everyone wanted to know the recipe.
---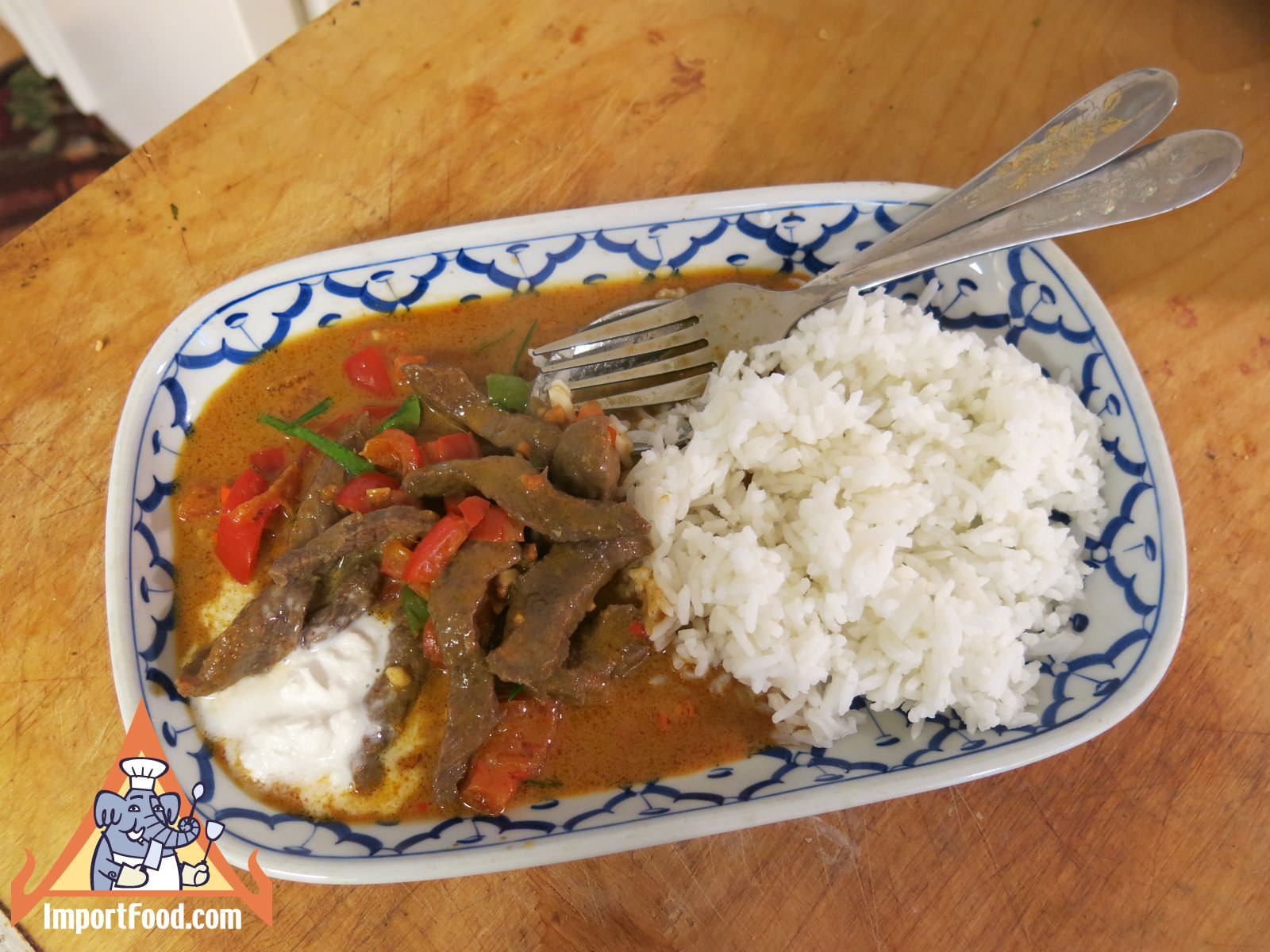 Thai Panang Beef
Panang beef is one of those recipes that everyone loves, whether it's kids or grandparents, college students or anyone else from any country in the world. Rich herbal flavors inspired by Indian influence in Thailand, and adapted to give it a unique Thai flavor.
Unlike some Thai recipes that take a great deal of time to prepare, a delicious panang can be made in minutes using a handful of key ingredients. Here we've prepared a simple recipe that's sure to be a popular favorite. It's best prepared with the highest quality coconut milk with higher fat, such as our 100% pure Chaokoh coconut cream.
We also have a recipe for panang chicken but beef is probably the best way to enjoy panang. In photos below, notice we demonstrate making panang beef on two different occasions, the second time we usedchee fah chile peppers in addition to red bell.
---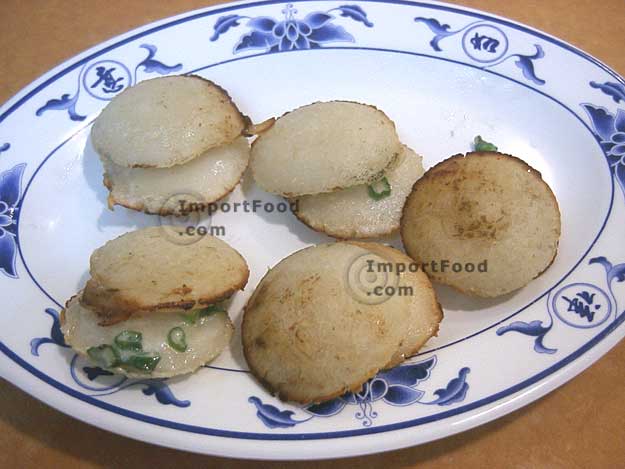 Thai Coconut Pudding, 'Khanom Krok'
Kanom Krok is a special coconut pudding that's unique to Thailand, often prepared on the street-side by vendors who make it to order (see our street vendor video below). There are different minor variations, depending on the chef, and it's always prepared in a cast iron kanom krok pan, which we offer.
Usually the pan is placed directly over charcoal in a round clay oven same as our Tao Burner (see photos below), but the pan works fine on a gas range or electric stove-top. We recommend making sure the pan is thoroughly heated but over medium (not high) heat.
---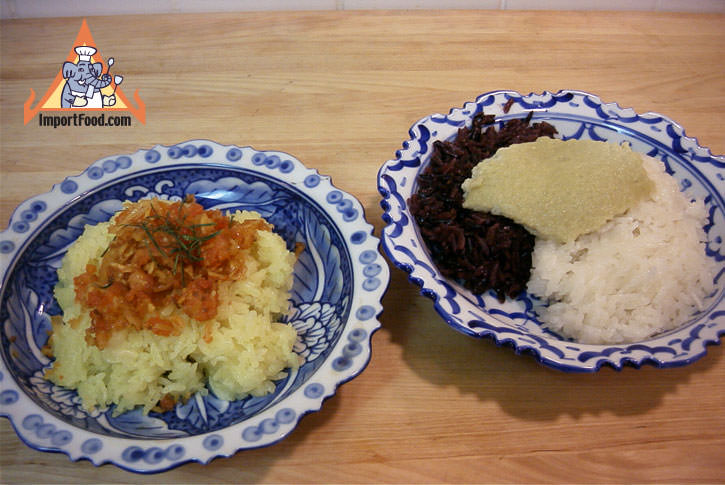 Thai Sticky Rice Steeped in Coconut Milk, 'Khao Neeo Moon'
Khao neeo moon is a truly authentic Thai recipe. Mixing sweet dessert rice with a sugary seafood topping might seem like a bizarre combination that Food Network might sensationalize on one of their celebrity shows. Yet this is a favorite of Thailand found throughout the country, made interesting by a variety of toppings. Here we demonstrate how to make the rice, and two of the more common toppings.
We prepared the rice in three colors. White, black (using black rice), and yellow (white rice colored with turmeric). In Thai tradition, the shrimp topping should go on the yellow rice.
---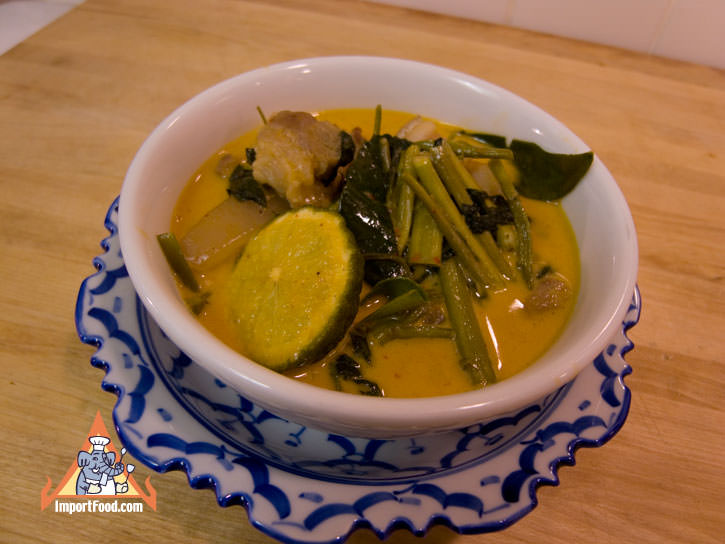 Gaeng Tay Poe
This delicious recipe is unique because it uses the whole kaffir lime fruit, which is uncommon in Thai curry. It's one of our family favorites. Gaeng Tay Po has wonderful crossover appeal for people who might come from a European-American background. The citrusy flavor, combined with the gentle and sharp flavor of kaeng kua, and the emphasis on using healthy crispy greens, all create a very satisfying meal. This should be a best seller at most Thai restaurants, perhaps it just hasn't yet caught on. Try to use the real morning glory (see photo and comment below, called Pak Boong in Thai).
Tay Po refers to the fish that was used in the past for this recipe, pangasius lamaudii (black-ear catfish), but the fish has such a strong smell that nowadays people use belly pork.
---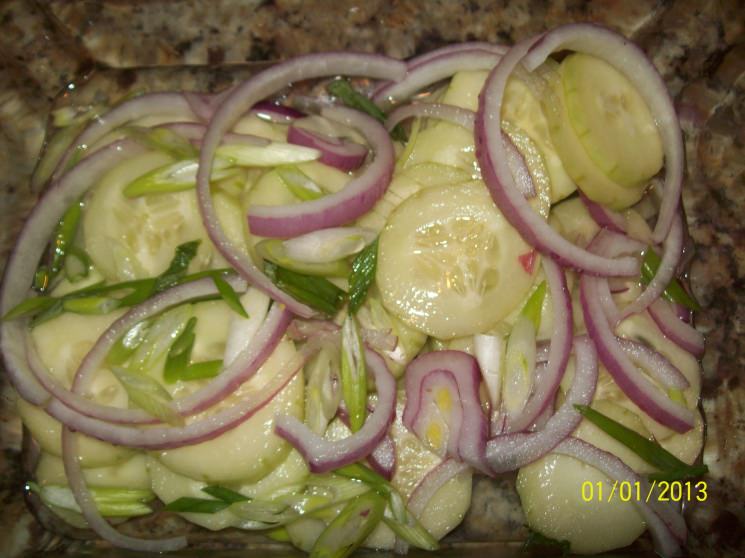 Thai-Style Peanut Sauce, 'Nam Jim Satay'
Peanut sauce is actually of Malaysian or Indonesian origin. Very few dishes served in Thailand actually use peanut sauce but it has become a very popular part of American-Thai food. The peanut sauce below is our favorite variation. If you prefer, peanut butter can be used rather than fresh peanuts.
A quick and delicious substitute to the recipe below is our Lobo brand satay seasoning mix (peanut sauce mix). We also offer Por Kwan brand peanut sauce. Imported from Thailand and made of the finest quality ingredients.
---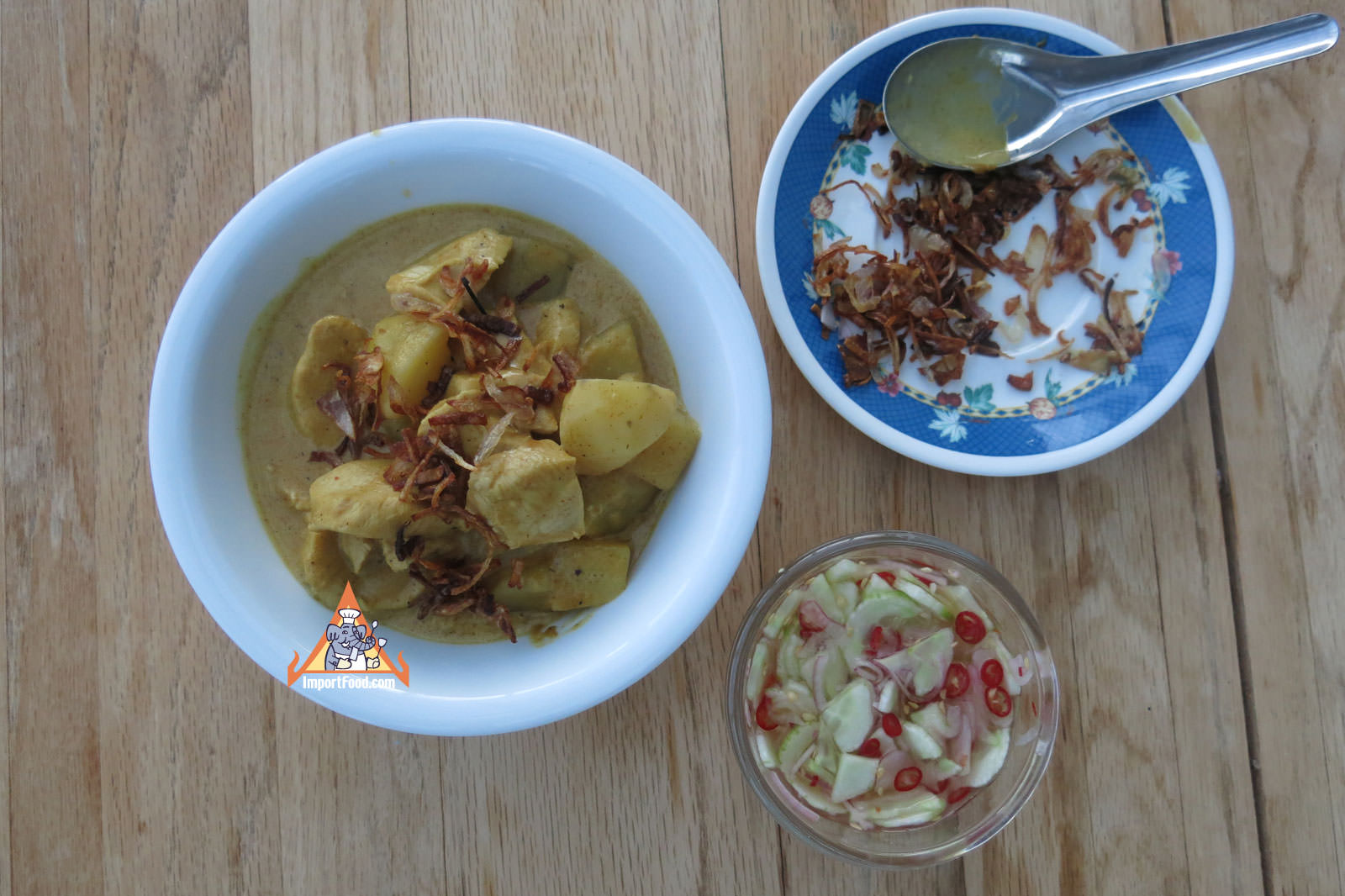 Thai Yellow Curry Chicken, 'Gaeng Karee Gai'
The flavor of yellow curry paste is not much different than red or green, however we've recently discovered how much we like yellow curry. Yellow curry makes vegetables taste great in our opinion, and we've been eating more vegetables and less meat these days. Here is a basic Thai yellow curry with chicken and potato. It's also good with bell pepper, butternut squash, or any seasonal vegetable of your choice. Serve a generous portion and watch it disappear.
---