Gaeng Tay Poe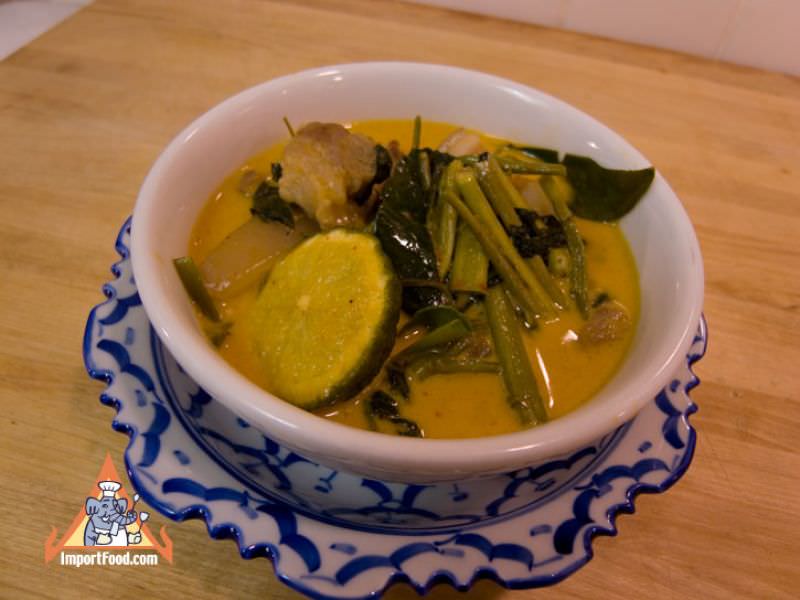 This delicious recipe is unique because it uses the whole kaffir lime fruit, which is uncommon in Thai curry. It's one of our family favorites. Gaeng Tay Po has wonderful crossover appeal for people who might come from a European-American background. The citrusy flavor, combined with the gentle and sharp flavor of kaeng kua, and the emphasis on using healthy crispy greens, all create a very satisfying meal. This should be a best seller at most Thai restaurants, perhaps it just hasn't yet caught on. Try to use the real morning glory (see photo and comment below, called Pak Boong in Thai).
Tay Po refers to the fish that was used in the past for this recipe, pangasius lamaudii (black-ear catfish), but the fish has such a strong smell that nowadays people use belly pork.
Method for Gaeng Tay Poe
Heat a wok over medium heat add about 3/4 coconut cream from the can. Let it cook until oil comes up to the surface (about 7-8 minutes). Add kaeng kua curry paste, and stir fry until fuly incorporated and fragrant about 5 minutes. Oil will start to show up on top of the liquid. Add pork, and stir fry until well blended into the curry paste. About 7 minutes. The pork will appear coated in a thick curry paste, as shown in photo.
Gradually, pour in 3 cups of coconut milk, and season with palm sugar, fish sauce, tamarind juice and salt, then turn the heat up to high. Bring it to a strong boil then reduce heat a bit, and add the morning glory. Let cook about 5 minutes. Add Kaffir limes, kaffir lime leaves and the rest of the coconut cream. Stir until incorporated. Remove from heat. Serve with steamed Thai jasmine rice. Enjoy!
Add kaeng kua to boiling coconut milk
Mix well and fully incorporate
Whole kaffir lime and leaves

Reviews