Thai Panang Curry Paste - Mae Pranom
Thai Panang Curry Paste - Mae Pranom
Add to cart
$8.95-14oz

After extensive planning to find a premium Thai curry paste better than former favorite Hand Brand, we've imported to America for the first time Mae Pranom all natural panang curry paste.
Heat level is 'Medium". Flavor is rich, elegant, and bright. The recipe is tried-and-true, freshest ingredients, so you can make the very best panang.
Ingredients: dried chilli, garlic, onion, lemongrass, galangal, salt, kaffir lime skin, shrimp paste, coriander seed.
No preservatives. No artificial colors. No msg.
Made in Thailand.
What makes it the best we've ever offered? Mae Pranom only produces curry paste with the freshest ingredients from their network of farmers, dating back to when they started in 1959. We visited Mae Pranom ourselves and noted the incredibly clean work areas, and employees in ultra sanitary uniforms meticulously sorting, cleaning and prepping the daily fresh harvest coming in to produce the product. The Mae Pranom offices look like a traditional teak palace, true to their devotion to authentic products.
In terms of pricing, the wholesale price more than double mass-produced Mae Ploy but 14oz goes a long way so it's not that expensive per serving. You get what you pay for in the end.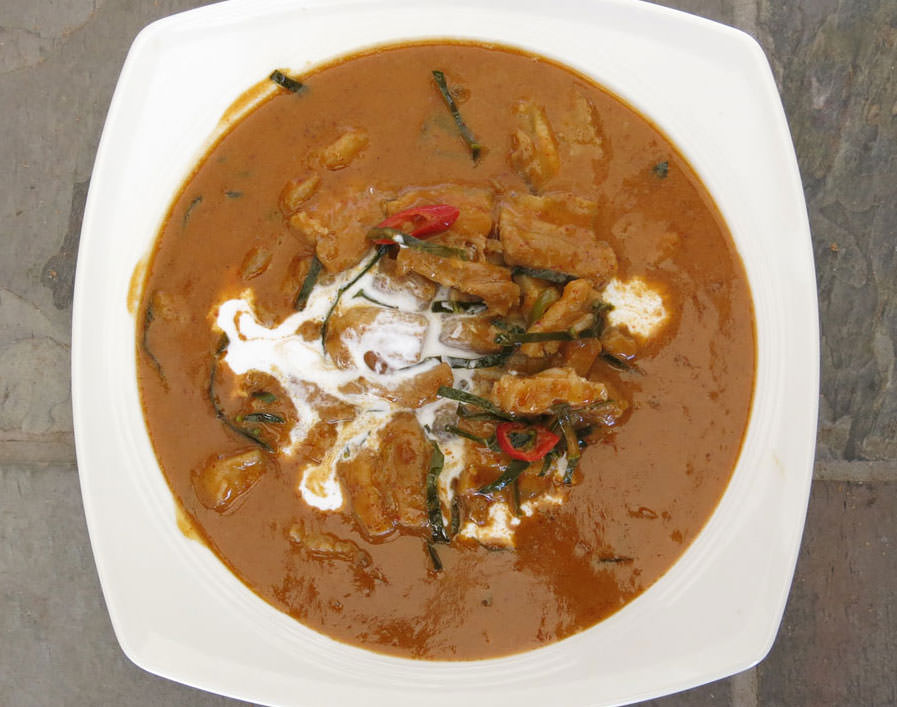 Thai Panang Pork - Mae Pranom
We made this using some pork belly we got at a local grocery store. We sliced it as shown in photo below. Prepared slowly with our new, premium, all-natural panang curry paste from Mae Pranom and the best coconut milk and palm sugar.
---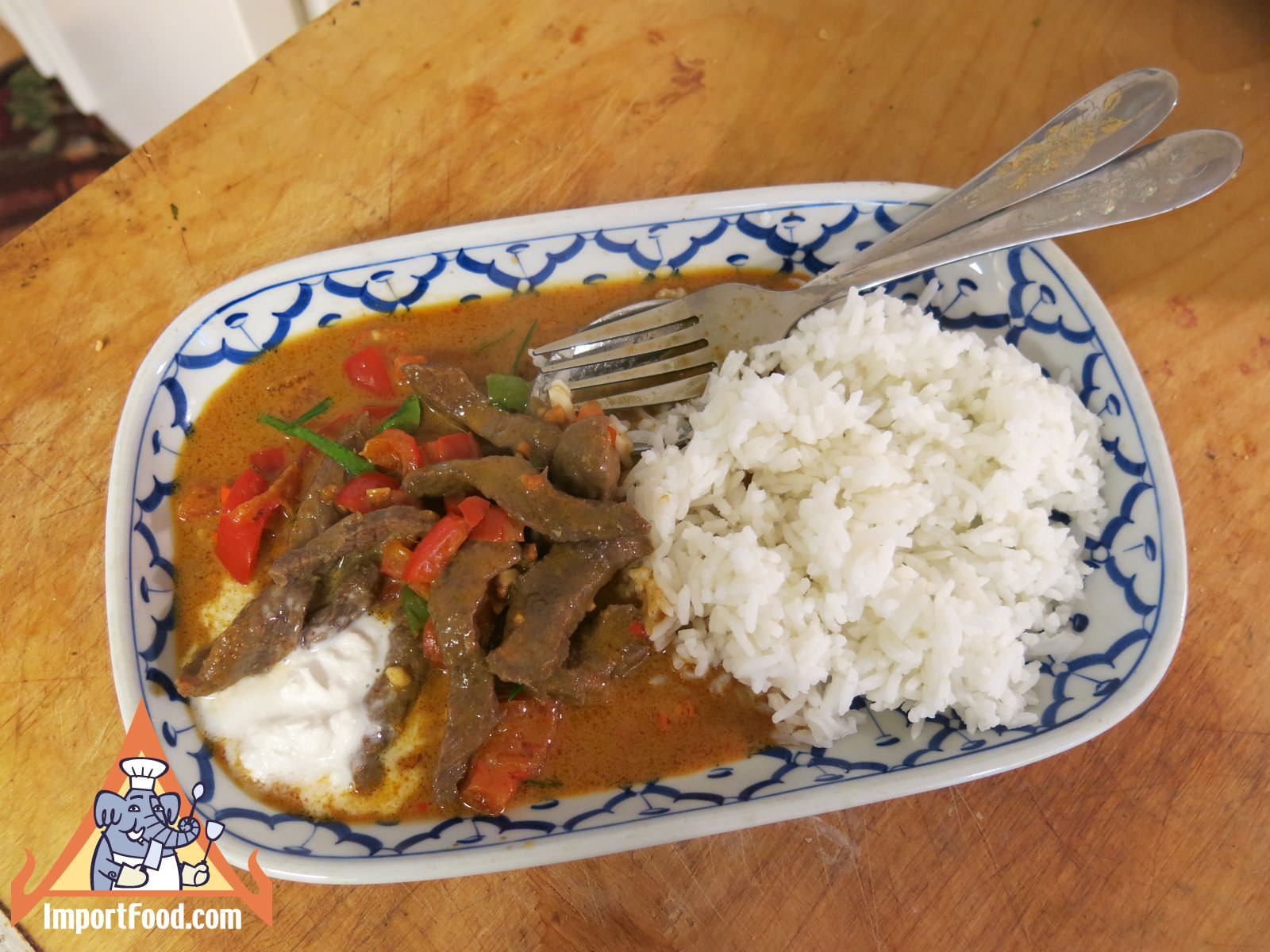 Thai Panang Beef
Panang beef is one of those recipes that everyone loves, whether it's kids or grandparents, college students or anyone else from any country in the world. Rich herbal flavors inspired by Indian influence in Thailand, and adapted to give it a unique Thai flavor.
Unlike some Thai recipes that take a great deal of time to prepare, a delicious panang can be made in minutes using a handful of key ingredients. Here we've prepared a simple recipe that's sure to be a popular favorite. It's best prepared with the highest quality coconut milk with higher fat, such as our 100% pure Chaokoh coconut cream.
We also have a recipe for panang chicken but beef is probably the best way to enjoy panang. In photos below, notice we demonstrate making panang beef on two different occasions, the second time we usedchee fah chile peppers in addition to red bell.
---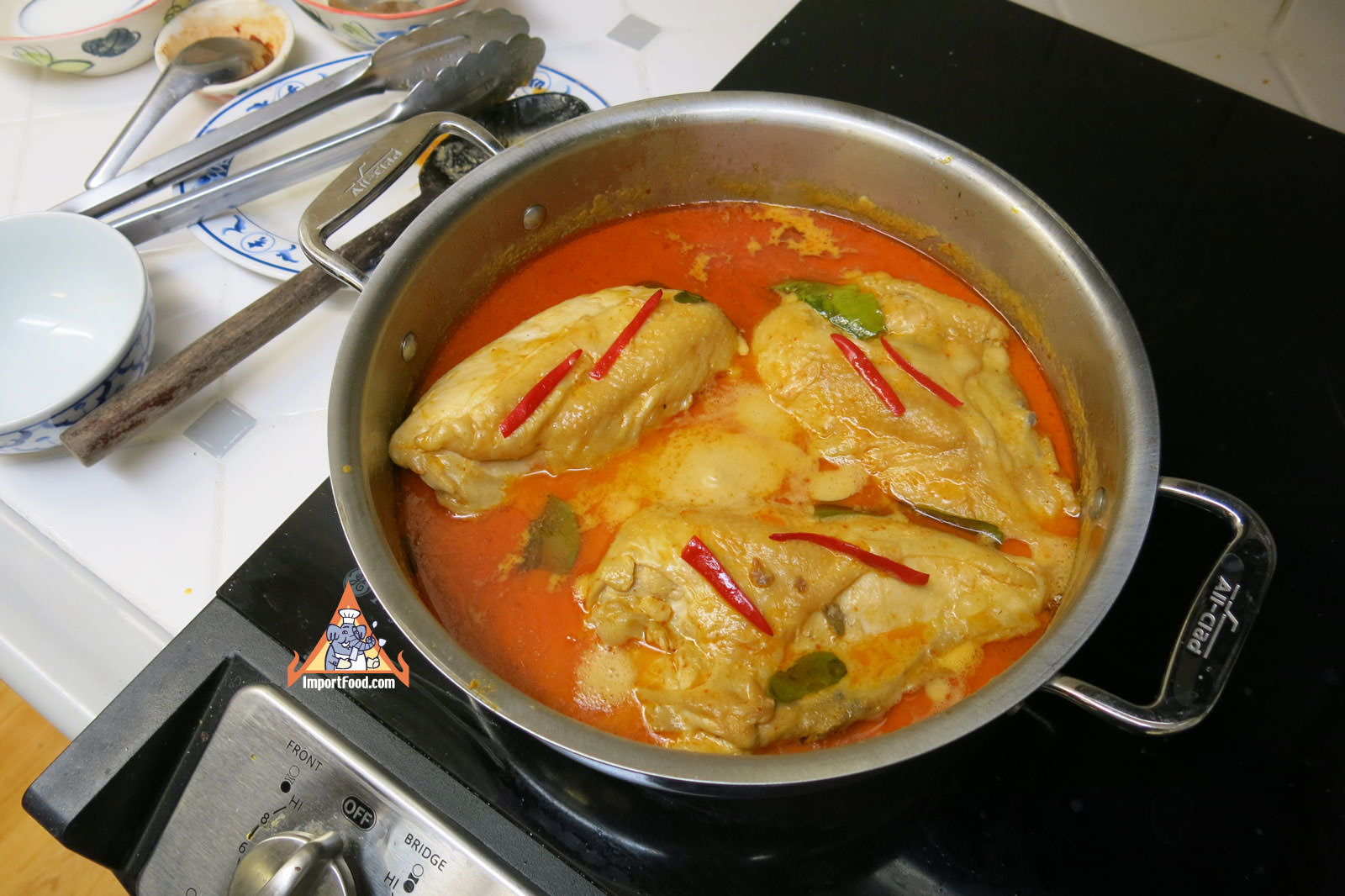 Panang Chicken Breast, 'Panang Oak Gai'
This panang creates a large amount of meat and soup, would be great for potluck. We recommend using large chicken breasts with the bone still on. Panang Oak Gai means 'Panang Breast (oak) of Chicken (gai)'.
---
---
We also offer the following Mae Pranom curry paste
Other Great Mae Pranom Products