Thai White Vinegar, 33 oz bottle
Thai White Vinegar, 33 oz bottle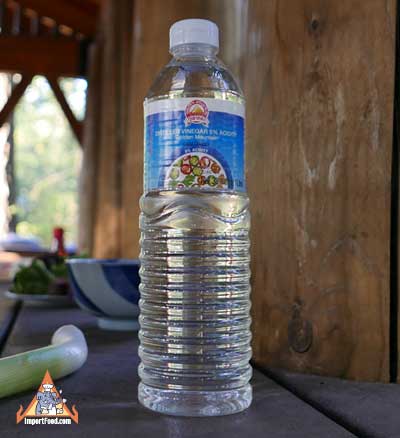 Add to cart
33oz - $5.89

White vinegar is used so extensively in Thailand that we could dedicate an entire section of our website to just this product.
Simply slicing fresh Thai chiles, adding to a dish of white vinegar, is a wonderful condiment.
Golden Mountain is the highest quality white vinegar. Packed in a large plastic bottle. Product of Thailand.
Golden Mountain is the manufacturer of the famous Golden Mountain Sauce which we highly recommend.
See our videos:
Pad Thai made by a street vendor in Thailand using white vinegar
How to make a sweet chile dipping sauce.
Sen yai kee mao moo (street vendor video included)
Find Thai white vinegar in the following ImportFood.com Thai recipes:
---
Sweet Chili Sauce for Spring Rolls
This exotic sauce features shreds of carrot, turnip and spicy dried Thai chile seeds. The perfect condiment for dipping fried spring rolls, fresh spring rolls, and/or Thai fish cakes. Also a great dipping sauce for barbeque chicken, this is a thinner sauce than our sweet chili sauce for chicken.
High quality Pantainorasingh brand. Packed in glass bottle. Ingredients: sugar, water, red chile, turnip, carrot, salt, garlic, modified starch, acetic acid. Product of Thailand.
Street Vendor Video: How to make a sweet chile dipping sauce