Yellow Bean Sauce, Healthy Boy, 28 oz
Yellow Bean Sauce, Healthy Boy, 28 oz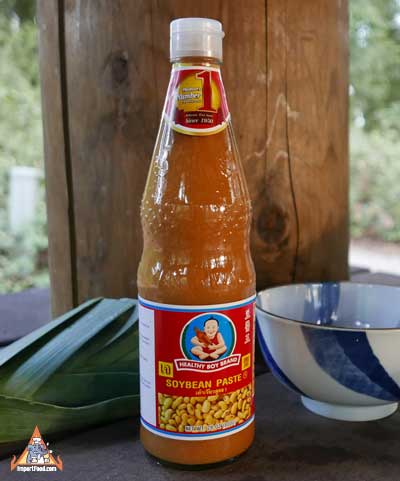 Add to cart
$10.89-28oz

Yellow bean sauce is used for particular Thai dishes, including khao man gai, pla jian, and gai pad kee mao. Also an be used in any recipe calling for soy bean.
We offer premium quality Healthy Boy brand, naturally fermented in the most modern facility.
Packed in a nice large glass bottle.
Please see our feature story on how yellow bean sauce is made.
Ingredients: yellow bean (soy bean), wheat flour, salt water, sugar, msg, preservative.
Product of Thailand.
More Soy Sauces from Healthy Boy:
Thin Soy
Sweet Soy
Dark Thick

---
---
We recommend this product in the following ImportFood.com Thai recipes: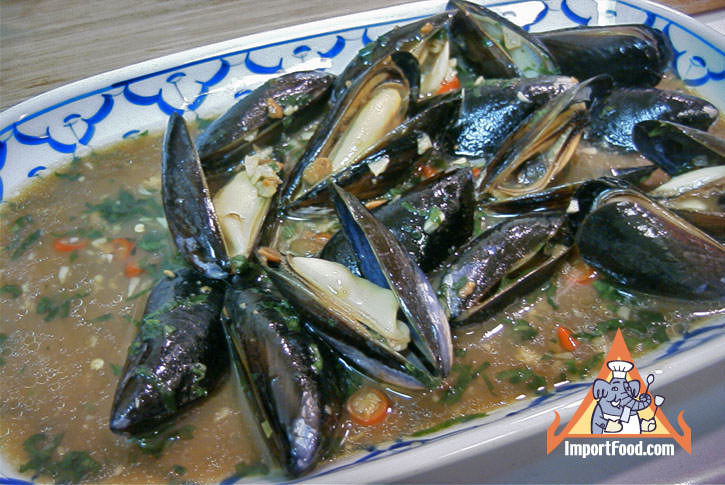 Baked Mussels in Soybean Sauce
Mussels complement Thai flavors very well. In Washington State we can buy 5 lbs of fresh Penn Cove mussels for about $12, and we're always experimenting with them to create tasty Thai recipes. This one is adopted from a cookbook created by the family that owns Healthy Boy brand soy sauce.
---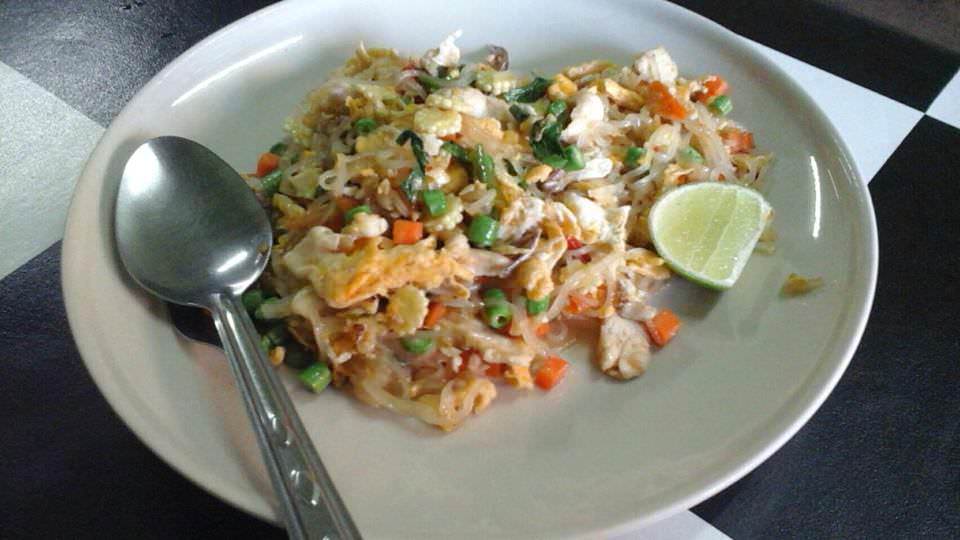 Drunken Noodles and Chicken with Tofu, 'Gai Pad Kee Mao'
Kee mao dishes in Thailand are widely served as bar snacks in much the same way that Spanish bars serve tapas (and serve to make you thirsty, when used for this purpose).
---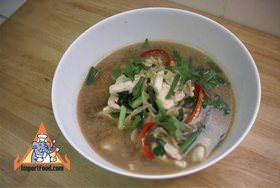 Thai Chicken and Ginger Soup, 'Gai Joo Khing'
Joo means stir fry in the ancient Chinese language. Gai = chicken, Khing = ginger.
This is a regional recipe from Kanchanaburi province in Thailand. Similar to normal ginger chicken soup, this style is a bit sweet and salty as a result of the yellow bean sauce. It also has a mild heat from ginger and Thai pepper powder, which helps release gas from the stomach.
In the past and also nowadays, Gai Joo Khing is the best dish to help a woman recover from giving birth and brings a lot of breast milk for the baby.
Not only can you use chicken for this tasty dish, but fried fish can be used also. To make good Gai Joo Khing, you must fry the chicken with garlic and ginger until the aroma and flavor of ginger is prominent in the chicken before you add water.
---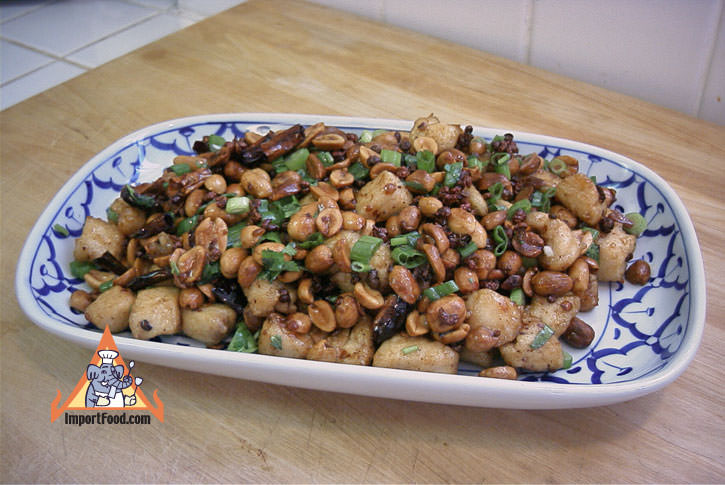 Thai-Style Szechuan Chicken
Chinese-style food is popular in Thailand, often the best hotels in Thailand have wonderful Chinese food. We've created this Thai-style Chinese szechuan chicken recipe using the rare szechuan peppercorn together with very hot whole dried chiles. It's cooked using alcohol, and we were lucky enough to have a bottle of Laotian whisky distilled from sticky rice, but you can use Wild Turkey Kentucky bourbon with good results.
The result is fairly spicy, so this isn't for people who don't like spicy. Something we love about this is the way the Szechuan peppercorn make your tongue tingle. It's also tastes great a day later, as a leftover reheated.
---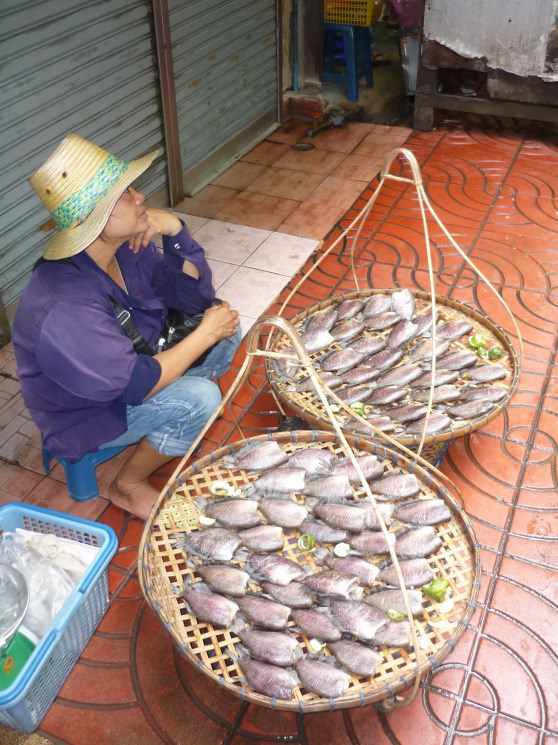 Thai-Style Fried Fish, 'Pla Jian'
This is another simple traditional treatment for fish: this time it is deep fried. The recipe includes some minced pork: this can easily be omitted. It is included in this case only to reproduce the traditional taste, as in the past this dish was deep fried in pork fat, which transferred the pork flavor to the fish. Today it would more typically be fried in vegetable oil, hence the small quantity of pork.
Equally traditionally this dish is deep fried in a wok
The fish is normally fried with the head on.
You need a small-to-medium flat fish (pomfret, flounder, ...), cleaned and with the sides slashed for the marinade to penetrate.
---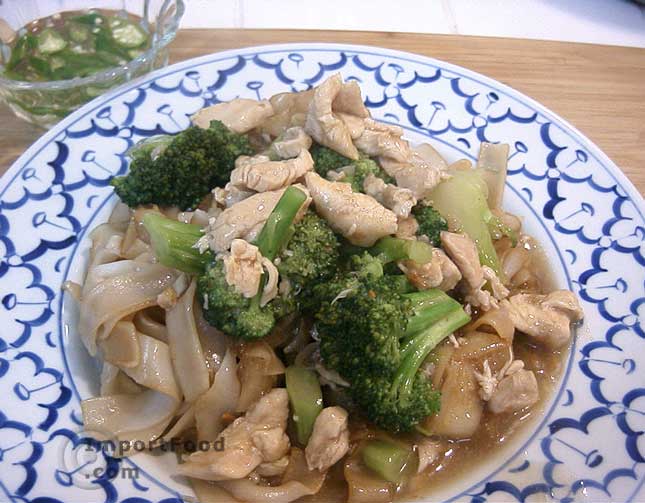 Thai-Style Wide Noodles In Thick Sauce, 'Kuaytiao Lad Na'
Lad Na is prepared in a two-step recipe that involves first frying wide rice noodles until they're just starting to get crispy. Then a sauce is quickly made and poured over the noodles. The translation of Ladna in English is "Pour on the Face".
Lad Na is served all over Thailand, so it can be considered a national Thai dish, see a sidewalk version here that's over 40 years old. It's typically served not spicy, with Thai condiments on the side to "fix the taste" and make it more spicy if that's desired. In Thailand, broccoli or "pak kanaa" is typically used. It's very good with asparagus as well.
---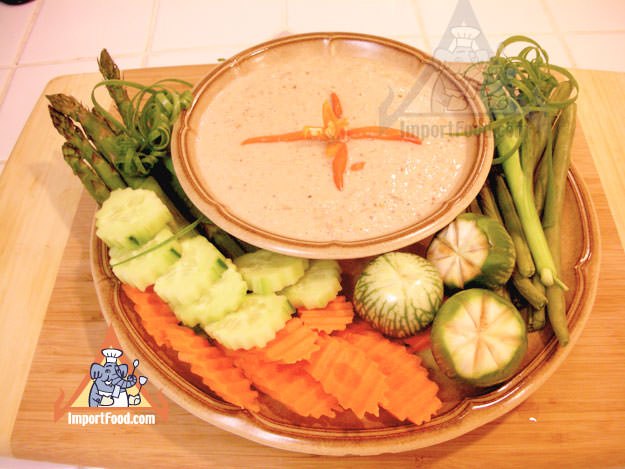 Vegetables with Spicy Yellow Bean Sauce Dip, 'Tao Jeeow Lon'
Lon (pronounced Loan) is a special word for dipping sauce that uses coconut milk. The flavor of this dish is somewhat unique, sweet and just a tiny hint of spice. Kids enjoy the dip and it's a healthy appetizer. The combination of the yellow bean sauce and sugar, along with the maengda flavoring, creates quite an aromatic explosion of flavors and smells. Very authentic recipe here, true to the Thai taste, follow the instructions and create a real "taste of home" for Thai people that they may have eaten or smelled in America.
---