Thai Tom Yum Paste Aroy-D Brand
Thai Tom Yum Paste Aroy-D Brand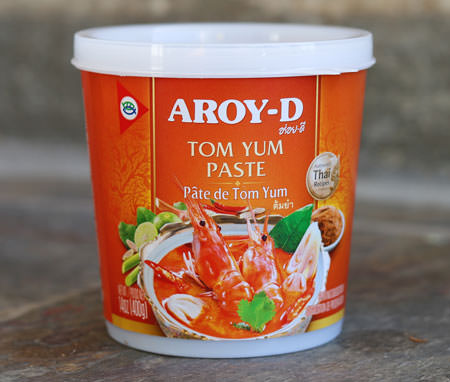 Add to cart
$6.89-14oz

Aroy-D has just created this tom yum paste, which has just the right amount of citrus and sour flavor. We really like it and highly recommend you try.
We also offer Cock Brand Tom Yum Paste, also from Aroy-D.
This high quality product, imported from Thailand, is used to make Tom Yum soup.
Detailed instructions are on the package. This is a base then you need to add your own meat or seafood, as well as a bit of fresh galangal, fresh lemongrass, fish sauce, lime leaves, and lime juice.
Result is a wonderful, rich authentic tom yum, as we would expect from Aroy-D.
We also offer tom yum cubes.
Sealed in a thick plastic pouch and placed in the tub as shown.
Ingredients: lemongrass, Soy bean oil, shallot, sugar, tamarind paste, dried red chilli, galangal, garlic, salt, citric acid, fish sauce, msg, shrimp powder, kaffir lime peel.
Product of Thailand.

Our customer Christine in Gaithersburg MD says this about our tom yum paste: "I don't know if you like to know every now and again what customers do with some of your ingredients, but I tought I wouls share this one: I absolutely love steamed clams, but have found they are pretty unbelievable if you steam them with a couple of dollops of the tom yum paste...really fantastic and makes an elegant starter if accompanied by some sprigs of fresh lemon grass."
You might also like our Aroy-D Tom Yum Soup.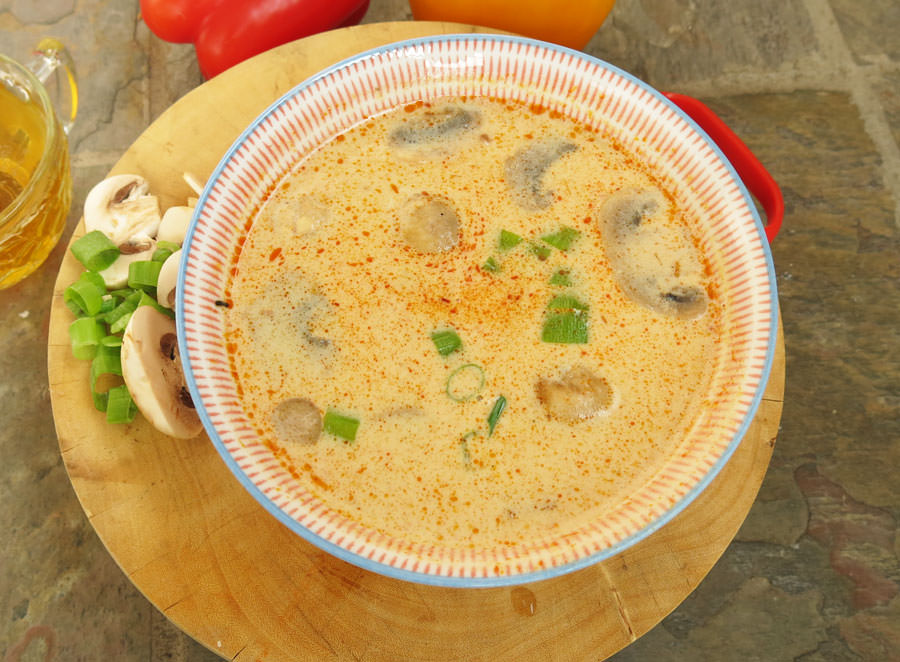 Tom Kha Soup w/Tom Yum Paste
Our packaged, all-natural Amazing Elephant Tom Kha soup is better than home-made, more tasty than what restaurants serve because of the high quality ingredients and sophisticated method. Here we add a bit of tom yum paste, fresh mushrooms, spring onions and shrimp to make it a full meal.
---
---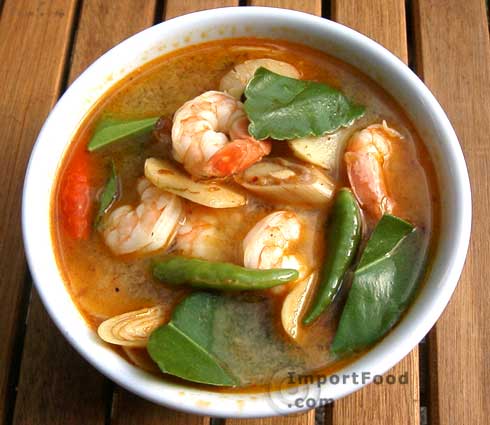 Thai Prawn Soup with Lemongrass, 'Tom Yum Goong'
Tom Yum is both hot and sour, and it's one of the main signature dishes that defines Thai flavor. We've perfected this recipe and assure you it tastes great.
Typically a chef will use a pork or chicken stock then add the basic fresh staples to create the tom yum, as in our video: Railroad Chef Prepares Tom Yum. We like to start with a simple vegetable broth instead, so our recipe starts with the broth instructions then continues with how to make the tom yum.
It's important to use "prik pao" in your tom yum and we have several brands, with slightly varying tastes depending on your preference.
Also -- See Our Thai Street Vendor Video: Thai Street Vendor Prepares Tom Yum.
---