Stir-Fried Pork, 'Pad Ped Mu'

Stir-Fried Pork, 'Pad Ped Mu'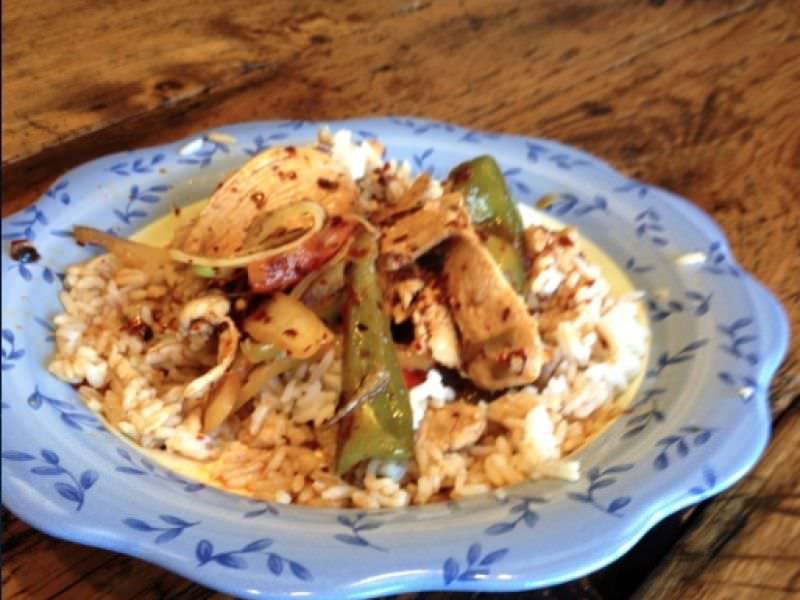 This dish is made with belly pork. There are a number of reasons for this: on the pragmatic level the Thais tend to use all of an animal, and this is a way of using the rather fatty belly pork. Secondly the style of cooking means that the dish is cooked in the pork fat itself, which enhances the flavor. Thirdly, the fatty meat absorbs the additional flavors and so tastes better.
Method for Stir-Fried Pork, 'Pad Ped Mu'
We suggest that you use a non-stick stir fry pan or sautee pan for this dish if available (the pork sticks to the pan quite easily). The wok or pan should be quite hot, so as to sear the pork and render the fat quickly. If the pan is too cold it will tend to become leathery and "chewy".
Sliced chilis are 'optional'. You can also reduce the amount of red curry paste used quite substantially without too much adverse affect on the authenticity of the dish.
Heat a wok (see above), and then add the belly pork and stir fry until it turns brown, and the fat crispens and reduces. If it becomes too dry add a very small amount of peanut oil. Add the curry paste, and stir fry to combine, then add the fish sauce, chili oil, garlic, sugar, chilis and pepper, and stir fry for about two minutes stirring continuously to combine the flavors and mix well. Add the bell peppers and stir fry until they just begin to soften, then add the long beans and stir fry until heated through (about 30 seconds).
Serve with steamed Thai jasmine rice.

Reviews