Thai Yellow Curry Chicken, 'Gaeng Karee Gai'

Thai Yellow Curry Chicken, 'Gaeng Karee Gai'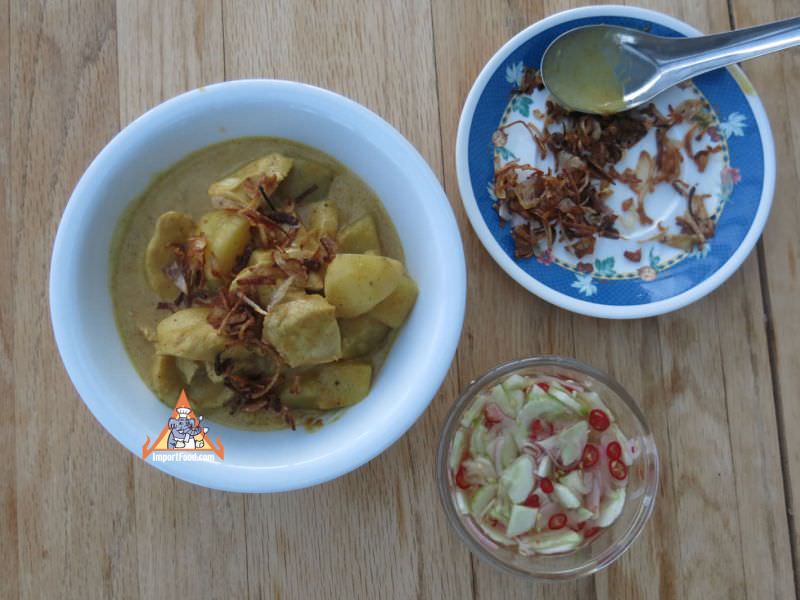 The flavor of yellow curry paste is not much different than red or green, however we've recently discovered how much we like yellow curry. Yellow curry makes vegetables taste great in our opinion, and we've been eating more vegetables and less meat these days. Here is a basic Thai yellow curry with chicken and potato. It's also good with bell pepper, butternut squash, or any seasonal vegetable of your choice. Serve a generous portion and watch it disappear.
Ingredients
For 4 Person(s)
Ingredients
Ingredients For A jad cucumber sauce
8

Tablespoons White Vinegar

2

Teaspoons

Sugar

2 1/2

Tablespoons

Cucumber, Very Coarsely chopped or sliced

8

Fresh Thai Chiles
Buy ingredients for this Recipe
Method for Thai Yellow Curry Chicken, 'Gaeng Karee Gai'
Put coconut milk into a pot, add chicken, and cook over low heat until the chicken is cooked.
Add vegetable oil into a wok, over low heat add sliced shallots. Fry until crunchy, remove shallots from wok and set aside on a plate.
Add yellow curry paste to the wok, and stir-fry until it's fragrant. Add coconut cream, a little bit at a time, keep stirring and gently cooking until some oil comes up to the surface. Scoop your chicken out from the pot, and add this to the wok. Next, put the entire wok ingredients into your cooking pot with the coconut milk.
Add potatoes to the pot, bring to a boil, season with fish sauce and sugar. Let the potato cook over low heat (about 10 minutes), remove from heat and serve. Sprinkle crunchy shallots on top, and serve with Ajad and jasmine rice.
A Jad Sauce
Combine the ingredients, and leave to stand overnight. Alternatively, you can gently heat the vinegar, add 4 tablespoons water, let it cool, then pour that over the other ingredients and serve right away.

Reviews