Green Curry with Fresh Chile, Chicken, Eggplant & Kaffir Lime, 'Gaeng Khiao Wan Gai'

Green Curry with Fresh Chile, Chicken, Eggplant & Kaffir Lime, 'Gaeng Khiao Wan Gai'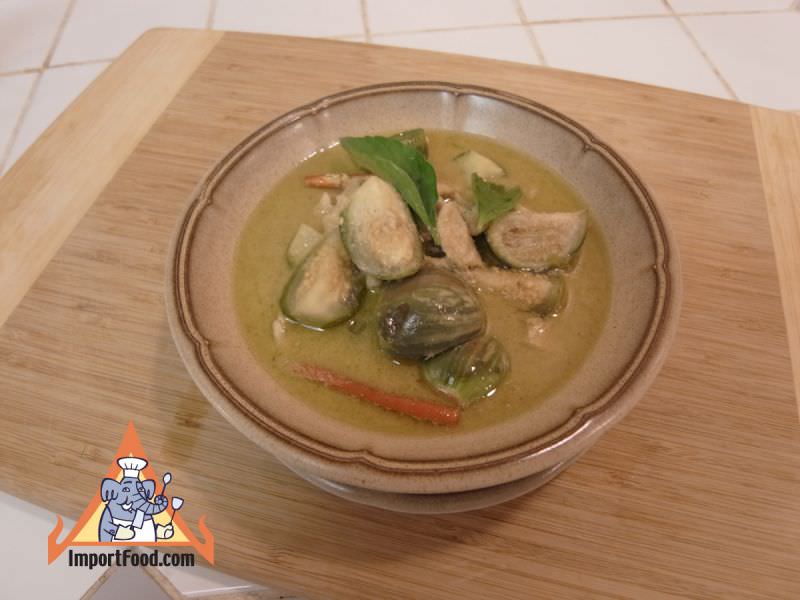 This recipe highlights the delicious Thai mini eggplant and it's a common recipe throughout all provinces of Thailand. The advantage of this recipe is that you pound fresh chiles into a high quality green curry paste, resulting in a more bold, fragrant and spicy final result. We also have another recipe for gaeng khiao wan gai.
Method for Green Curry with Fresh Chile, Chicken, Eggplant & Kaffir Lime, 'Gaeng Khiao Wan Gai'
Keep your quartered eggplants and lime leaves in a bowl of water, as shown in photo below. This keeps it fresh.
In a mortar and pestle, pound the fresh Thai chiles and kaffir lime peel until consistent. Add green curry paste and pound together. In a skillet or wok, heat the oil and fry the curry paste mixture. Stir-fry at medium heat for a minute or two. Slowly add coconut milk and bring to a boil. Stir it until you see a bit of oil. Add chicken and let it cook. Add soup stock, eggplant and kaffir lime leaves. Bring to a boil. Season with fish sauce and palm sugar. Let it boil for 6 minutes. Remove from heat, then garnish with fresh basil and a sliced red Thai chile pepper (or red bell pepper if you prefer). Serve with freshly-steamed Thai jasmine rice. Enjoy!
Green curry with fresh chile chicken eggplant & kaffir lime gaeng khiao wan gai
Pound chiles curry paste and lime peel

Reviews