Thai Seafood Tom Yum, 'Tom Yum Talay'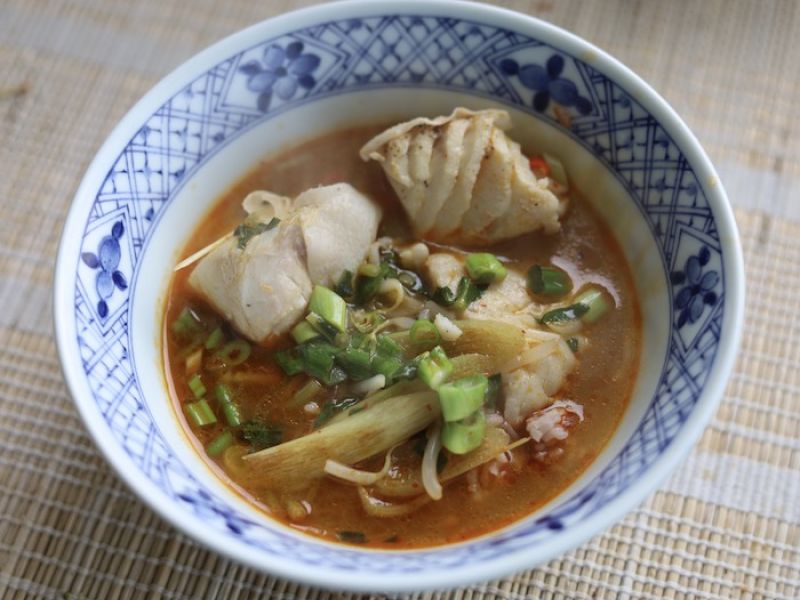 Method for Thai Seafood Tom Yum, 'Tom Yum Talay'
Slice galangal into small discs, and slice lemongrass diagonally. Wash your lime leaves and slice each leaf in half.
We used one fresh halibut filet and one rock fish filet, cut them into pieces as shown, added crushed black pepper, a bit of olive oil, sliced green onion, some fish sauce, and a touch of MSG (optional). Set aside.
In a soup pot add water, lemongrass, and fresh galangal. Bring to a boil and keep at low boil for 5 minutes. Add tom yum paste (we used a bit more than 1 tablespoon), palm sugar, and lime leaves. Cook another minute.
Add the contents of your bowl of seafood including the oil. Cook for a minute or two then transfer to a bowl and top with more green onion and cilantro if you prefer.
A popular variation is to serve tom yum "sai nam kon" which means a spoonful of coconut milk or, many street vendors will add a spoon of evaporated milk.
To make your tom yum extra spicy, add Thai Fried Chilli Paste for Tom Yum but we think it's not needed here with this seafood version. Enjoy!
Prepare Lemongrass and Galangal

Reviews