Thai Chicken Soup, 'Kaeng Djuut Wunsen Gai'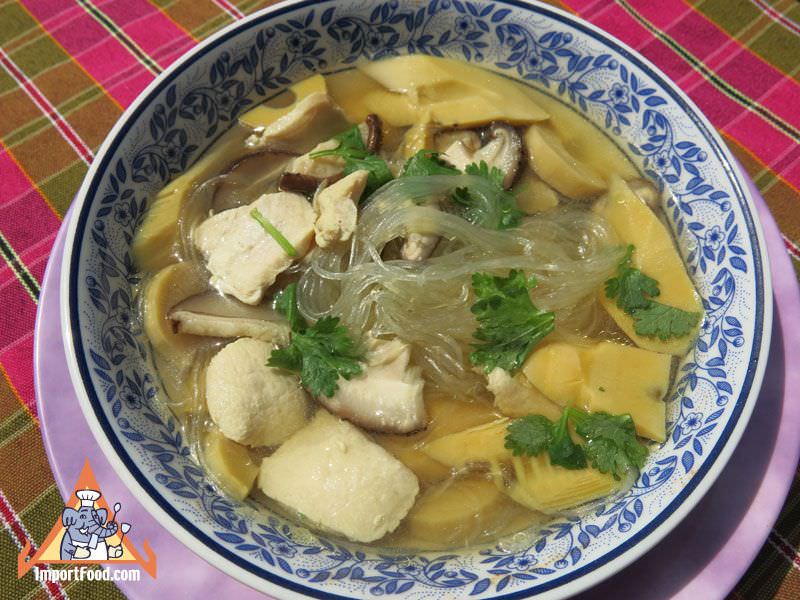 This uses the light semi-transparent vermicelli style noodles known as wunsen in Thai. Note that there are two types of soup in Thai cuisine: one type the Toms (tom kha gai, tom yam etc) are designed to be eaten with a meal. The other style, known collectively as kuiteao nam (pronounced roughly "gw-eye-tee-ow nam") or "wet noodle dishes", are a popular form of fast food in Thailand. They form a full meal and are regularly eaten for everything from breakfast to early dinner, This kaeng djuut is a kuiteao nam style "luncheon" dish. In parallel with the kuiteao nam dishes there is a wide range of kuiteao haeng (dry noodles) dishes.
Ingredients
For 4 Person(s)
Ingredients
1

Tablespoon

Coarsely Chopped Fresh Garlic

1

Tablespoon

Coarsely Chopped Fresh Ginger

1

Pint

Chicken Stock (Appoximately)

1

Teaspoon Preserved Cabbage

1/4

Pound

Chicken Cut into Bitesized pieces

2

Ounces Woonsen (vermicelli)

2

Tablespoons Fish Sauce

2

Tablespoons Light Soy Sauce

1/2

Cup

Mushrooms (shitake is traditional, but western style button mushrooms are fine).

1

Small Onion, Coarsely chopped

1

Teaspoon

Freshly Ground Black Pepper

3

Spring Onions/Green Onions/scallions/ sliced lengthwise as garnish

1

Teaspoon

Chopped Coriander Leaves
Buy ingredients for this Recipe
Method for Thai Chicken Soup, 'Kaeng Djuut Wunsen Gai'
Soak the wunsen in water at room temperature for about 10 minutes to soften it, then drain it thoroughly. Heat a little oil in a wok and stir fry the onion, garlic and ginger briefly. In a saucepan add the preserved cabbage to a pint of stock and bring it to a gentle boil. Briefly stir fry the chicken to seal it, then transfer the chicken and onion, garlic and ginger to the stock. Add the remaining ingredients, except the garnish and the wunsen, and simmer until the chicken is just about cooked through. Increase the heat to bring the pan to a rolling boil, add the noodles, and immediately turn the heat off.
Pour the soup into a serving turine, sprinkle with the garnish. Each diner should have a bowl with some steamed Thai jasmine rice. Traditionally each takes a spoon of soup from the communal serving bowl, picks up a little rice and then eats it. You may prefer to ladle portions of soup over the diner's rice bowls.
The quantities above make about enough for 4 people for a light lunch.
Normal table condiments would be chiliis in fish sauce (prik nam pla), chili powder and sugar. We also recomment you serve with a few drops of dark sweet soy sauce.

Reviews