Thai scraper, wood handle, 8.5"
Thai scraper, wood handle, 8.5"
Add to cart
Temporarily Out of Stock

This steel scraper with a wood handle is featured in three Thai recipe videos at ImportFood. See it in action here:
Hoi Tod (mussel pancake)
Pad Thai
Khanom Buang
It's a rigid metal but slightly flexible. Perfect for scraping your skillet, whether you're cooking Thai food or not. The handle is all wood. It's well-made and simple, and similar to Thai knives, offered at a reasonable price. 8.5" long, the scraper width is 3.5". Product of Thailand.
---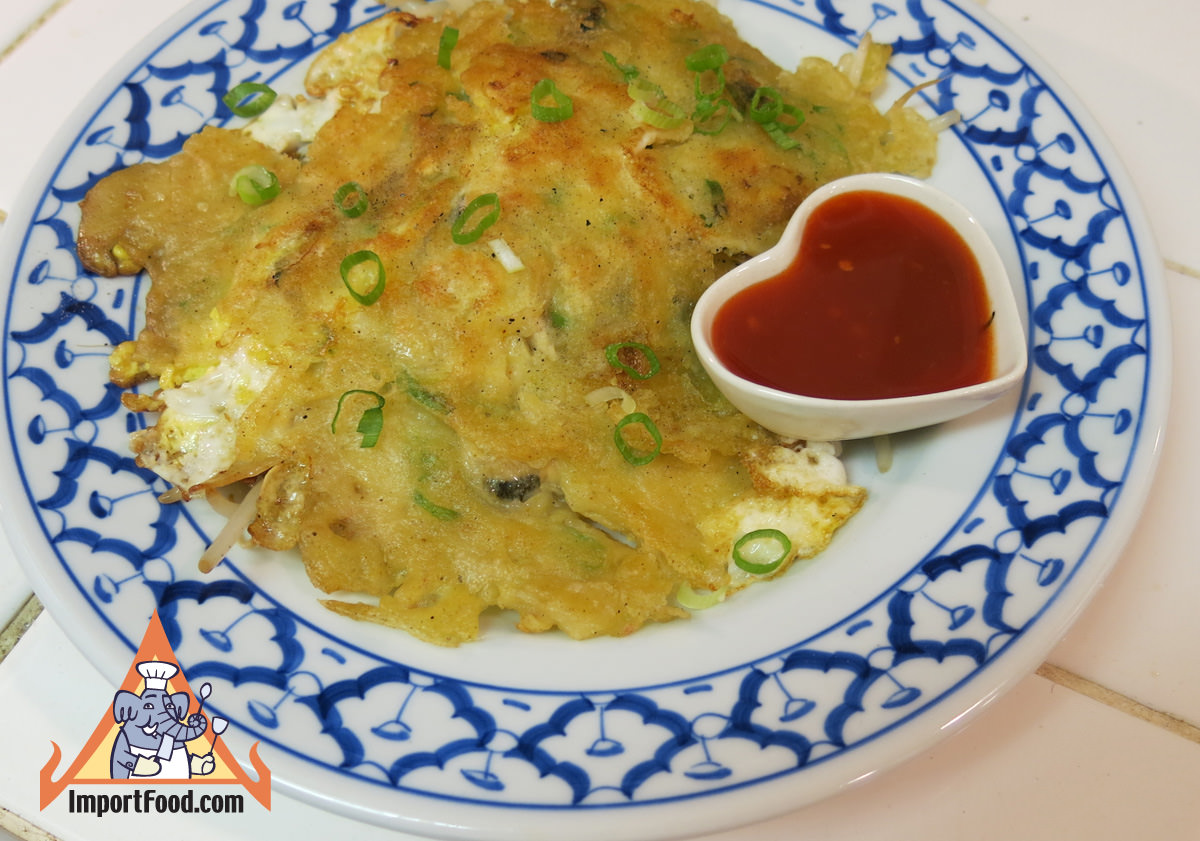 Thai-Style Fried Mussels, 'Hoi Tod'
Hoi Tod is typically a small dish and it's enjoyed all day long. Mussels are common in Thailand and served in a variety of dishes, often on pizza among the various pizza chains. Here we show our recipe for hoi tod, and scroll lower left to watch our sidewalk chef video filmed in Bangkok. NEW: We offer a large hoi tod pan (flat wok).
We mixed the ingredients together from scratch for each serving, so the ingredients below are to make one hoi tod. You can make a larger batch of the batter if you prefer, but we found it just as easy, with better results, to make a new mix for each hoi tod
---
Golden Thai Pastry Cups, 'Kratong Tong'
Kratong Tong is a non-spicy Thai appetizer dish that we enjoyed making as much as we loved eating it. Kids love these snacks, and they're perfect for the holidays. The kratong tong mold, shown below (and available from ImportFood.com) works perfectly to create unique little cups. It took some practice to get the recipe and method down, so enjoy this recipe and rest assured if you follow along it will turn out well.
---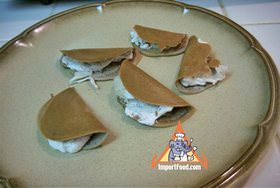 Khanom Buang
Khanom Buang is a sweet snack found all over Thailand, made by street vendors who have mastered the art. It's history can be traced back 600 years to the Ayuttya Period. We've never found Khanom Buang in an American Thai restaurant. It does take practice, and we've presented a street vendor video below for indispensable guidance. As you watch the video, take note of hand movements. Our recipe is genuine, and tastes fantastic, "just like Thailand" but our recipe includes coconut topping only. As in the video, two others toppings are common: foy tong (sweetened egg yolk dessert) and salty shrimp mixture. We'll add a recipe for foy tong and salty shrimp later.
We made Khanom Buang on a flat electric pancake griddle which worked perfectly. A friend who makes this in Thailand insists on adding Ovaltine to the batter, and we love the malty chocolate flavor, but you can leave this out (or add less) if you prefer a non-chocolate version.
Required Tool: Kra-ja (flat spreader). We recommend using two while preparing this recipe. One for the batter and one for the cream.
---