Thai-Style Noodles Baked in Clay Pot, 'Bamee Gai Op Mor Din'

Thai-Style Noodles Baked in Clay Pot, 'Bamee Gai Op Mor Din'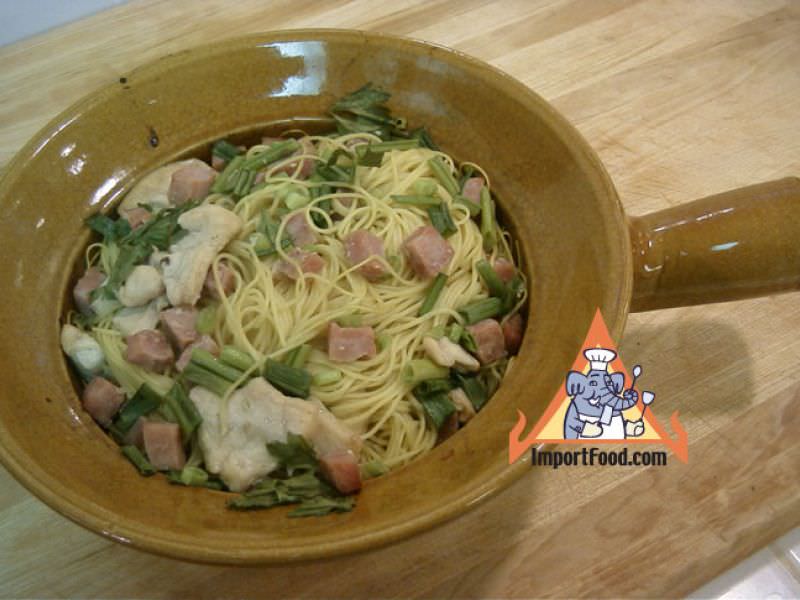 Baking these noodles in an authentic Thai clay pot gives everything a nice flavor and beautiful presentation. Use a bit less ginger if you prefer but don't leave it out entirely. We like making this with less chicken and ham, and the noodles can be anything of your choice such as bean thread noodles or rice vermicelli.
Ingredients
For 4 Person(s)
Ingredients
2

Strips Bacon

1/2

Cup

Chicken Cut into Bite-Sized pieces

1/2

Cup

Diced Ham

1/2

Cup

Sliced Red Bell Pepper

2

Cloves Garlic, Minced

1/2

Cup

Fresh Mushrooms, Sliced

4

Coin-Sized Slices of Fresh ginger

1/2

Cup

Spring Onion Cut into 1/2 inch pieces

1

Tablespoon

Vegetable Oil

6

Ounces Chinese Longlife Noodle

1/2

Cup

Broccoli Florets
Seasoning Ingredients
Buy ingredients for this Recipe
Method for Thai-Style Noodles Baked in Clay Pot, 'Bamee Gai Op Mor Din'
Preheat oven to 375 degrees and warm the clay pot.
In a bowl, combine the seasoning ingredients then split in half.
On the stovetop, boil noodles for 2 minutes, then rinse with cold water. Add half of the seasoning ingredients to the noodles, mix well and set aside.
In a wok or frying pan, fry the bacon over low heat until it just starts to turn brown. Transfer this to the warm clay pot. In the same frying pan, add vegetable oil then cook chicken and ham with the other half of the seasoning sauce over medium heat. After 3-5 minutes, remove this from the pan and set aside. In the same pan, add the red bell pepper, garlic, mushroom, ginger, and broccoli. Fry this for 5 minutes or a bit less. Now pour the vegetables into the clay pot, on top of the bacon. Add the noodles to the clay pot, as the next "layer". Finally, add the chicken and ham, followed by spring onions.
Cover and bake for 20 minutes at 375 degrees. Remove from oven, mix everything well, serve and enjoy!
Noodles baked in clay pot bamee gai op mor din
Bacon on the bottom layer

Reviews