Thai Ceramic Hot Pot with Base
Thai Ceramic Hot Pot with Base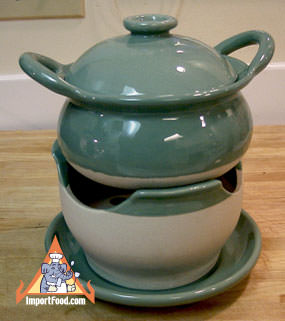 Add to cart
Temporarily Out of Stock

For elegant presentation of Thai soup such as Tom Kha or Tom Yum, or anything you prefer, here is an excellent quality ceramic hot pot with base.
There are 5 pieces to the set. The base, as shown, has a thick clay disc that sets inside, this holds the sterno or tealight candle. The base itself sits on a ceramic plate glazed in an attractive green. The serving bowl with lid is beautifully glazed, and sets on top of the base.
The set is about 8 inches tall and 6 inches wide. The bowl has a 3.5 cup capacity, perfect for a spicy Thai soup serving 1-3 people.
---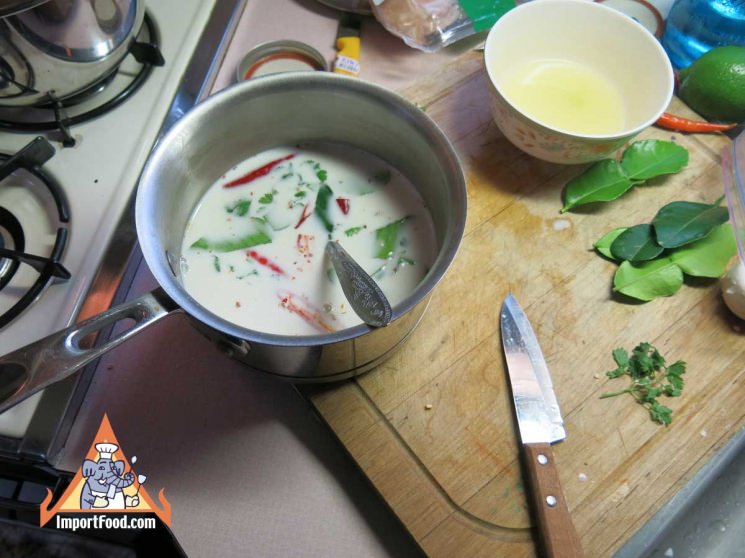 Thai Chicken Soup with Coconut Milk, 'Tom Kha Gai'
This is a mild but spicy chicken soup (it can also be made with shrimp, pork, beef or mushrooms), flavored with the unique flavor of galangal ('kha' in Thai) which creates a heavenly taste when combined with hot chile peppers, coconut milk, lime leaves and lemongrass.
We famously started manufacturing Amazing Elephant All-natural Tom Kha with authentic flavor so be sure to get a few pouches to compare with what you make at home.
---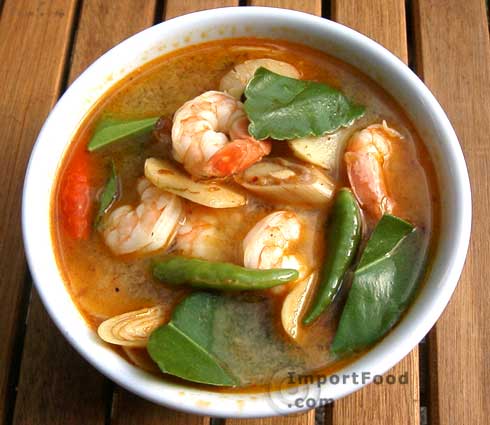 Thai Prawn Soup with Lemongrass, 'Tom Yum Goong'
Tom Yum is both hot and sour, and it's one of the main signature dishes that defines Thai flavor. We've perfected this recipe and assure you it tastes great.
Typically a chef will use a pork or chicken stock then add the basic fresh staples to create the tom yum, as in our video: Railroad Chef Prepares Tom Yum. We like to start with a simple vegetable broth instead, so our recipe starts with the broth instructions then continues with how to make the tom yum.
It's important to use "prik pao" in your tom yum and we have several brands, with slightly varying tastes depending on your preference.
Also -- See Our Thai Street Vendor Video: Thai Street Vendor Prepares Tom Yum.
---