Premium Quality Fish Sauce, Megachef, 23 oz bottle
Premium Quality Fish Sauce, Megachef, 23 oz bottle
Add to cart
$11.29-23oz

Megachef uses only the best ingredients and processes, to create excellent flavors regardless of cost.
This fish sauce is made from pure anchovy fish, mixed with sea salt, and fermented 2 years.
Perfect for cooking, dipping, marinating and seasoning Thai and Vietnamese dishes. Also great for fermenting high quality kimchi.
We also offer Megachef oyster sauce but it is almost always in short supply or sold out.
All Natural. Store at room temperature in a cabinet away from sunlight.
Megachef has been awarded food safety certification from GMP, HACCP, ISO 9001, ISO 22000, and Global Standard for Food Safety (BRC).
Ingredients: anchovy, sea salt, sugar.
Product of Thailand.
See our photo tour of a fish sauce facility, and learn how fish sauce is made.
We also offer premium quality shrimp paste.

Fish Sauce is Part of our Essential Thai Pantry Set
Here are some popular Thai recipes using fish sauce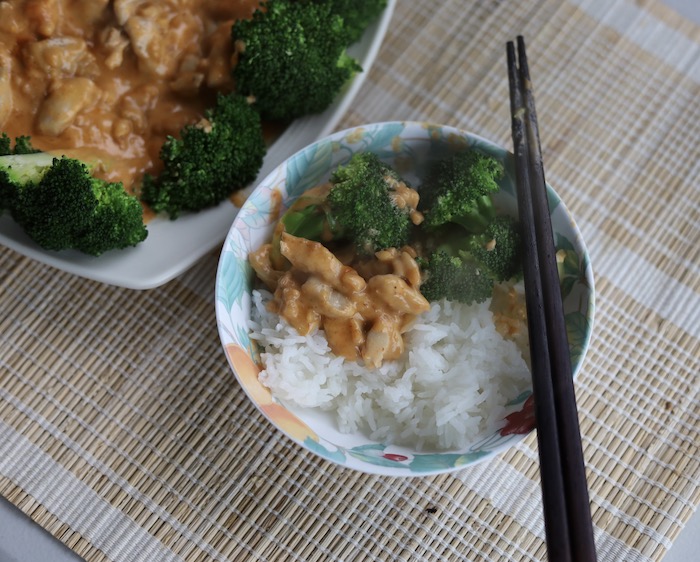 Thai Rama Chicken, 'Praram Long Song'
This dish dates to the time of King Rama 5, about 140 years ago. Originally it was made with beef, but nowadays pork and chicken are often used. Praram is a name for the God Rama, or King Rama, in The Ramkian. The Ramakian is the Thai version of an Indian Hundu epic written 2000 years ago. Long Song translates as 'take a shower'.
Praram Long Song is a popular dish in American Thai restaurants, but not often found in Thailand. Americans are fond of the peanut sauce, and in our recipe it's quite delicious. Sometimes called Swimming Rama, you can use broccoli, spinach, or other greens of your choice.
---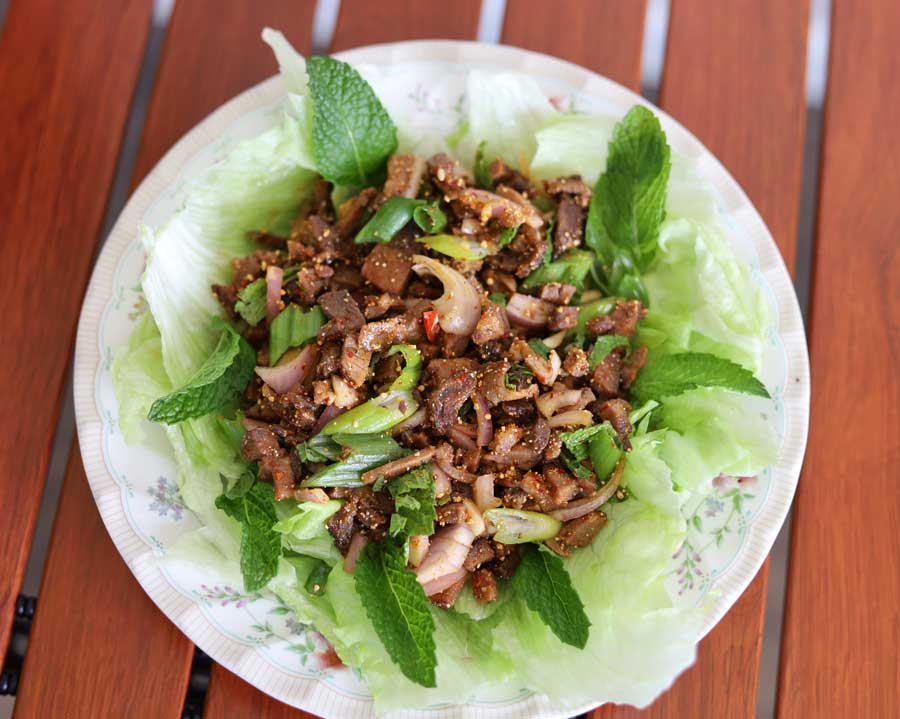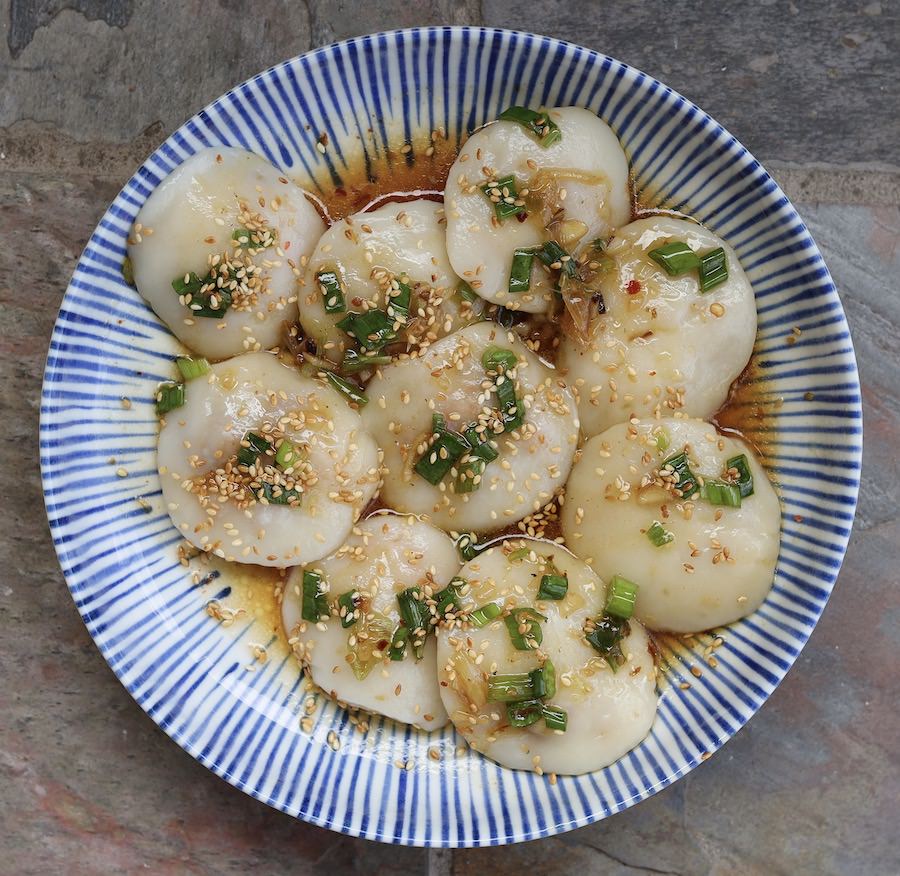 Dumplings w/Pork Shrimp Ginger Sesame
Spectacular dumplings are easy to make.
Lots of ingredients involved but follow our detailed instructions & work sequentially; it won't take long to become an expert and amaze friends & family with your ability to make the best dumplings.
We enjoyed making this here with fresh young Hawaiian ginger but any ginger works well too.
This recipe makes about 15 dumplings.
---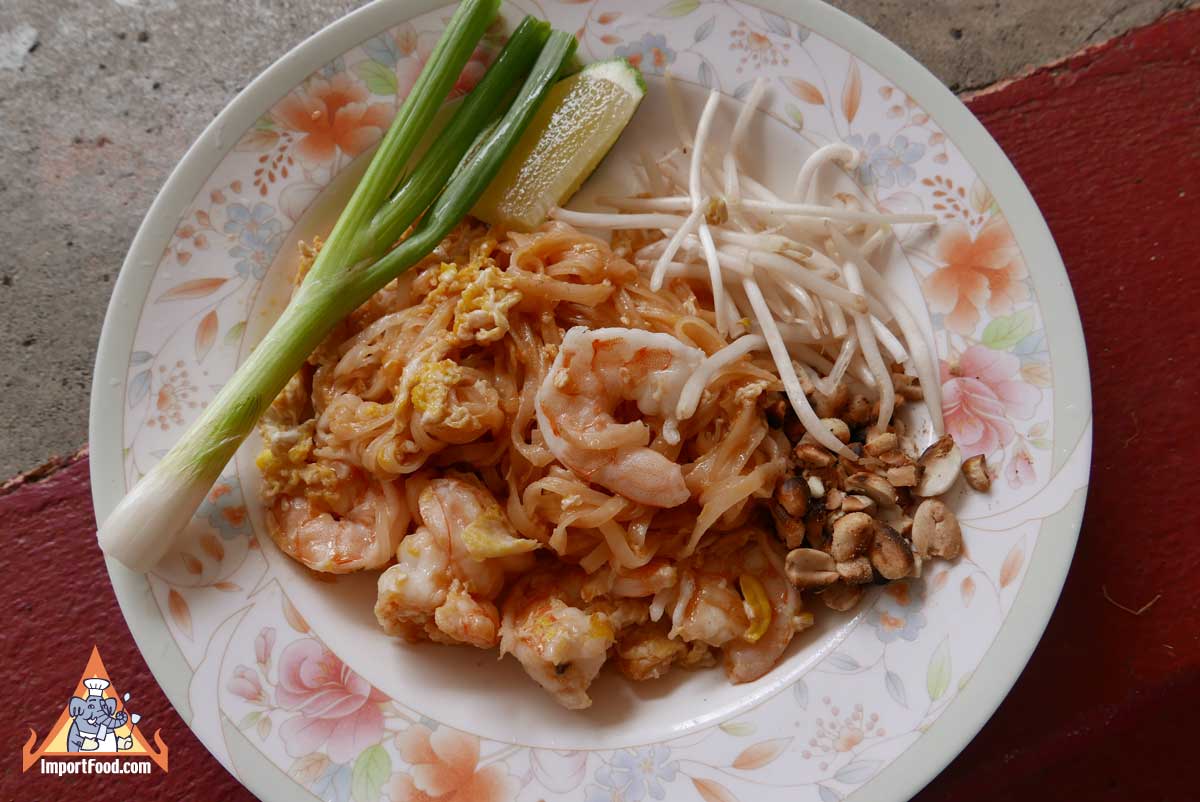 Pad Thai
Pad Thai is often called the signature dish of Thai cuisine. There are several regional variations, indeed it has been said that Thailand has not only a different curry for every day of the year, but also a different pad Thai for every cook in Thailand! This is our variation, and please see our street vendor photos & videos (below left) for others.
Also consider our Picnic Table Pad Thai Recipe
---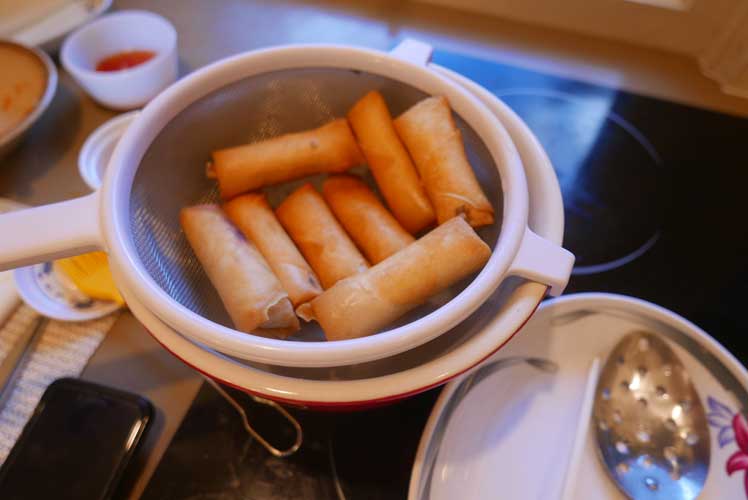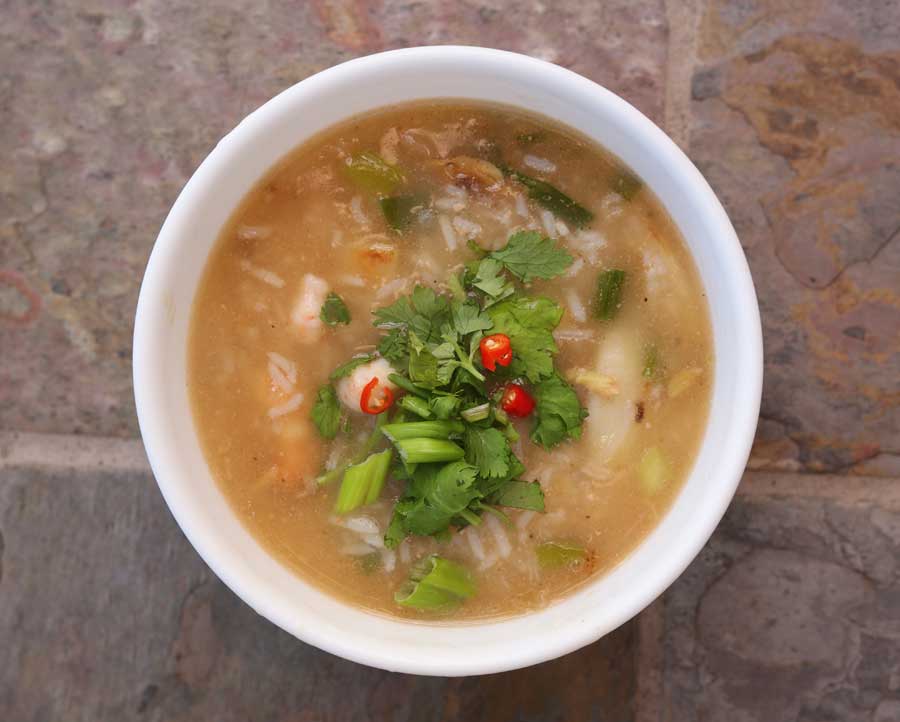 Firm Rice Seafood Soup
This is a masterpiece seafood soup. You might be surprised it came from your kitchen, with such a nice blend of elegant flavors and texture. Here we demonstrate all the tricks to make it just right. The slightly firm rice, rather than the typical mushy congee, makes it distinctive. The trick is to fry the rice when it's still dry, as we show here.
---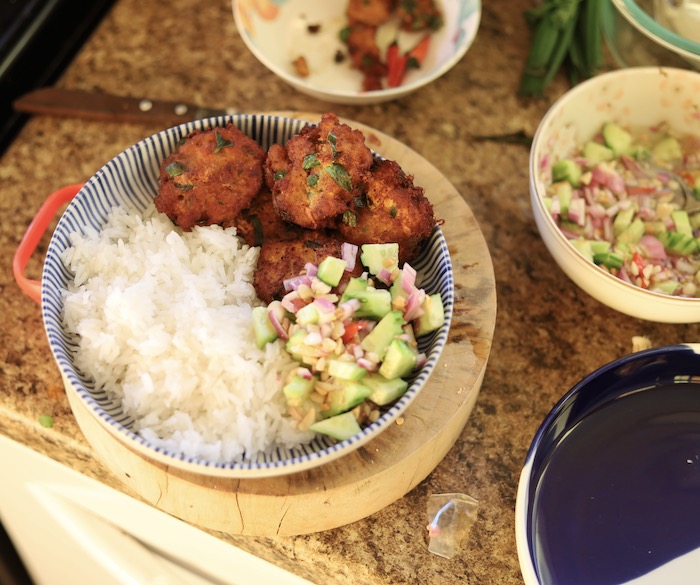 Spicy Thai Fish Cakes, 'Tod Man Pla'
Tod man pla is one of the most famous Thai dishes but seems to be rarely offered on the menus of Thai restaurants in the United States. We're happy to show you how to make it, step-by-step, with great results.
Here we just used cod pieces which can found at local supermarkets.

Also see our Thai Street Vendor video for detailed guidance.
---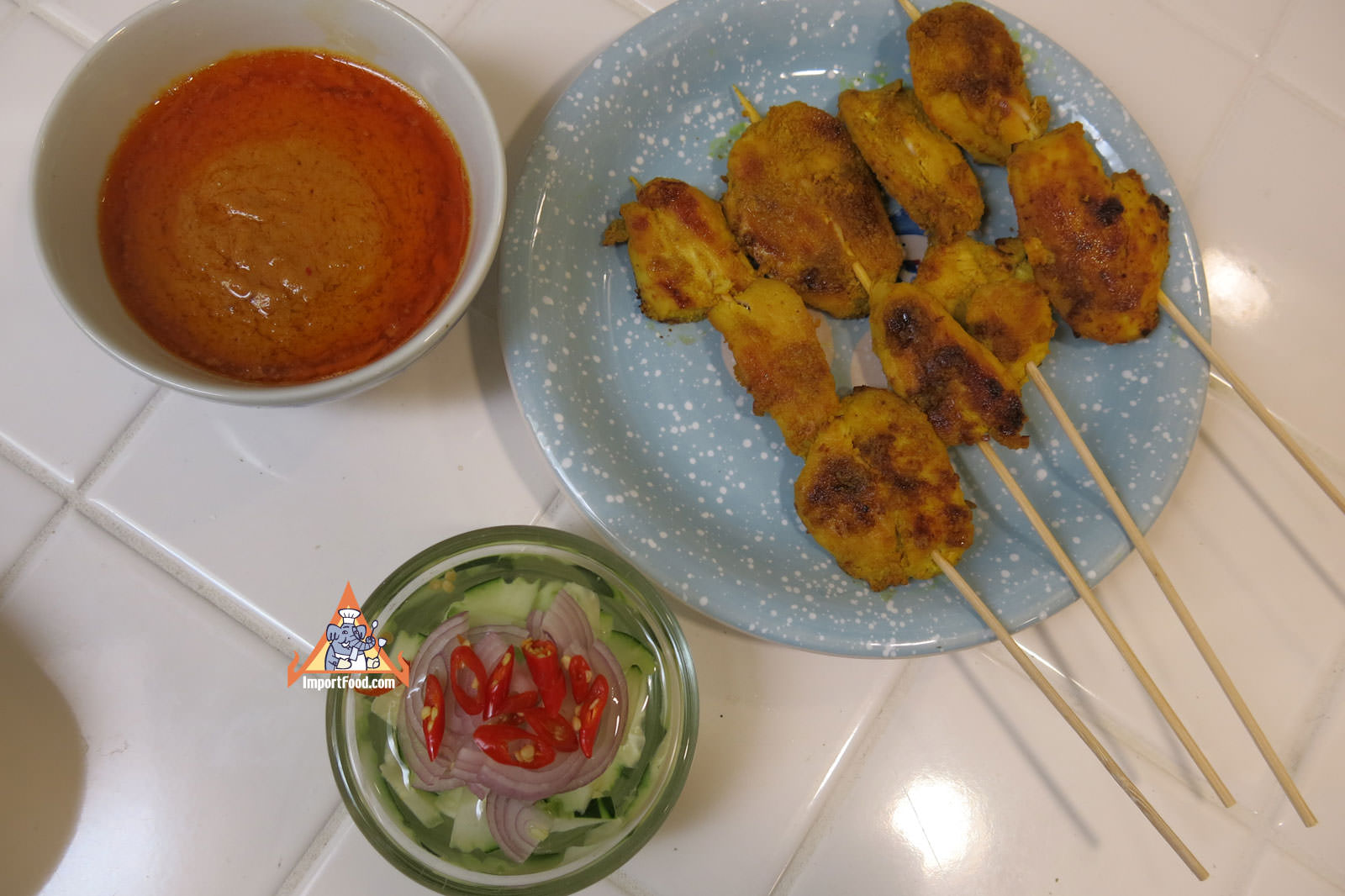 Chicken Satay, 'Satay Gai'
Satay of course is originally an Indonesian/Malay dish, but it has been in Southern Thailand for a very long time.
Here we demonstrate two versions, Version 1 is our favorite and one you can make in your kitchen without a charcoal grill. The chicken in both versions is prepared as you'd find in Thailand -- using thin strips, instead of thick cuts that restaurants outside of Thailand often serve for satay.
For a quick satay we suggest our Lobo Thailand's ready-made package.
You can of course also make the same recipe as beef satay, pork satay, or prawn satay (large prawns usually deheaded and the skewer threaded lengthwise down the body).
---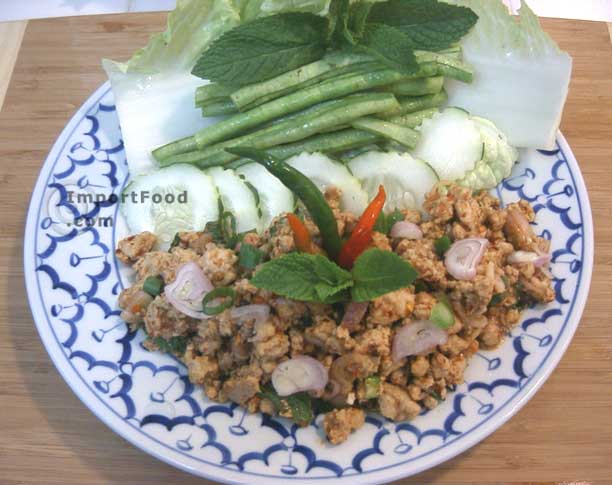 Thai Spicy Ground Chicken and Toasted Rice, 'Larb Gai'
This is one of our all-time favorite Thai dishes, and it is a very common dish served throughout Thailand as well as Laos. It's quick to make and often extremely spicy, but the lime juice and mint leaves make for an exotic and splendid combination.
It can be found on Thai restaurant menus in America as "chicken salad Thai style", which might be the best description for this dish.
Larb is pronounced "lawb" and that means salad. It can be made with beef (lawb nuea) or pork (lawb muu) instead of chicken.
---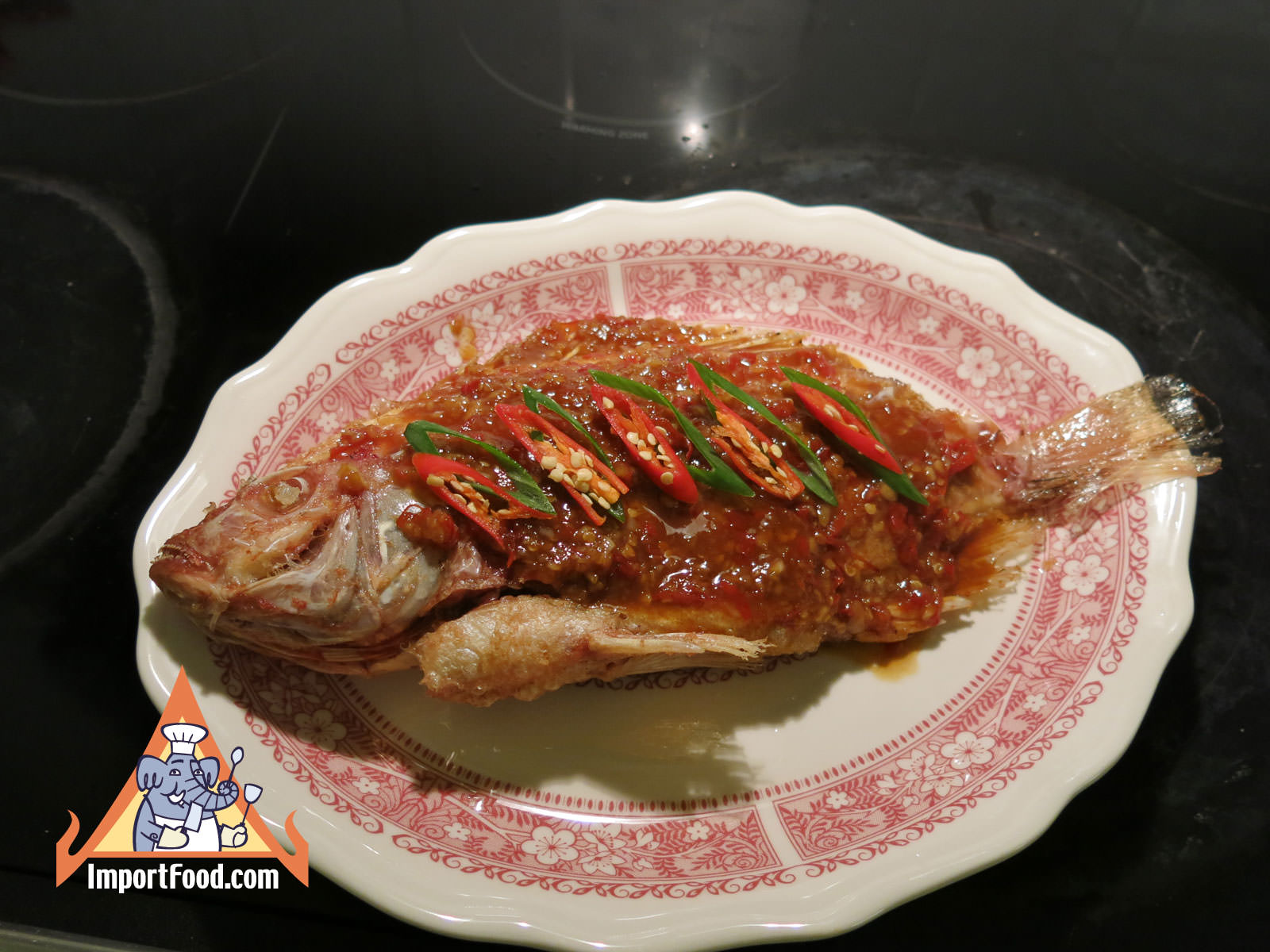 Thai Crispy Fish Topped with Chili Sauce, 'Pla Rad Prik'
This is a very spicy crispy fish that's surprisingly simple to make using just a few ingredients. It's best to use fresh red Thai chile peppers. Regarding the fish, here we used tilapia you can use any fish such as cod, catfish, trout, salmon, etc. We had the fish cleaned and gutted but left the head on. You may prefer to remove the head, or even use fish fillets -- it doesn't matter.
Note that when you've finished frying your fish, put it in the oven at 350F for 10 minutes or so as you prepare the sauce, as this will make it even more crispy.
---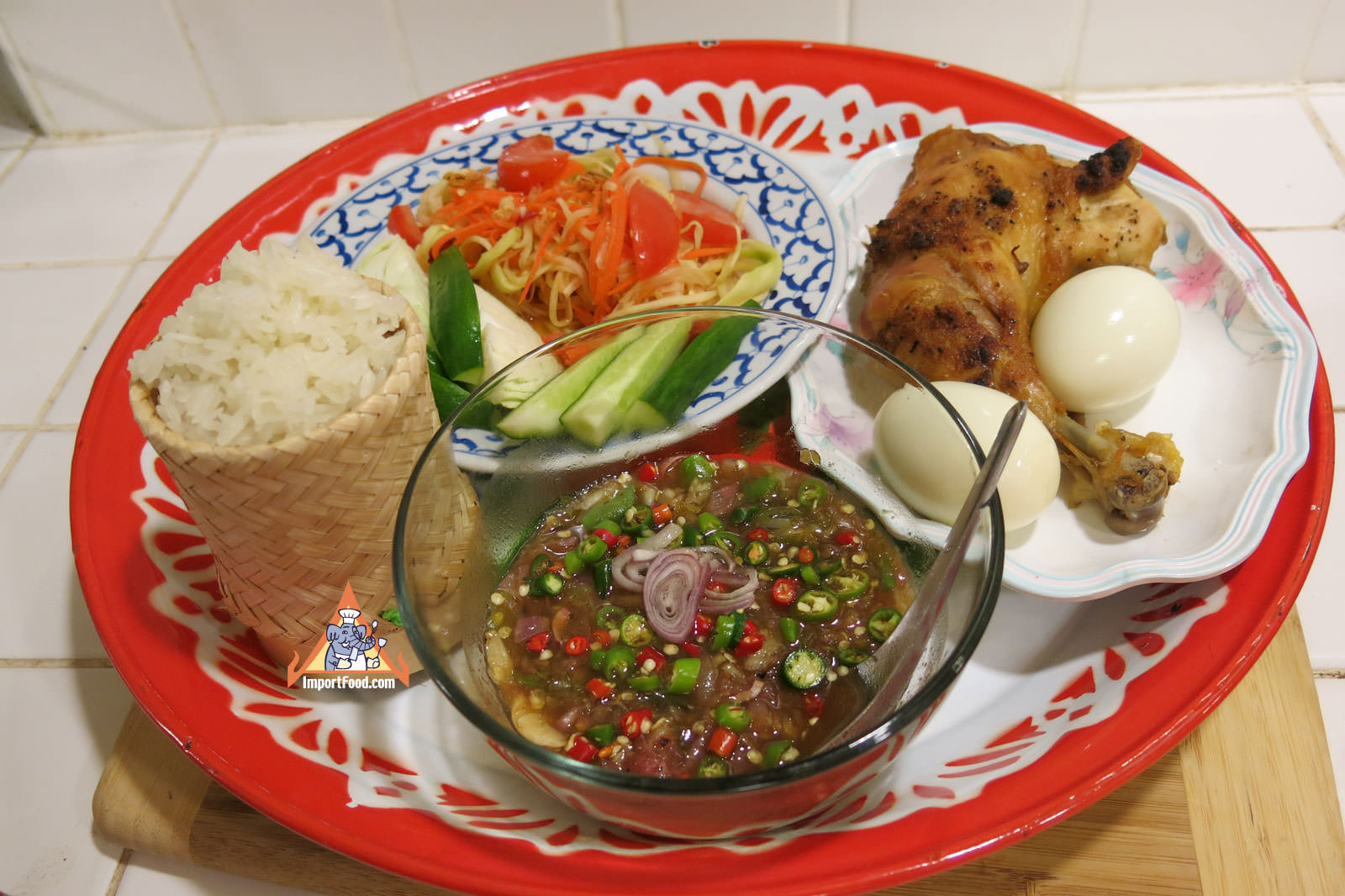 Thai Sweet & Sour Sauce, 'Nam Jim Priao Wan'
This is a simple, Thai-style, sweet and sour sauce. Note that it isn't pink! The sauce is spicy and has complex flavors.
Serve with any grilled meat. We enjoyed it here with chicken, som tum, sticky rice, and hard-boiled eggs.
---
---
Here are some other fish sauces available at ImportFood.com