Thai Prawn Soup with Lemongrass, 'Tom Yum Goong'

Thai Prawn Soup with Lemongrass, 'Tom Yum Goong'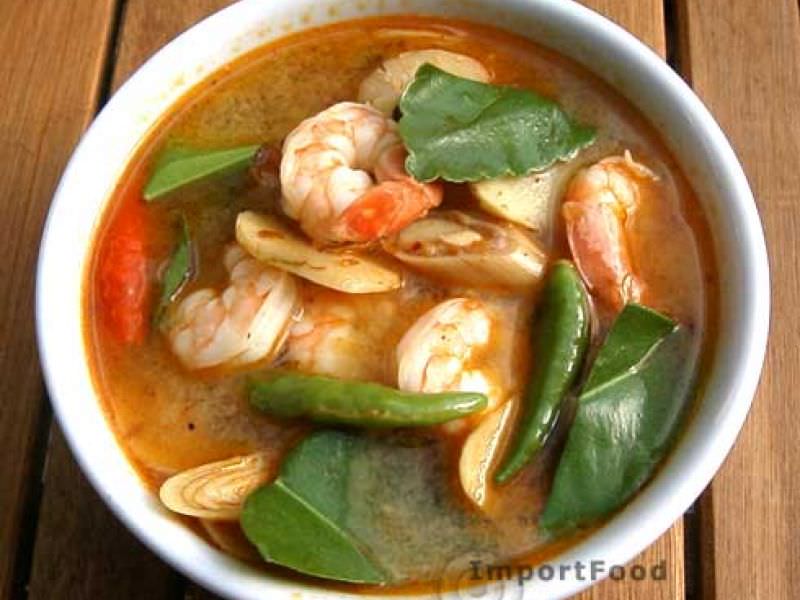 Tom Yum is both hot and sour, and it's one of the main signature dishes that defines Thai flavor. We've perfected this recipe and assure you it tastes great.
Typically a chef will use a pork or chicken stock then add the basic fresh staples to create the tom yum, as in our video: Railroad Chef Prepares Tom Yum. We like to start with a simple vegetable broth instead, so our recipe starts with the broth instructions then continues with how to make the tom yum.
It's important to use "prik pao" in your tom yum and we have several brands, with slightly varying tastes depending on your preference.
Also -- See Our Thai Street Vendor Video: Thai Street Vendor Prepares Tom Yum.
Method for Thai Prawn Soup with Lemongrass, 'Tom Yum Goong'
Method - Stock
Put 18 cups of water into a stock pot, add stock ingredients, cover and simmer for two hours.
Method - Tom Yum
Wash the prawns and shell them without removing the tails. Bring stock broth to a boil. Add lemongrass, galangal, fresh chile, and lime leaves. Bring back to a boil then add mushrooms, fish sauce, prik pao and lime juice. Add prawns. As soon as prawns turn pink (cooked through) serve garnished with cilantro.
A popular variation is to serve tom yum "sai nam kon" which means a spoonful of coconut milk or, many street vendors will add a spoon of evaporated milk. We like tom yum nam kon and enjoy adding tablespoon of our Tom Kha to it.
Note that a popular way to make this dish is with a ready-made tom yum paste or tom yum cubes. ImportFood.com has some options for you. Our Instant Tom Yum Paste, is imported from Thailand and a pretty good product for making tom yum but you'll need to adjust some flavors. Add two tablespoons Tom Yum Paste to three cups boiling water, add 1.5 teaspoons salt, add mushrooms and prawns, add 1 tablespoon fresh lime juice, add 5-7 Thai chile peppers and onions, and serve garnished with cilantro.
An alternative to Tom Yum Paste is our Tom Yum Cubes which you can use to make the above soup. These alternatives also add fragrant, delicious Tom Yum flavor to just about any kind of noodles, and both are quite popular.
To make your tom yum extra spicy, add Thai Fried Chilli Paste for Tom Yum.
Basic fresh tom yum staples
Prepare a vegetable stock
Add fresh season add meat

Reviews
People in this conversation