Thai-Style Wide Noodles In Thick Sauce, 'Kuaytiao Lad Na'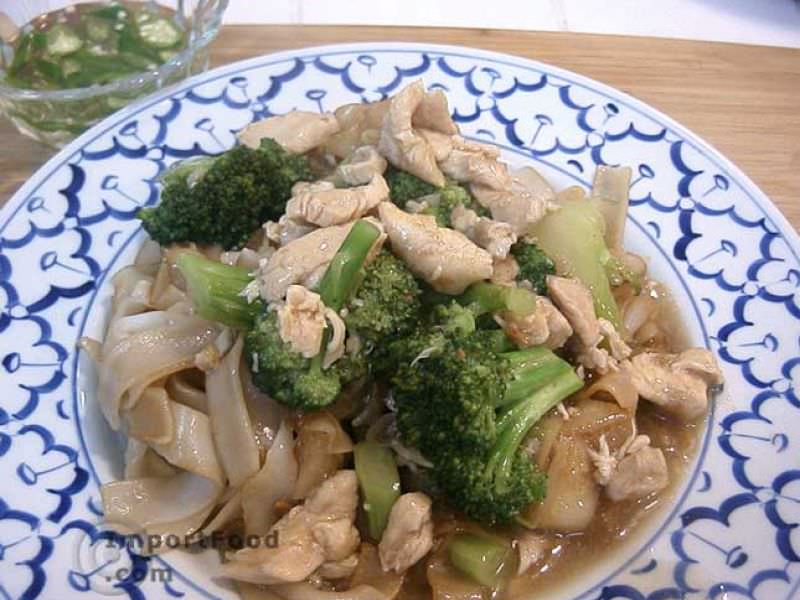 Lad Na is prepared in a two-step recipe that involves first frying wide rice noodles until they're just starting to get crispy. Then a sauce is quickly made and poured over the noodles. The translation of Ladna in English is "Pour on the Face".
Lad Na is served all over Thailand, so it can be considered a national Thai dish, see a sidewalk version here that's over 40 years old. It's typically served not spicy, with Thai condiments on the side to "fix the taste" and make it more spicy if that's desired. In Thailand, broccoli or "pak kanaa" is typically used. It's very good with asparagus as well.
Method for Thai-Style Wide Noodles In Thick Sauce, 'Kuaytiao Lad Na'
Soak the noodles in warm water for 30 minutes then rinse in cold water. Add noodles to a pot of boiling water and boil for 1 minute, then rinse in cold water again, and set aside. Our Thai cooking basket is a good tool to do this task.
Toss chicken with 1 tablespoon tapioca flour & the Maggi Seasoning. Marinate for 10 minutes.
In a mixing bowl, separate the noodles and toss thoroughly with 1 tablespoon oil and the black soy sauce. Fry this in a nonstick pan (noodles will stick to a wok so you should use a nonstick pan if possible) until golden brown. Remove from pan and keep warm.
Saute garlic in oil over medium heat until golden color, then add yellow bean sauce, stir well until fragrant. Add the chicken and saute until cooked. Add 2 1/2 cups chicken stock. When stock starts to boil, add broccoli and season with fish sauce, oyster sauce and sugar. Stir well and let cook a bit longer. Mix remaining tapioca flour separately with the remaining 1/2 cup chicken stock, then stir in with the chicken & broccoli until it thickens. Remove from heat.
Arrange the fried noodles on a serving plate, spoon the gravy over the noodles. Sprinkle with Thai pepper powder, and serve with prik dong in a separate small bowl (cut the chiles a bit before placing in the bowl). Enjoy!
Pour over the face lad na
Wide noodles in thick sauce kuaytiao lad na
Add yellow bean sauce to fried garlic

Reviews