Handmade Palm and Coconut Cleaver
Handmade Palm and Coconut Cleaver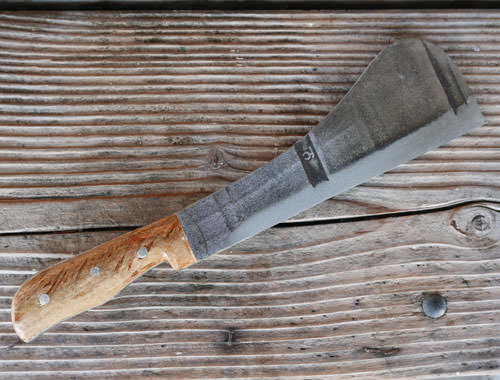 Add to cart
$46.00

Nice and long, this has a 'hump pack' for added weight to provide extra power when striking coconuts and toddy palm. Blade is about 4mm thick. Total length is 14", the blade is 10".
Made in Thailand.
These knives are made in a village in Thailand that has been producing knives by hand for 200 years. Generations in this village grow up making knives, using kilns to heat and cut the steel, hammers to shape it, then the knives are sharpened with a rasp and hand rubbed before putting them up for sale.
We personally picked these knives for shipment to our shop for sale to you.
The knives have a lot of character, and the fact that they are handmade is obvious. Each knife is slightly different. The wood is hand shaped. Each knife is stamped by hand as shown. These knives are "one of a kind". Made using good steel.