Thai Cleavers, Large and Small, Kiwi brand
Thai Cleavers, Large and Small, Kiwi brand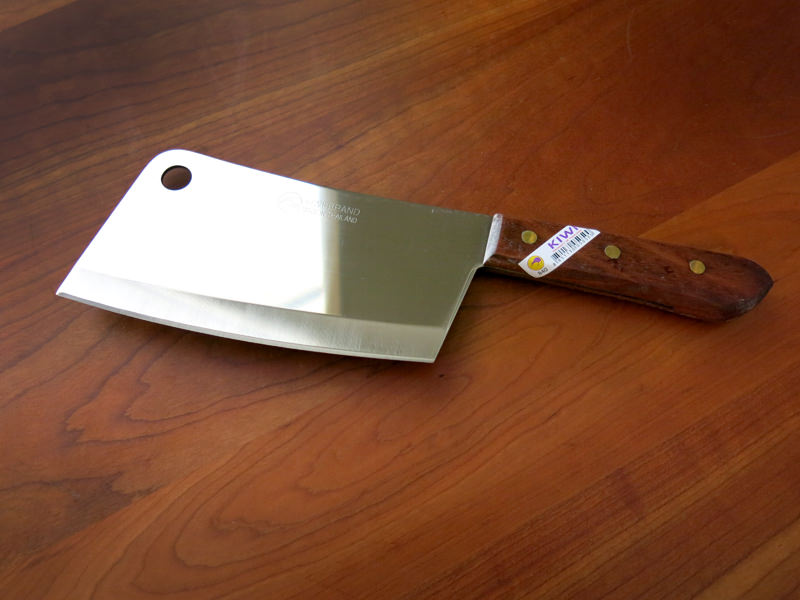 Thai Cleavers. Made in Thailand to the finest specifications by Kiwi, the blade is thick stainless steel and the handle is longlasting hardwood firmly attached with brass rivets. We now have two sizes, and we suggest you consider ordering both. The large has a 6" blade, 5" handle. The small cleaver has a 3" blade and a 3.75" handle. Good value for a reliable, quality cleaver that will give you years of service. Smooth, straight, sharp blade.
We have the finest selection of Kiwi knives imported direct from Thailand and offered at a very reasonable price. There's no mystery why chefs love these knives, and that Thai knife designers deserve a reputation equal to the taste of delicious Thai food.
The stainless steel blades are extremely sharp and strong yet light. The hard plastic handle on smaller knives not only feels great, it seems to be aircraft-grade plastic seamlessly molded to the blade for literally decades of use. On the larger knives, the blades are slightly heavier, with hardwood handles and brass rivets. Browse our selection and order with convenience, you no longer need to travel to Thailand to find the finest knives, or pay a fortune for European-style knives. .
We received a complement from Cory G in New York who remarked "Hello. I received the Thai Cleaver a few days ago. Without a doubt, it is the best knife I have ever used."
Carol in Los Angeles said "The cleaver has got to be the best I have ever had. It is light, sharp, ergonomic."
Made in Thailand and stamped with Kiwi Brand Made in Thailand.