13.75" long cleaver knife, Kiwi, wood handle
13.75" long cleaver knife, Kiwi, wood handle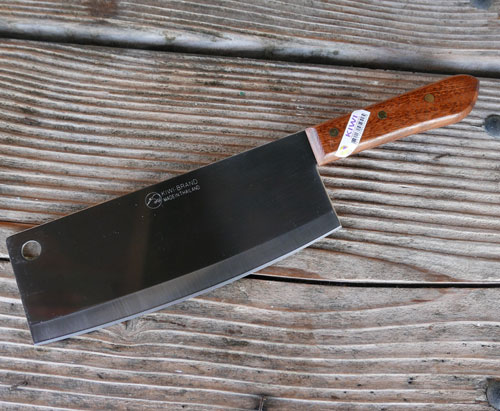 Add to cart
Temporarily Out of Stock

Here is a huge cleaver, with a really long blade. Total length is 13 3/4". Blade is 8 1/2" long, and 3 1/4" tall with a wood handle and three brass rivets.
This Thai Cleaver is very sharp. Made in Thailand by Kiwi. The blade is thick stainless steel and the handle is longlasting hardwood firmly attached with brass rivets.
Good value for a reliable, quality cleaver that will give you years of service. Smooth, straight, sharp blade.
We Also Offer:
6" blade, 5" handle

We received a complement from Cory G in New York who remarked "Hello. I received the Thai Cleaver a few days ago. Without a doubt, it is the best knife I have ever used."
Carol in Los Angeles said "The cleaver has got to be the best I have ever had. It is light, sharp, ergonomic."
Made in Thailand and stamped with Kiwi Brand Made in Thailand.