Handmade Thai Machete Cleaver, 12"
Handmade Thai Machete Cleaver, 12"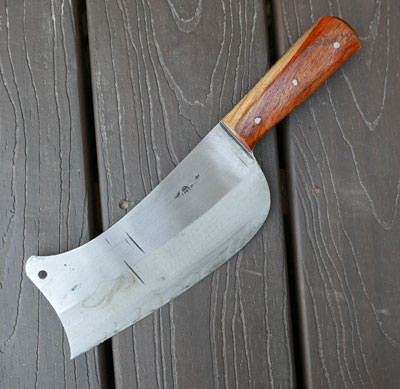 Add to cart
$34.00

In Stock. Ships Immediately.
Handmade, heavy duty cleavers made by the same company in Ayutthaya for over 70 years without any change in design.
This is very rustic and at the same time a work of art. The heavy steel blade does not look machined and "precision" in any sense. It's entirely pounded and sharpened by hand, and will give you years of use. Ready to sharpen over and over again.
The total weight of this cleaver is 18 oz, and the thickness is about 3/16". Length is 12". Wood handle is nicely-shaped, firmly attached with rustic steel pins.
We call it the "Machete Cleaver" because our mother from Kanchanaburi, born in the 1940s when things were different, remarked that this cleaver is known as a tool to cut down trees, sugarcane, and any general work that requires a heavy-duty blade.
We shipped one to Norway and received this in response:
"On 5 august in the local post office I pick up the knife you sent to me.Fantastic knife.Very good.Thank you so much.Rune and Piyada(My thai wife) from Norway. "
Click pictures below to enlarge.
We also offer a Thai Heavy Cleaver

OUR SELECTION OF CLEAVERS: