Thai Vegetarian Red Curry Paste
Thai Vegetarian Red Curry Paste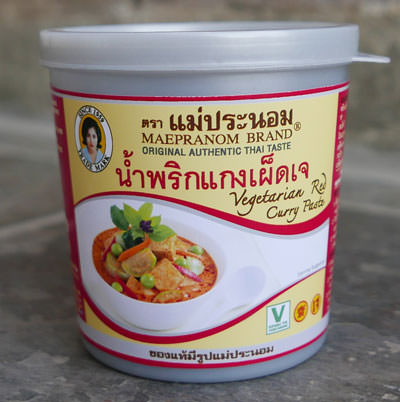 Add to cart
Temporarily Out of Stock

Please consider Maesri Brand Red Curry Paste which is also vegetarian.
Mae Pranom's premium quality vegetarian curry paste with excellent authentic flavor.
All natural ingredients.
The instructions on the label:
"Fry 100g vegetarian red curry paste with 2 tbsp vegetable oil on medium heat. Still well until aroma is achieved then lower the heat. Stir in gradually 2 cups coconut milk. Add 130g vegetarian protein (such as tofu), stir until cooked. Then add 1 cup water and bring to a boil. Add 1 cup green beans, 1/2 cup eggplant, and 1/4 cup mushrooms. Season with 2 tbsp palm sugar and 2 tsp thin soy sauce, stir well. Add 2 cups fresh basil and garnish with fresh red chilli. Remove from heat and serve with steamed jasmine rice."
We prepared this curry, as shown below. We used fresh red bell pepper, Thai eggplant and cauliflower and green beans, but no tofu. The flavor is delicate and rich. We added a bit less palm sugar and slightly more soy sauce. Just before serving we added two fresh kaffir lime leaves, torn and stirred in. We garnished with sliced red Thai chilli. It was excellent! Served in our Thai handpainted ceramic lotus bowl.
Ingredients: dried chilli, galangal, lemongrass, kaffir lime peel, spices, soybean paste, salt. No preservatives. No artificial colors. No msg.
See: Non-Vegetarian Red Curry Paste
Made in Thailand.
---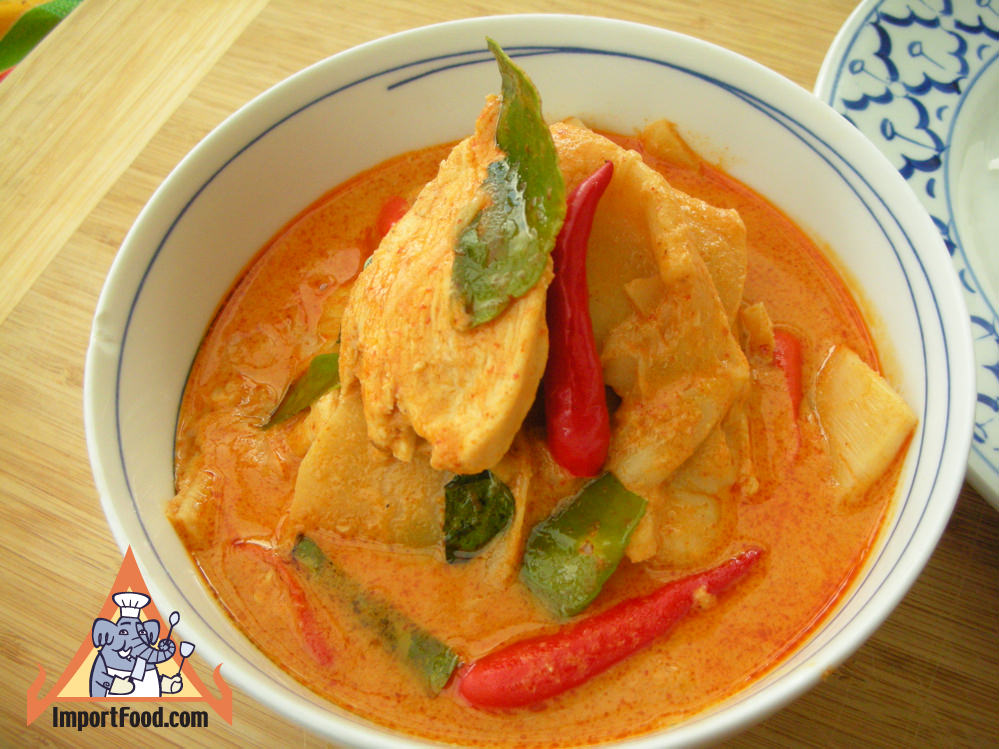 Red Curry Chicken with Bamboo Shoot
Here is an authentic Thai recipe using bamboo. If you want, slice your bamboo into little matchsticks, as is common in Thai restaurants in America. Usually in Thailand the dish will be made with the sliced bamboo sold by ImportFood.com, not cut into smaller matchsticks. For a similar recipe see: Kaeng Kua Sour Bamboo Shoot with Shrimp.
---