Fresh Kaffir Lime Leaves, Bai Magroot
Fresh Kaffir Lime Leaves, Bai Magroot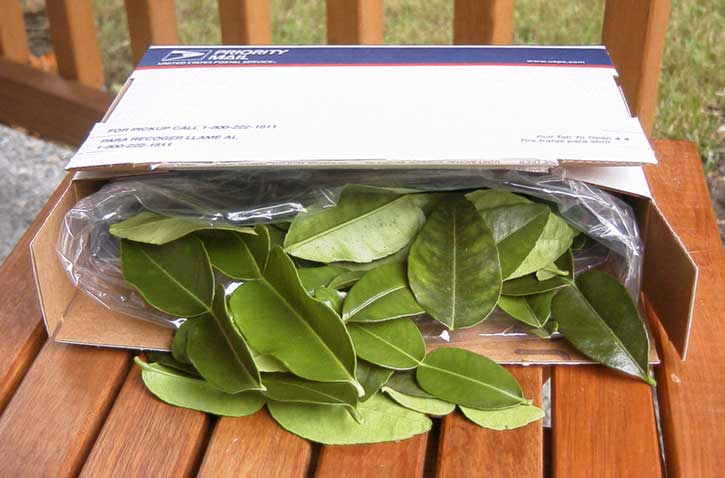 Add to cart
$19.95-Standard Pack (1.5 oz / 40-45 Fresh Leaves)

Shipping immediately every week Mon/Tues/Weds. We recommend the 'Large Pack' (see below) which is double quantity for just a bit more.
Kaffir lime leaf adds an unmistakable, refereshing taste that is essential in many Thai soups & curries. The combination of lemongrass and lime leaf is a fantastic blast of flavor. The leaves have a strong fragrance and flavor that can not really be substituted. To experience the wonderful aroma, sliver the leaves with a knife or scissors and you'll begin to understand just how wonderful this plant is. A digestive aid with many known health benefits, the leaves cleanse the blood while helping maintain healthy teeth and gums. In Thailand the leaves are added to shampoo (said to prevent hair loss) and used as deodorant. Kaffir lime leaves grow in doubles. Sizes vary, but the average individual leaf is approx 2" long. Harvesting is done by hand and it's difficult because the branches have long thorns, so they tend to be expensive and not easily found in supermarkets. They freeze very well-just place in a ziplock bag & they'll retain their flavor for months. No need to defrost, just use as normal. Celebrity chef Martin Yan and cooking magazine Bon Appetit recommend buying kaffir lime leaves from ImportFood.com, so does Thomas Keller (French Laundry), Mark Bittman (New York Times). Martha Stewart's Body & Soul Magazine recommends as a spa treatment. We also offer the less-commonly used whole kaffir lime fruit.
We ship fresh kaffir lime leaves via Fedex 2 Day, quick delivery within 2 days straight to your doorstep however they are sent only at the beginning of the week because they are coming from Mother Nature (sometimes harvest schedules dictate short delays as well). Please Note: checkout with "Fedex Ground" as the shipping method, and you will receive lime leaves via Express. Any questions please feel free to call toll free 888-618-THAI. Lime leaves freeze well, so you can buy once and have enough on hand to last for months.
Add to Cart
Standard Pack (1.5 oz / 40-45 Fresh Leaves) - $19.95
Add to Cart
Large Pack (3 oz / 80-90 Fresh Leaves) - $25.95
---
We recommend kaffir lime leaves in the following ImportFood.com Thai recipes:
Thai Prawn Soup With lemon grass, "Tom Yum Goong", Street vendor video included
Thai Chicken Soup With Coconut Milk, "Tom Kha Gai", Street vendor video included
Panang Beef, Street vendor video included
Northern Thai Sausage "Sai Oua", Street vendor video included
Thai Pork Satay, "Moo Satay", Street vendor video included
Steamed Chicken Chiang Mai, "Gai Muang Nung Kreung Gaeng Nua"
Thai-Style Butternut Squash Soup
Thai Vegetarian Coconut Soup with Galanga and Squash
Thai Ginger Chicken Soup, "Tom Khing Gai"
Green Chicken Curry, "Gaeng Khiao Wan Gai"
Penang Chicken Curry, "Penang Gai"
Red Chicken Curry, "Gaeng Phed Gai"
Turmeric Chicken Soup, 'Gai Tom Khamin'
Mock Bean Pods with Shrimp Filling and Sweet Filling, "Khanom Thua Paep"
Lemon grass Chicken, "Gai Sai Takrai"
Spicy Thai Corn Cakes, "Todman Khao Phot"
Curried Squid, "Plamuk Pat Phet"
Red Curry Chicken with Bamboo Shoot
Thai Vegetables in Coconut Milk, "Phak Tom Kati"
Thai Seafood Salad, "Yum Talay" , Street vendor video included
Thai Sticky Rice Steeped in Coconut Milk, "Khao Neeo Moon"
Pumpkin in Coconut Soup with Shrimp, Phaktong Tom Kati"
Spicy fried fish cakes, "Tod Man Pla", Street vendor video included
Tequila Infused with Kaffir Lime Leaves
Eucalyptus Herbal Vapor (spa recipe)
And a lot more from our Recipe Collection!
---
Below are testimonials received from customers about our fresh kaffir lime leaves.
"I just wanted to take the time to tell you we have enjoyed your products. My mother-in law sent us some Kaffir lime leaves, from your company, after we told her we were having a hard time trying to find the leaves fresh. When they arrived the leaves were in amazing condition and smelled wonderful. We use them to make Tom Yum soup....it made the soup fabulous, I just ordered more, can't wait to recieve them in the mail. Thank you for having such wonderful fresh produce!"

David and Hope, Borg ME
"I was amazed and delighted to receive the package of fresh galangal, Thai chiles, and Kaffir lime leaves within 24 hours of my order. This is a marvelous company, from which I have now just ordered everything to make my first grand Pad Thai, which is, I trust, only the beginning of many orders to come. Although we have many good Asian markets in the Seattle area, none offer the remarkable range of Thai products that ImportFood.com does."

AFred, Camano Island WA
"Your selections are endless. You're the only place I can find kaffir lime leaves, out of season, that are fresh & wonderful! I give out your website to many specialty stores who can otherwise not meet the supply when demanded."

Deni, Eastpointe MI
"Another satisfied customer here... in 5 days received, as promised, dozens of FRESH aromatic Kefir lime leaves, just what my curries had been missing. I have already recommended your site to my friends. Thanks!"

Carrie, Long Beach, CA
"Thanks so much for the kefir lime leaves...they arrived just as you promised. They are fresh and wonderful. It is such a pleasure dealing with you and your responsive company! I will be ordering again soon."

Grace, Apopka, FL
"I stumbled across Importfood.com in my never ending quest for the best (and proper) ingredients for the curries (red, jungle, green) that I enjoy trying to make. I will definitely advise friends and family - they have heard me raving about your site since I purchased my own kaffir leaves (and some really nice-priced lemongrass) a couple of months ago."

Kate, Orono, ME
"The Kaffir leaves arrived yesterday. I found them last night. They still look and smell fresh and vibrant green. Many, many thanks."

Mariane, Little Rock, AR
"I received the lime leaves in perfect condition yesterday- fresh, excellent quality, and extremely well-packed, not to mention quick shipping. Thanks! I will be back! "

Elizabeth, New Haven, CT
"Hi, I just received a shipment of Kaffir Lime leaves. They are beautiful and smell fantastic! I vacuum seal them and they are just as delicious the rest of they year as they are now. Thank you so much. "

Alex, Ithaca, NY
---
Try our Tom Kha Kit. Extraordinary Value.
"Tom Kha Gai" is one of our favorite Thai recipe, and it's been a favorite of our customers for years. Here's everything you need to make several large servings of the best fresh home-made authentic Tom Kha. A thoughtful mix of fresh Thai herbs with all ingredients. Expedited to your door via 2 day shipping to ensure fresh delivery. You'll also be able to make other Thai recipes. This is a great value and includes one Amazing Elephant Tom Kha. Checkout with Ground shipping and we'll upgrade it to expedited 2 day at no extra charge.
---
Thai Cafe Kit
A thoughtful mix of fresh Thai herbs with ingredients to make a delicious authentic tom yum soup, tom kha soup, Thai green curry and red curry. Expedited to your door via 2 day shipping to ensure fresh delivery (upgraded at no charge). You'll also be able to make quite a few servings of other Thai recipes. This is a great value and will have you cooking healthy Thai meals right away. Checkout with Fedex Ground but we'll upgrade it to expedited 2 day at no extra charge.
Add to Cart
Thai Cafe Kit with 5lb Jasmine Rice - $38.95
---
Recommended ImportFood.com Thai Recipes using Kaffir Lime Leaves
---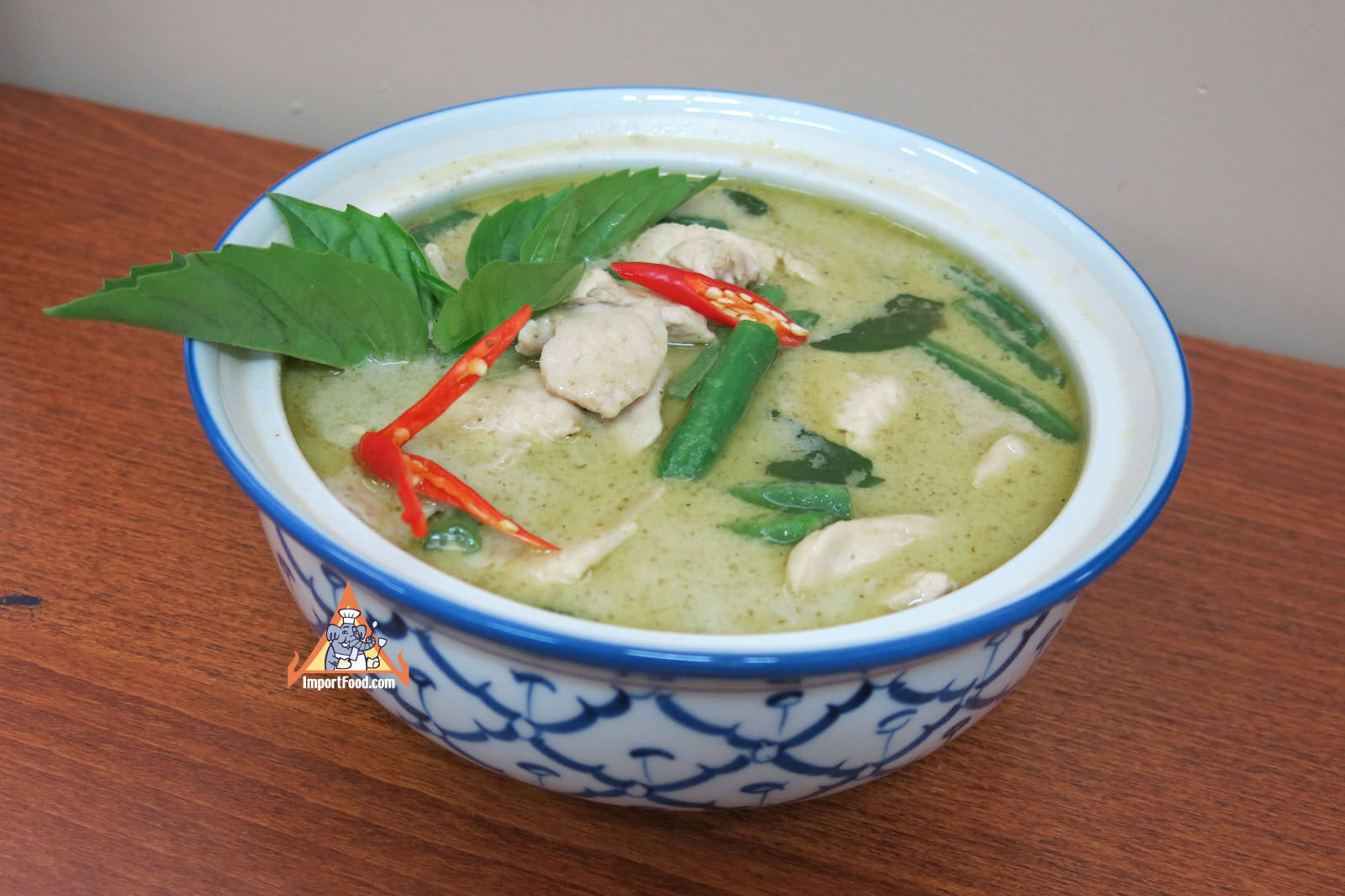 ---