Lobo brand, BBQ red pork seasoning mix, 3.52 oz
Lobo brand, BBQ red pork seasoning mix, 3.52 oz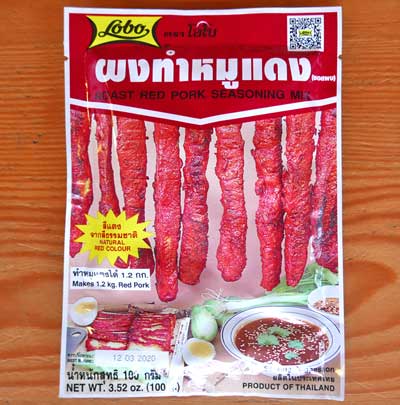 Add to cart
1 Pack $2.39

Inside each package are two identical 1.76 oz packages, so this is "two for one".
If you've ever had "moo dang" in Thailand, this will bring back tasty memories. Also known as Char Siu, or Chinese barbeque pork. See our recipe for home-made red pork.
Prepare 2 lb pork butt, cut into long pices about 1.5 x 8 inches. Dissolve contents of 1 packet with 1/2 cup water, soak for 2-3 hours. Bake at 400 degrees for 20 minutes or charcoal grill or broil until well-done. Slice thin.
Ingredients: sugar, salt, hydrolyzed vegetable protein, star anise, cinnamon, anti caking agent tricalcium phosphate, paprika extract, carmine, beet powder. Product of Thailand.
Product of Thailand.
---
We also offer the following premium quality Lobo brand mixes