Lobo brand, BBQ red pork seasoning mix, 3.52 oz
Lobo brand, BBQ red pork seasoning mix, 3.52 oz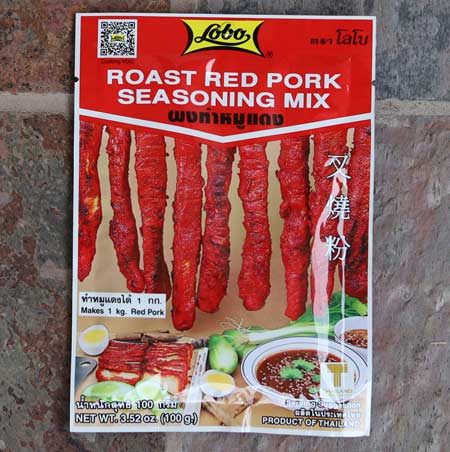 Add to cart
1 Pack $2.39

If you've ever had "moo dang" in Thailand, this will bring back tasty memories. Also known as Char Siu, or Chinese barbeque pork. See our recipe for home-made red pork.
Inside each package are two identical 1.76 oz packages, so this is "two for one".
See pictures below, as we prepared this at home.
Start with about 1 lb pork belly. Dissolve contents of 1 packet with 1 cup water. Soak the pork in this for 2-3 hours. We broiled it on foil but the the instructions suggest baking at 400 degrees for 20 minutes or charcoal grill or broil until well-done.
Ingredients: sugar, salt, hydrolyzed vegetable protein, star anise, cinnamon, anti caking agent tricalcium phosphate, paprika extract, carmine, beet powder.
Product of Thailand.
---
We also offer the following premium quality Lobo brand mixes