Thai Pepper & Garlic Seasoning Mix, Lobo
Thai Pepper & Garlic Seasoning Mix, Lobo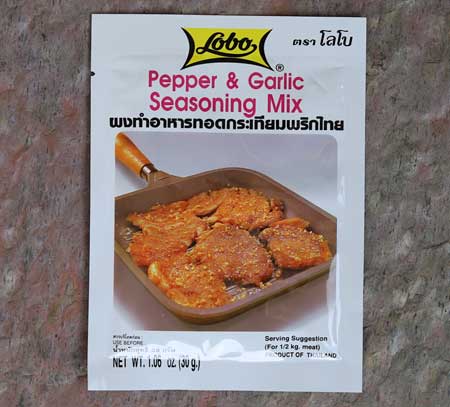 Add to cart
1 pack $1.79

We love everything from Lobo brand, the products are so tasty and capture authentic Thai flavors perfectly with easy-to-prepare methods. This Pepper & Garlic Seasoning Mix is one of our favorites.

Simply add a bit of water and you have a wonderful marinade to use with any meat. We used this to prepare delicious pork chops quickly and easily, see photo below. Just mix with water, marinade for 30 minutes, then pan-fry. Makes one large serving.

Ingredients: Sugar, salt, soy sauce powder, spices, soybean oil, silicon dioxide as anti-caking agent (no msg, artificial color or preservatives).
Product of Thailand.
We also offer the following premium quality Lobo brand mixes