Lobo brand, Fried rice seasoning, 25 gm
Lobo brand, Fried rice seasoning, 25 gm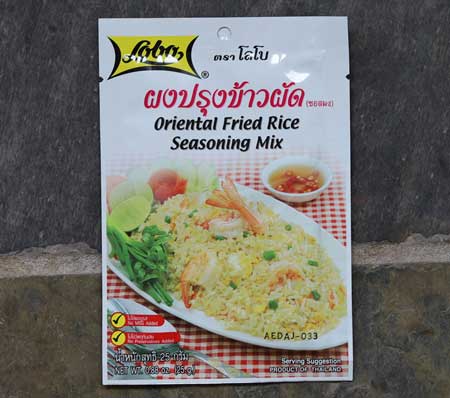 Add to cart
$1.79

We love everything from Lobo brand, the products are so tasty and capture authentic Thai flavors perfectly with easy-to-prepare methods.
Preparing this is quick and simple, see our photo below of how it turned out.

To use this product, start by adding 2 tablespoons of vegetable oil to a wok, heat and add 1/2 lb of shrimp, pork or chicken (we used shrimp). Add one egg, and scramble. Add about 1 plate of steamed jasmine rice, lower the heat and add the fried rice mix. Stir and add other ingredients of your choice, such as onion, and you've created a wonderful Thai-style khao pad (fried rice). We added some drops of Maggi Seasoning over the top at the end, highly recommended.

Ingredients: Dextrose, salt, vinegar powder, soy sauce powder, spices and silicon dioxide (as an anti-caking agent). No msg, artificial color or preservatives added.
Product of Thailand.
---
We also offer the following premium quality Lobo brand mixes