Lobo brand, Kao soi seasoning, 1.76 oz
Lobo brand, Kao soi seasoning, 1.76 oz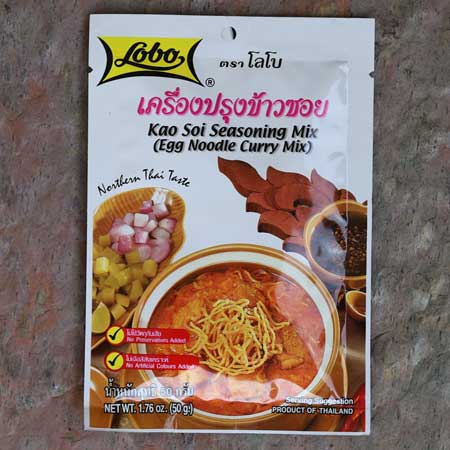 Add to cart
1 Pack $2.29

We love everything from Lobo brand, the products are so tasty and capture authentic Thai flavors perfectly with easy-to-prepare methods.

Kao Soi (or khao soi) is typically found in northern Thailand, Chiang Mai are. This is heavy with coconut milk and usually served with fresh egg noodle (ba mee in Thai) but you can use spaghetti or egg fettuccine noodles with good result.
We used a package of 'Chow Mein' noodles that were in the refrigerated section of a local store.

Simply get out your wok, add 1/2 cup coconut milk together with this packet. Fry until fragrant then add meat of your choice (beef or chicken suggested). Cook until meat is done then add two more cups of coconut milk and 3 cups of water. Lower heat and simmer. Serve with noodles, add soy sauce, lime juice and chile pepper to taste.
To make it authentic: in a side dish add
Pickled Mustard Green
Fresh Shallot

A convenient envelope packet, enough to make one large serving. Ingredients: Spices, sugar, salt, msg, curry powder and citric acid (no artificial color or preservatives).
Product of Thailand.
Chiang Mai Curry Noodles, 'Khao Soi'
This is a noodle dish, prepared in a rich creamy curry sauce, that is traditional in Northern Thailand. A popular lunchtime meal in northern Thailand. The flavor is not only distinctly "Thai" but it also goes very well with the American palate. We also offer a ready-made Kao Soi paste for quick preparation.
Try to use fresh egg noodles. We found flat, fresh egg noodles at our local Safeway supermarket in the refrigerated section. Khao Soi is typically a rich gravy poured over soft noodles, then topped with the same noodles but crispy.
---
---
We also offer the following premium quality Lobo brand mixes