Chinese Five Spice Blend - Pa Lo Powder - Lobo Thailand
Chinese Five Spice Blend - Pa Lo Powder - Lobo Thailand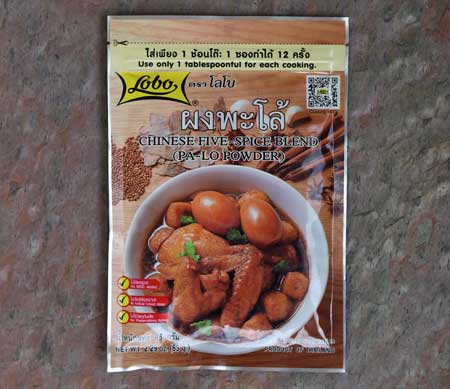 Add to cart
$2.89-2.29oz

Five Spice is a blend of these fragrant spices: cinnamon, coriander seed, bay leaf, anise powder, allspice.
Our Five Spice is made in Thailand by Lobo, a generious 2.29 oz in a modern sealed package.
There is a great recipe on the package, and we prepared it at home with great success (see below). All you need to do is the following:
Mix 5 spice powder with 1 pound diced pork. In a pan, fry garlic in vegetable oil then add the pork. Fry the pork then add water, soy sauce, black soy sauce, a bit of sugar. Add hard boiled egg and serve with pickled mustard green on the side, and fresh Thai chilli pepper if desired.
Variant method (our suggestion): before starting, marinate the pork in some soy sauce and ground black pepper for 1 hour.
Ingredients: cinnamon 44.8% , coriander seed 30%, bay leaf powder 14.4%, anise powder 14.2%, allspice powder 1.6%.
Product of Thailand.
Enjoy five spice in the following recipes
Solid Granite, Hand-Made Mortar and Pestle
---
We also offer the following premium quality Lobo brand mixes