Thai Agar Dessert Mix, Almond Flavor
Thai Agar Dessert Mix, Almond Flavor


This quick and easy mix makes delicious Thai agar dessert. Agar dessert is easy to work with, and is delicious with fruit salad. Typically this is a summertime treat but you might enjoy it with fruit salads.
We also highly recommend this almond flavor agar dessert with Thai iced tea, something that restaurants in Thailand are known to do. Just make the agar, cut it into cubes, and add it to your Thai iced tea. Served together in the same glass, this is a heavenly combination.
To prepare, just empty contents of this packet in 3 cups water, bring to a boil while stirring. Pour into a mold or shallow container (such as a cake pan, shown below) and cool until set. Cut the cream into bite-sized cubes, or use your holiday cookie molds. Place in a serving bowl with fruit salad and gently combine.
Ingredients: sugar, non-dairy creamer, agar agar, whey powder, tricalcium phosphate (anti-caking agent), artificial flavor. Product of Thailand.
---
Put Some Agar In Your Thai Iced Tea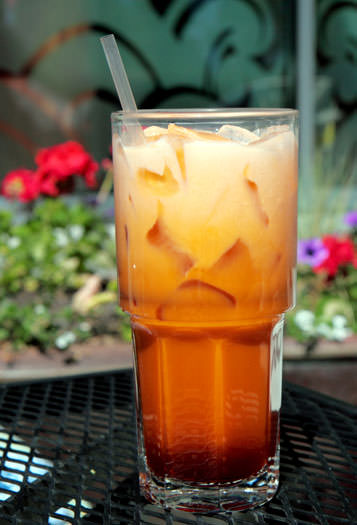 Thai Iced Tea
Thai tea has become very popular in the United States as people find pleasure sipping this delicious, unique tea. Tasting it in hot summer months, sitting around a swimming pool or on the beach, is like a dream.
We've been importing Thai tea from Thailand for over 10 years, from an excellent quality manufacturer (the BEST brand!) that supplies street vendors in Thailand, and restaurants around the world. A combination of Thai tea leaves and spices. The flavor is just right, it could not be more authentic.
If you're thinking of Thai iced tea on your summer picnic, want to make Thai ice tea popsicles, create a Thai ice tea cake frosting, etc, we're offering a great deal on the real thing, in Por Kwan brand.
---
---
We also offer the following premium quality Lobo brand mixes