Holy Basil Seasoning, Lobo Thailand
Holy Basil Seasoning, Lobo Thailand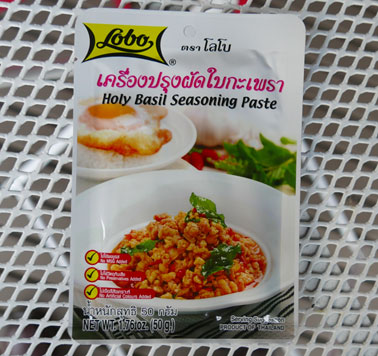 Add to cart
1.76oz - $1.79

This tasty seasoning is ordered over and over again by our regular customers. Conveniently packaged in the vacuum pack bag is a special blend of spices.
Simply get out your wok or skillet, add this packet together with 3 tablespoons vegetable oil and fry until an incredibly fragrant aroma fills your kitchen. Then add your favorite meat and/or vegetables, cook and serve with fresh jasmine rice. Terrific! The flavor is the perfect combination of basil and a spicy hint of heat from the chile. Each packet has enough to make one large serving.
Ingredients: Chilli, holy basil leaves, soy sauce, garlic, onion, soybean oil, sugar, salt fish sauce (anchovy extract, salt, sugar), modified tapioca starch, hydrolized vegetable protein (corn, yeast extract), flavoring. Product of Thailand.
We also recommend a similar basil paste from Mae Pranom brand.
We also offer the following premium quality Lobo brand mixes