Lobo brand, Laab-Namtok seasoning mix, 1.06 oz
Lobo brand, Laab-Namtok seasoning mix, 1.06 oz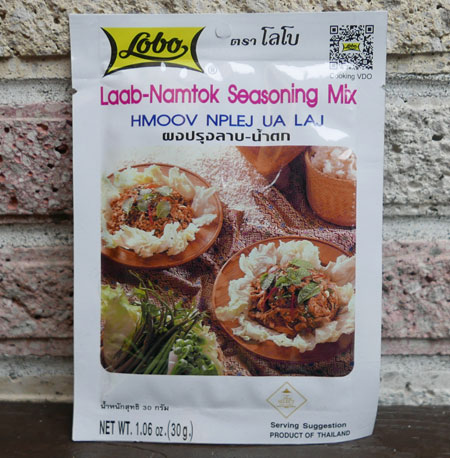 Add to cart
1 Pack $1.79


Two of our favorite Thai recipes are waterfall beef (also known as Nam Tok) and Laab (northern Thai dish), which can both be quite time-consuming to prepare. Here is a quick packet of spices that allow you to prepare either recipe quickly and easily.
Very easy to make and the final result is a delicious, authentic, rich flavor. Instructions are on the package. Basically just cook ground pork in a pan, add water then add the package of Lobo laab-namtok. Garnish with cucumber, shallot, mint leaves and spring onion.
Serve with Thai sticky rice.

Ingredients: roasted rice, chile powder, citric acid, msg, salt, shallot, garlic powder, spices. Product of Thailand.

We also have namtok instant noodles.
---
We also offer the following premium quality Lobo brand mixes