Lobo brand, Laab-Namtok seasoning mix, 1.06 oz
Lobo brand, Laab-Namtok seasoning mix, 1.06 oz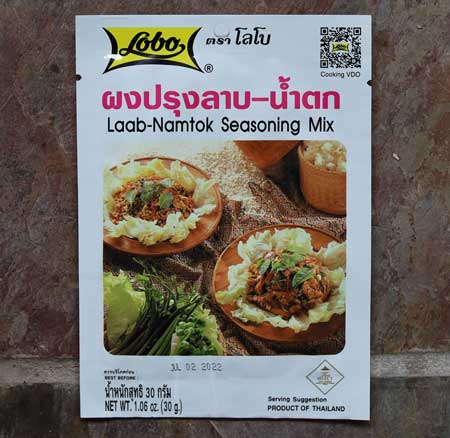 Add to cart
1 Pack $1.79

Two of our favorite Thai recipes are waterfall beef (also known as Nam Tok) and Laab (northern Thai dish), which can both be quite time-consuming to prepare. Here is a quick packet of spices that allow you to prepare either recipe quickly and easily.
Very easy to make and the final result is a delicious, authentic, rich flavor. Instructions are on the package.
We chopped up 3/4 pound of flank steak, put it into a pan with 1/4 cup water. Cook the meat then add one package of Laab Namtok, stir and serve. Best with mint leaves and fresh shallots.
Garnish with cucumber, lettuce and spring onion.
See our photos below. Very delicious, authentic and simple!
Serve with Thai sticky rice.

Ingredients: roasted rice, chile powder, citric acid, msg, salt, shallot, garlic powder, spices. Product of Thailand.

We also have namtok instant noodles.
---
We also offer the following premium quality Lobo brand mixes