Extra Fine Hot Thai Chile Powder, Hand Brand
Extra Fine Hot Thai Chile Powder, Hand Brand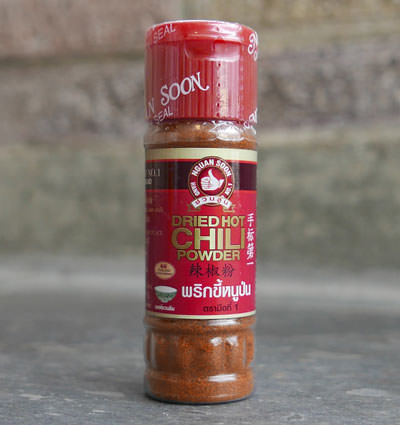 Add to cart
0.7 oz - $2.75

This is Hand Brand's hottest Thai chile powder, ground up into a very fine powder. Pop the lid and shake a bit out. This is the easiest way to give any meal an instant kick of true Thai chile heat. It is extremely hot Thai ground Thai chile, the same as coarse ground but with a much finer consistency.
We found that combining a bit of this powder with salt, kaffir lime leaf powder, and ground up Szechuan peppers makes an interesting citrusy-spicy popcorn salt.
The nice plastic jar is 4" tall. 20 grams, or .7 oz. Enough to last a long time.
Ingredients: Dried hot chili.
Product of Thailand.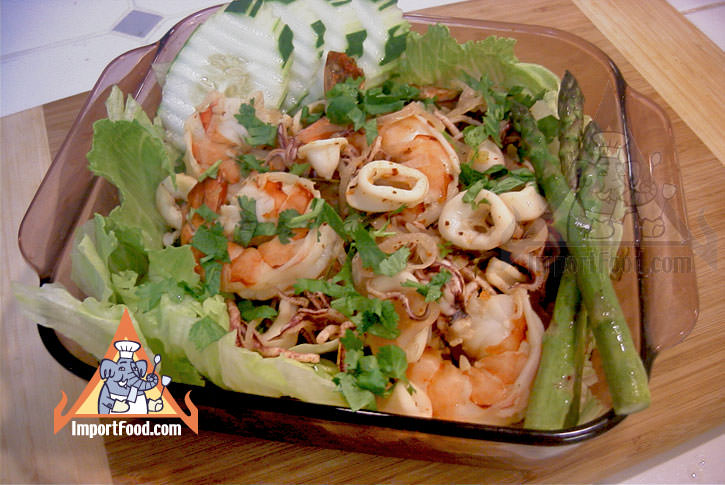 Thai Seafood Salad, 'Yum Talay'
Yum means mixture of different flavors, often associated with a salad, talay means seafood. This mixed seafood salad, Thai-style, is a winner. It can be made with any combination of seafood you have on hand, and for greens we like it served on a bed of iceberg lettuce along with seasonal vegetables.
---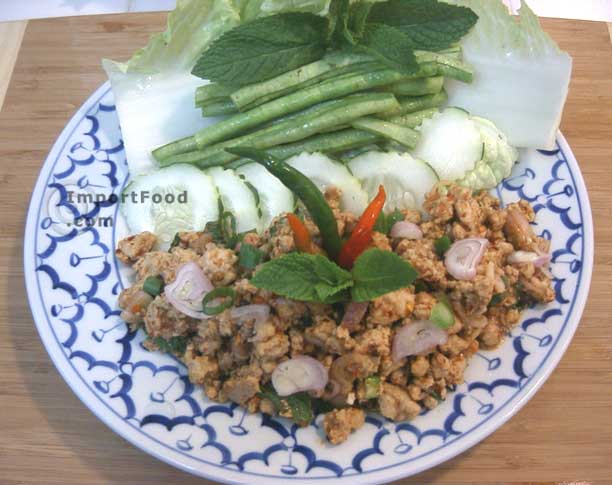 Thai Spicy Ground Chicken and Toasted Rice, 'Larb Gai'
This is one of our all-time favorite Thai dishes, and it is a very common dish served throughout Thailand as well as Laos. It's quick to make and often extremely spicy, but the lime juice and mint leaves make for an exotic and splendid combination.
It can be found on Thai restaurant menus in America as "chicken salad Thai style", which might be the best description for this dish.
Larb is pronounced "lawb" and that means salad. It can be made with beef (lawb nuea) or pork (lawb muu) instead of chicken.
---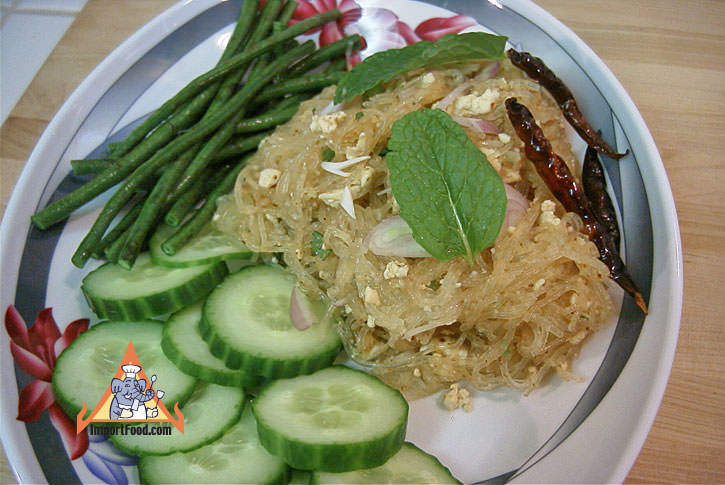 Thai Vegetarian Larb Woonsen, 'Larb Woonsen Jae'
We find that it's difficult to enjoy true vegetarian Thai food because so many recipes use fish sauce; however, we absolutely love this vegetarian larb recipe. It does take time to prepare but the result is both nutritious and delicious. Vegetarian or not, you'll love this elegant recipe too. We also have a non-vegetarian recipe for larb woonsen.
---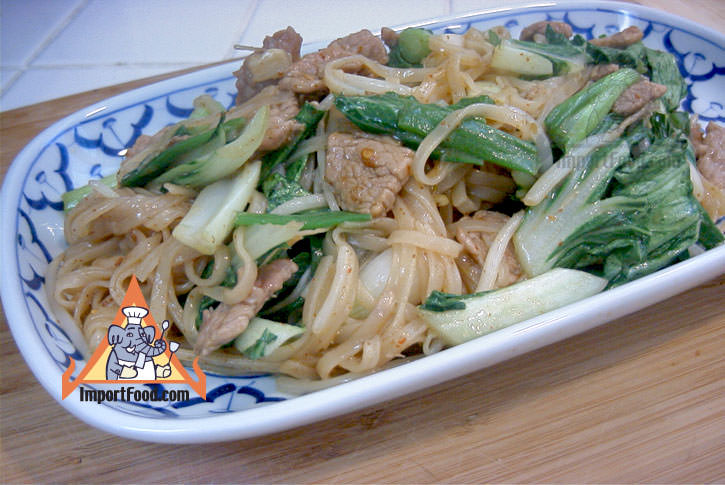 Korat-Style Stir-Fried Noodles, 'Pad Korat'
The result of this recipe is a hot, spicy, thoroughly addictive succulent noodle dish. It might seem like you're adding too much ground chile peppers, but it's meant to be hot, and the chile gives it the distinctive color. This version is both sweet and spicy. To add some depth, you can add a tablespoon of tamarind concentrate to the cup of water. Use any greens you have on hand, we liked the way our version turn out, with bean sprouts and bok choy.
---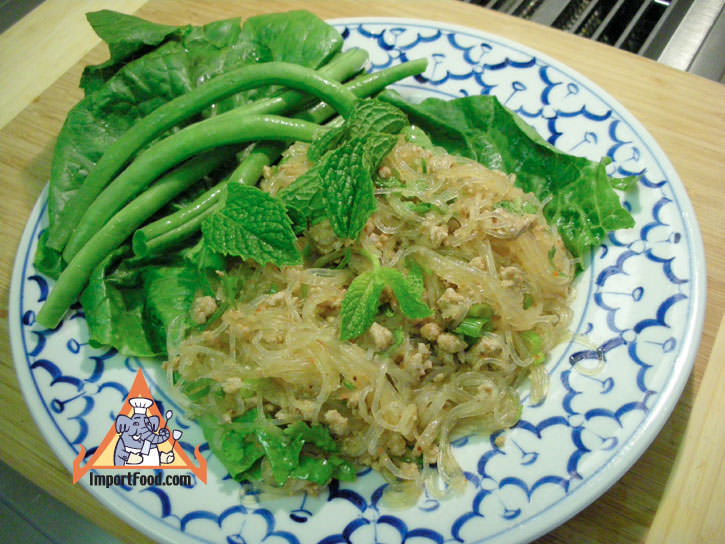 Larb with Glass Noodle & Minced Pork, 'Larb Woonsen Moo Sap'
If you like spicy Thai food, chances are you will love larb. This is a really tasty summer salad especially if served over a bed of leafy greens together with fresh green beans. In Thai language, larb is in the category of salad. Often enjoyed with beer--ask an alcoholic in Thailand what food they like with a strong Thai lager beer, and they might mention larb. Perhaps the most common is larb gai (chicken) or pork. It's a one-dish meal or it can be served with rice. We like this version with beanthread noodles (also called glass noodles). Made from ground mungbean flour, these clear noodles soak up the flavor of the spices. We also have a recipe for vegetarian larb woonsen. New Recipe: Larb Woonsen in Spring Roll Wrapper.
---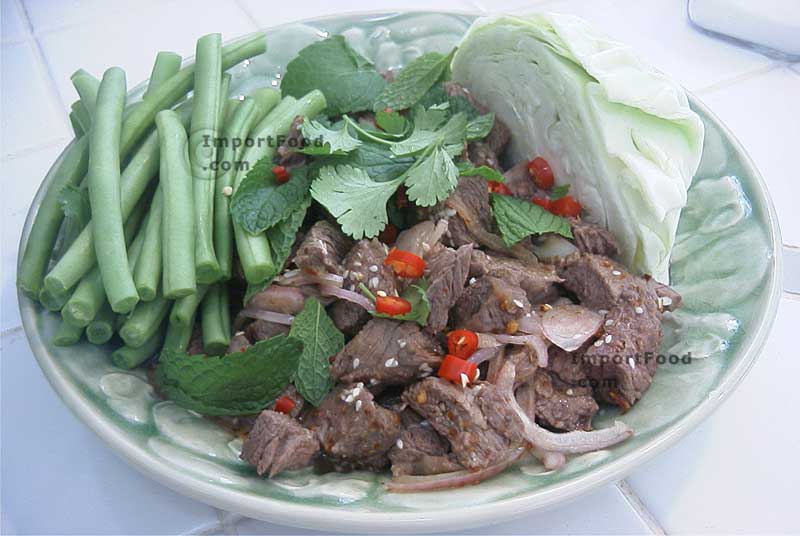 Waterfall Beef, 'Neua Yang Nam Tok'
In Thai language, nam tok is a waterfall. This dish is usually cooked using a barbeque (the juices drip onto charcoal hence the name waterfall) but you can fry or broil the beef just as well. It should be cooked rare to start with. See our street vendor video lower left, a sidewalk chef prepares it.
We also offer: instant nam tok mix and Mama instant namtok noodles.
A great dipping sauce to serve with this beef is made with our Namprik Thai Tae.
---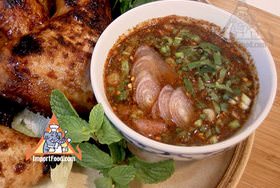 Grilled Meat Dipping Sauce, 'Nam Jim Jeaw'
Nam Jim Jeaw is a popular sauce for grilled meat. We offer a packaged "E-San Sauce" (see below) which is the same thing, so now you can make it from scratch. The flavor is unique, smokey from the roasted rice, sweet, spicy and sour.
Nam Jim Jeaw is delicious served with grilled pork, grilled fish, grilled chicken or bbq beef. Also goes well with Thai sticky rice.
We now offer Namprik Thai Tae, a similar dipping sauce that you may equally enjoy.
---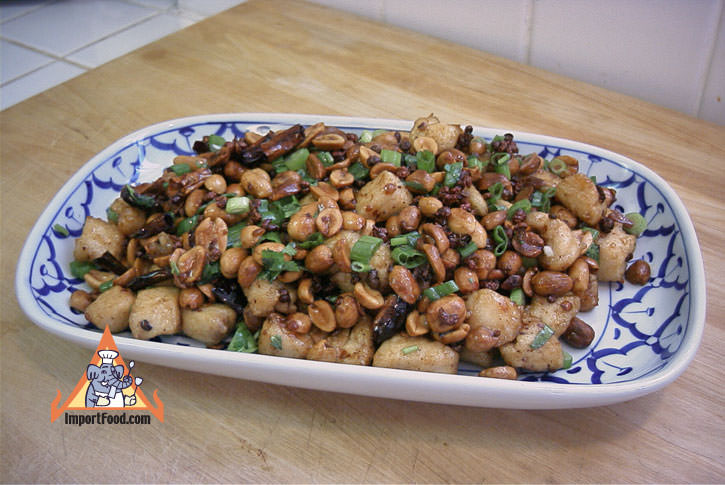 Thai-Style Szechuan Chicken
Chinese-style food is popular in Thailand, often the best hotels in Thailand have wonderful Chinese food. We've created this Thai-style Chinese szechuan chicken recipe using the rare szechuan peppercorn together with very hot whole dried chiles. It's cooked using alcohol, and we were lucky enough to have a bottle of Laotian whisky distilled from sticky rice, but you can use Wild Turkey Kentucky bourbon with good results.
The result is fairly spicy, so this isn't for people who don't like spicy. Something we love about this is the way the Szechuan peppercorn make your tongue tingle. It's also tastes great a day later, as a leftover reheated.
---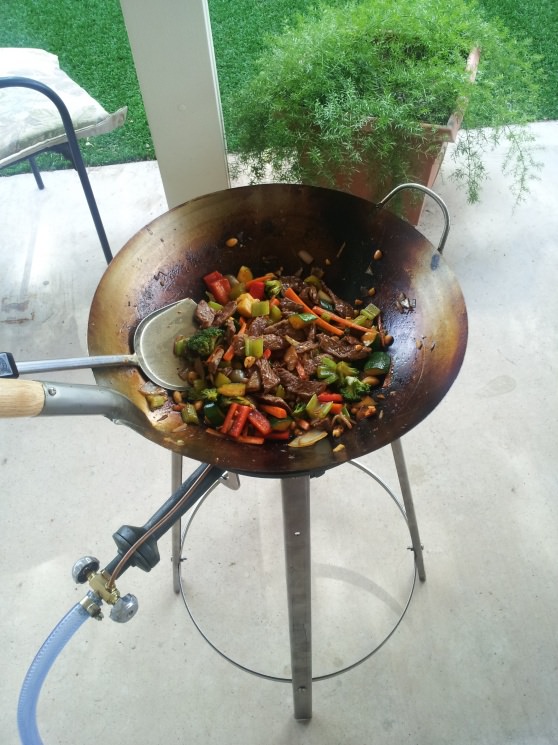 Coconut Rice With Beef, Thai-American Style
We are pleased to present this recipe which nicely blends two of our favorite ingredients: coconut milk and rice, in a main course. Typically you find coconut milk and rice cooked together as a dessert such as inkhao neeo dahm (black sticky rice) or sticky rice with mango.
---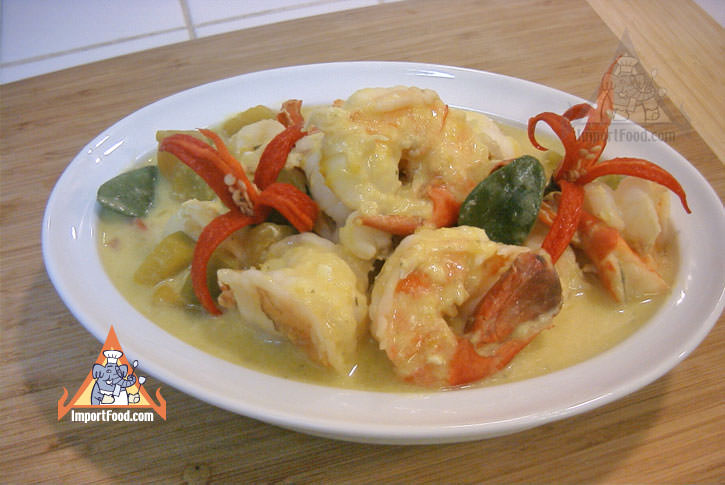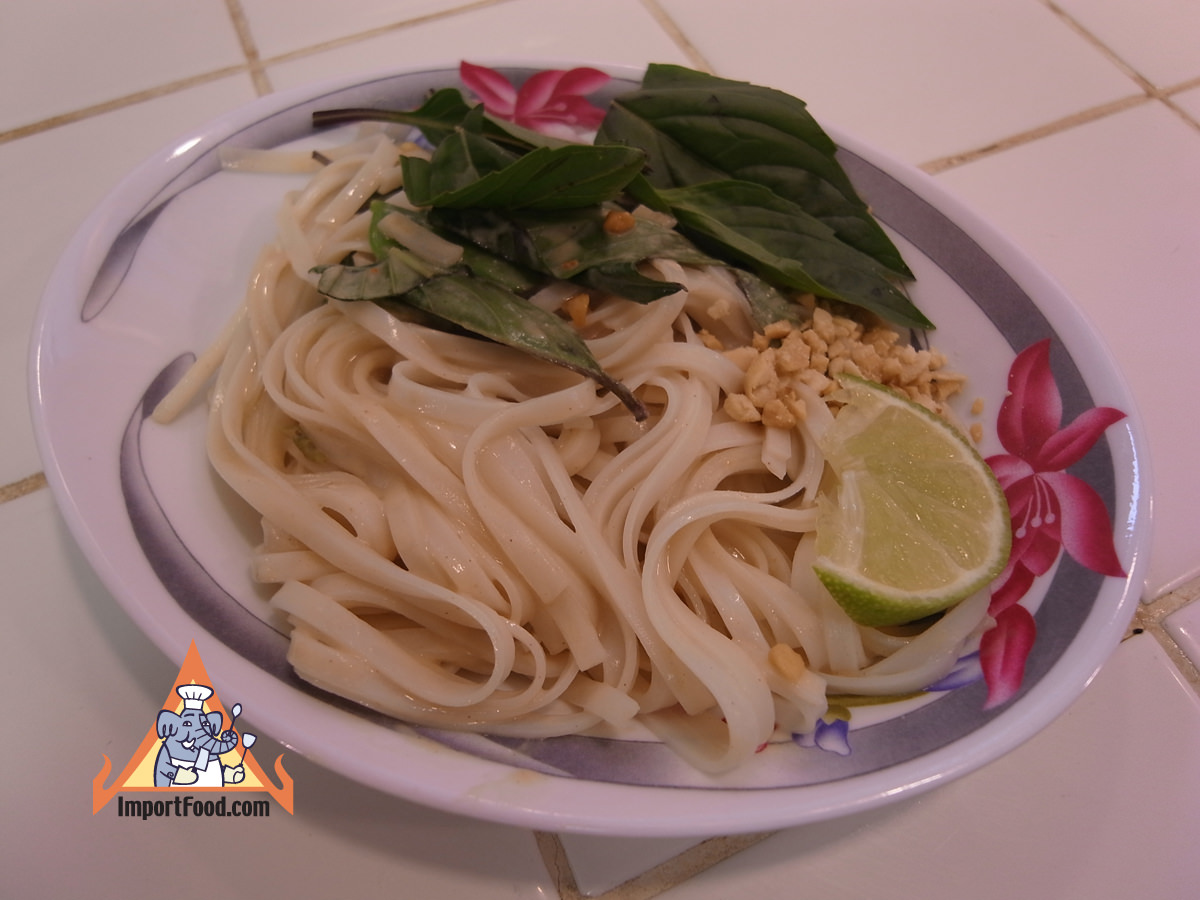 Thai-Style Noodles with Peanut Basil Sauce
This recipe prepares two generous servings, feel free to make a larger batch. We used a large skillet, as shown, it doesn't need to be prepared in a wok. We used a quick home-made vegetable broth (sliced veggies in water with a bit salt and pepper, simmered for an hour).
It's pleasantly just a tad spicy, we added hand-crushed whole dried Thai chiles. Feel free to add more or less to suit your taste.
It's a delicious vegetarian recipe that everyone should enjoy.
---