Instant Matsaman Mix
Add to cart
Discontinued

Hand Brand created a new line of very high quality mix packets that allow you to create delicious instant authentic Thai recipes. Most notably is the Kao Praram Longsong mix, our favorite.
We are pleased to introduce Instant Matsaman Curry Powder. On the back of the package are detailed instructions, and we have feature photos below.
See: Authentic Matsaman Recipe, from scratch
Also new from Hand Brand:
Instant Jungle Curry
Praram Long Song
Pineapple Fried Rice
Start by adding 1/2 cup water to the included package of coconut milk powder. Add two tablespoons vegetable oil and simmer. Add the matsaman curry powder and 1 teaspoon crushed roasted peanuts. Add more water, boiled potato, onion (we loved it with pearl onions, see below), 1 tablespoon whole roasted peanut, simmer until thickens and serve. Delicious!
Ingredients: sugar, coconut milk powder, chilli, soy sauce powder, fish sauce powder, coriander seeds, cardamom, garlic, shallot, cumin, bay leaves. Product of Thailand.
---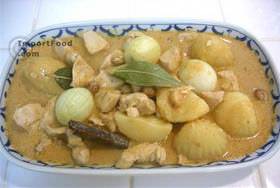 Thai Masaman Chicken, 'Gaeng Masaman Gai'
The 'massaman' indicates that the recipe is of a 'musselman' or islamic origin. It probably owes something to early Portuguese influences, and is similar in concept to the 'sour and hot' Goan style vindaloo dishes.
By Thai standards this is usually a fairly mild curry, so we find it's a good starting point.
This version is a guaranteed winner but takes a bit longer to make than our other Massaman recipe:
Classic Thai Massaman Beef
In a CNN story, Massaman curry was declared "World's Most Delicious Food"
Also see our Ready-Made Massaman Soup Can
---
---
We also offer the following premium quality Lobo brand mixes