Thai Restaurant Kit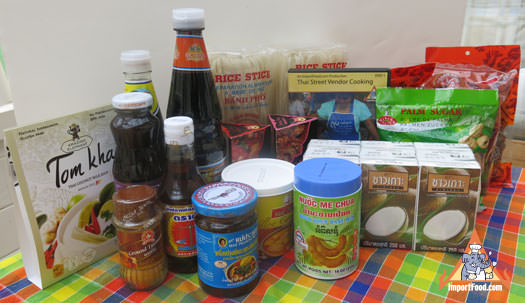 We've added new items to this kit and kept the price low -- a better value than ever.
The Thai Restaurant Kit saves money for those who want to make healthy, complete Thai curry and noodle dishes at home rather than pay at the local restaurant. Using this kit, per-recipe cost will be under $2, and made at home it will taste even better with our top quality ingredients. You'll be able to make about 30 total servings of the recipes below, and other Thai recipes. You'll have ingredients to spare as well.
Our Thai Restaurant Kit includes all of the ingredients below, together with your own meat and preferred fresh vegetables, this kit will allow the home chef to create over 30 servings of delicious Thai food, and have many ingredients left over.
---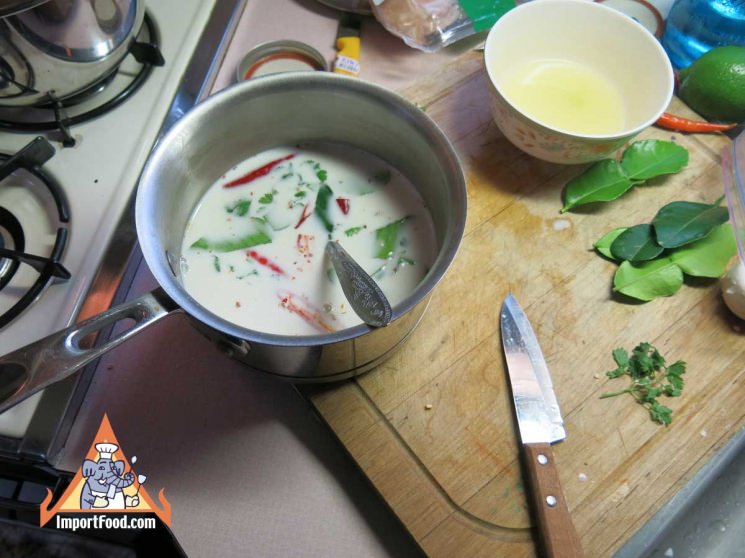 Thai Chicken Soup with Coconut Milk, 'Tom Kha Gai'
This is a mild but spicy chicken soup (it can also be made with shrimp, pork, beef or mushrooms), flavored with the unique flavor of galangal ('kha' in Thai) which creates a heavenly taste when combined with hot chile peppers, coconut milk, lime leaves and lemongrass.
We famously started manufacturing Amazing Elephant All-natural Tom Kha with authentic flavor so be sure to get a few pouches to compare with what you make at home.
---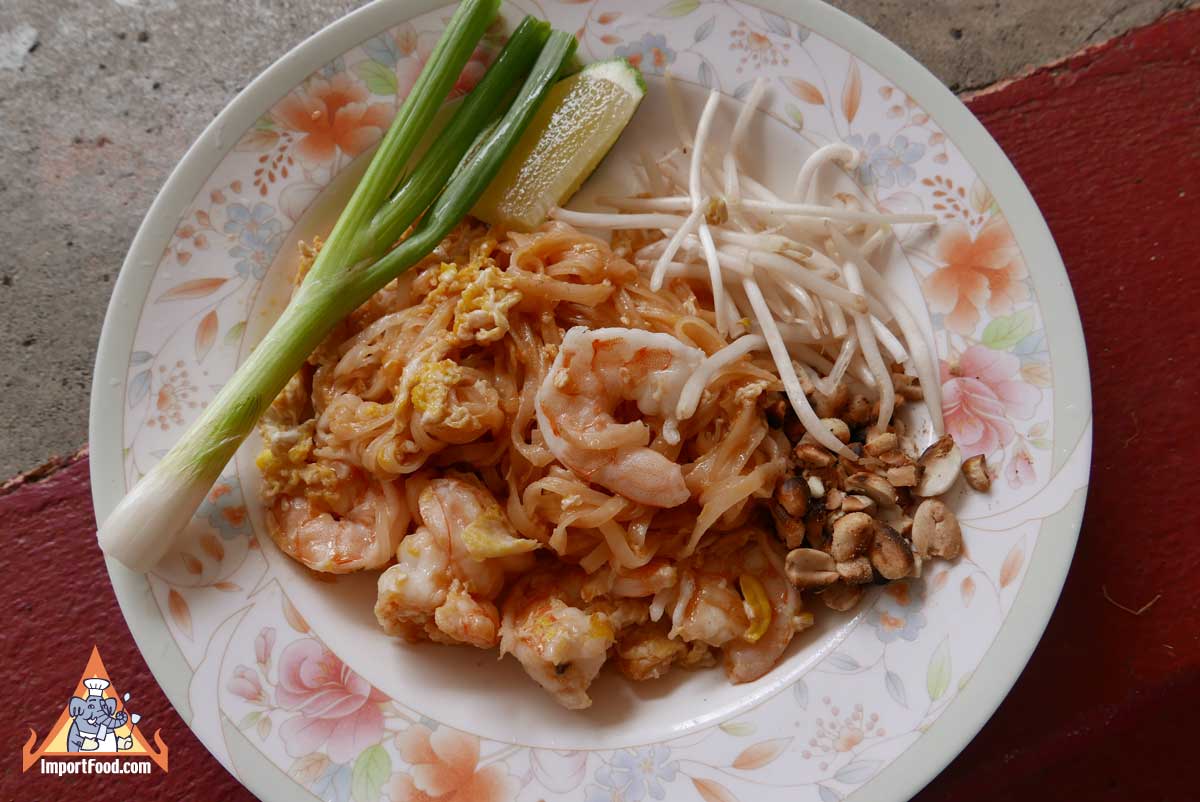 Pad Thai
Pad Thai is often called the signature dish of Thai cuisine. There are several regional variations, indeed it has been said that Thailand has not only a different curry for every day of the year, but also a different pad Thai for every cook in Thailand! This is our variation, and please see our street vendor photos & videos (below left) for others.
---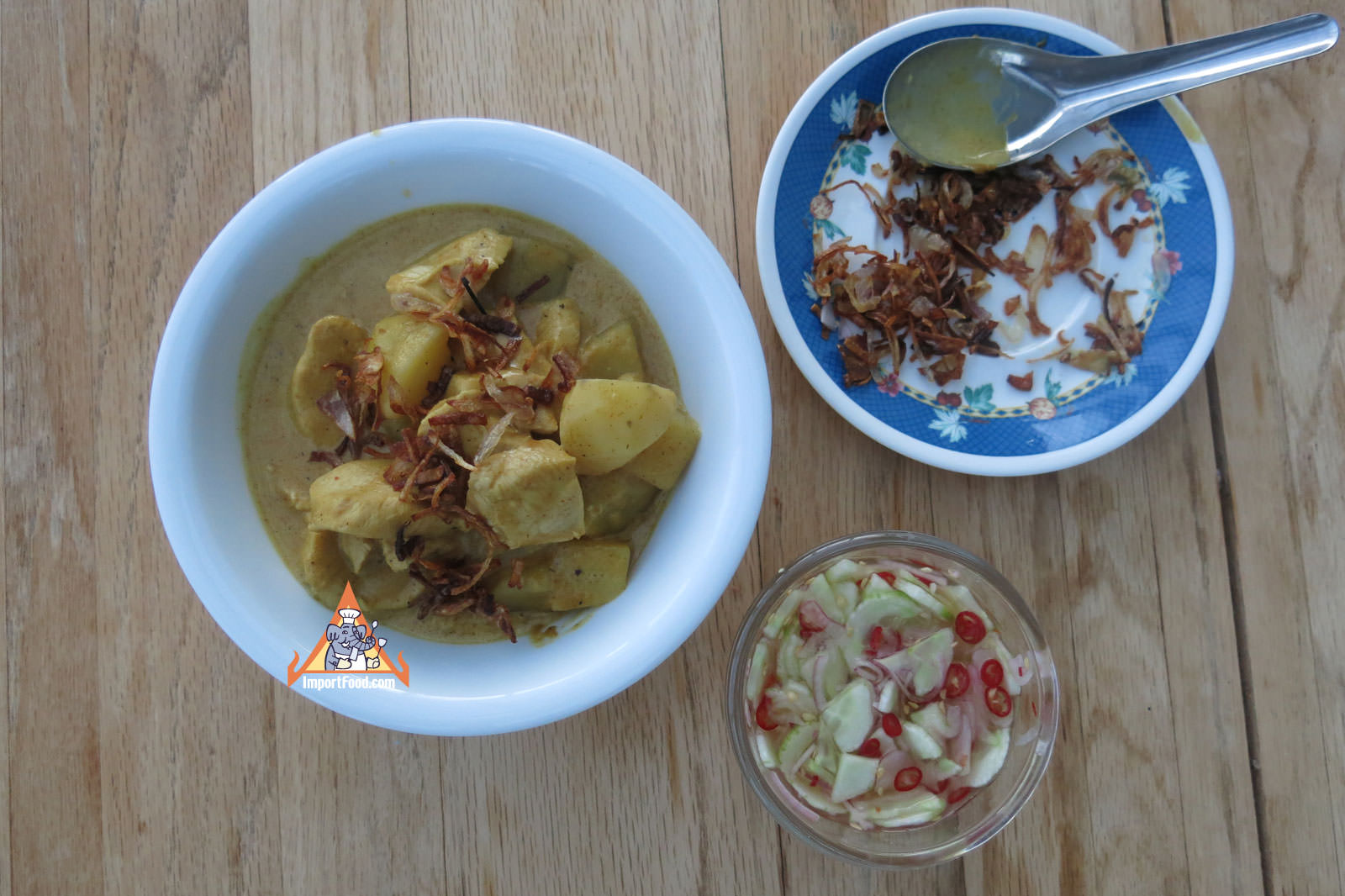 Thai Yellow Curry Chicken, 'Gaeng Karee Gai'
The flavor of yellow curry paste is not much different than red or green, however we've recently discovered how much we like yellow curry. Yellow curry makes vegetables taste great in our opinion, and we've been eating more vegetables and less meat these days. Here is a basic Thai yellow curry with chicken and potato. It's also good with bell pepper, butternut squash, or any seasonal vegetable of your choice. Serve a generous portion and watch it disappear.
---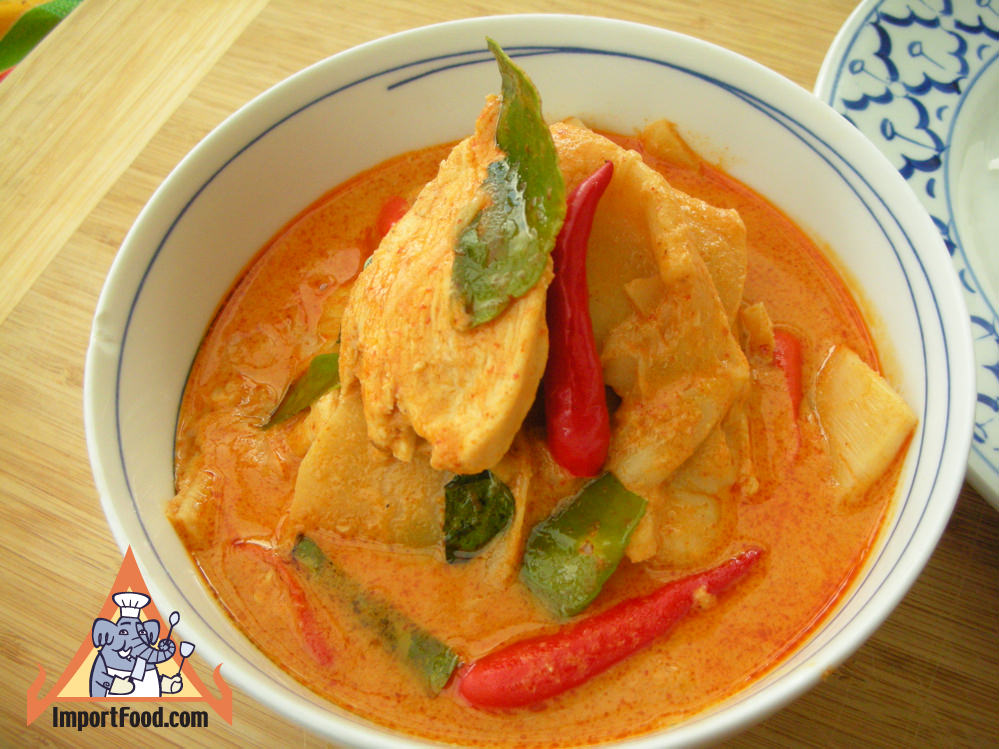 Red Curry Chicken with Bamboo Shoot
Here is an authentic Thai recipe using bamboo. If you want, slice your bamboo into little matchsticks, as is common in Thai restaurants in America. Usually in Thailand the dish will be made with the sliced bamboo sold by ImportFood.com, not cut into smaller matchsticks. For a similar recipe see: Kaeng Kua Sour Bamboo Shoot with Shrimp.
---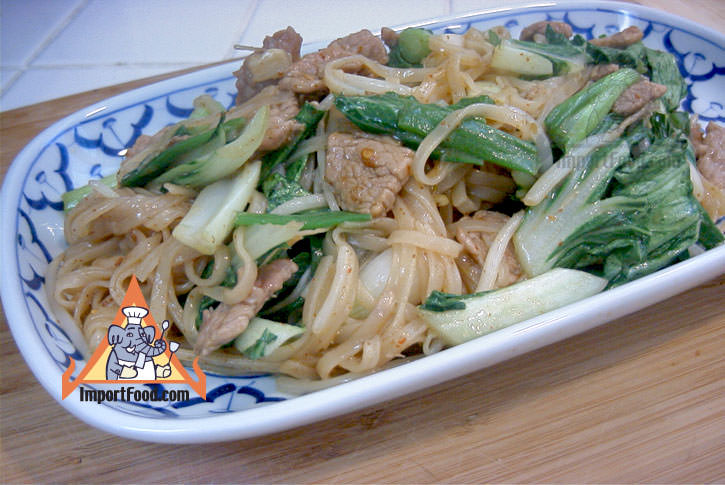 Korat-Style Stir-Fried Noodles, 'Pad Korat'
The result of this recipe is a hot, spicy, thoroughly addictive succulent noodle dish. It might seem like you're adding too much ground chile peppers, but it's meant to be hot, and the chile gives it the distinctive color. This version is both sweet and spicy. To add some depth, you can add a tablespoon of tamarind concentrate to the cup of water. Use any greens you have on hand, we liked the way our version turn out, with bean sprouts and bok choy.
---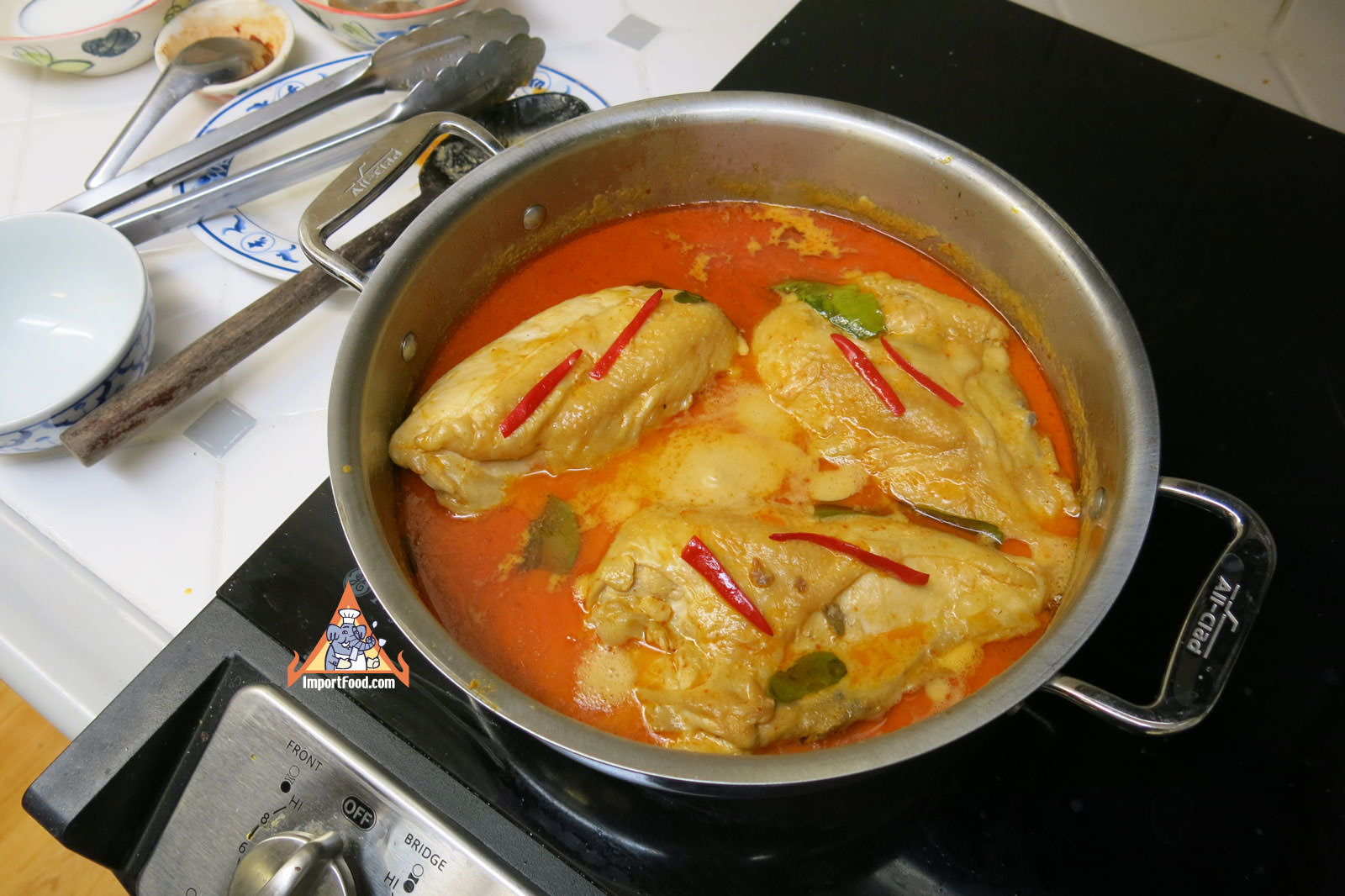 Panang Chicken Breast, 'Panang Oak Gai'
This panang creates a large amount of meat and soup, would be great for potluck. We recommend using large chicken breasts with the bone still on. Panang Oak Gai means 'Panang Breast (oak) of Chicken (gai)'.
---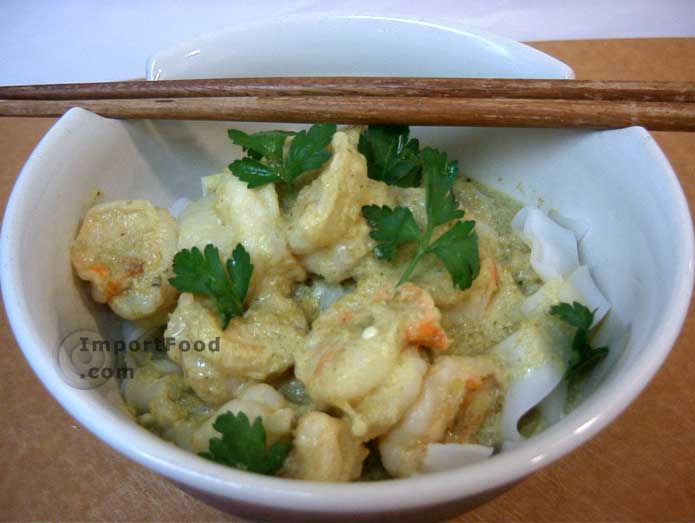 Thai Green Curry Shrimp with Noodles
This recipe is positively delicious, the final result has such a wonderful aroma, texture and flavor. See pictures below.
---
Chiang Mai Curry Noodles, 'Khao Soi'
This is a noodle dish, prepared in a rich creamy curry sauce, that is traditional in Northern Thailand. A popular lunchtime meal in northern Thailand. The flavor is not only distinctly "Thai" but it also goes very well with the American palate. We also offer a ready-made Kao Soi paste for quick preparation.
Try to use fresh egg noodles. We found flat, fresh egg noodles at our local Safeway supermarket in the refrigerated section. Khao Soi is typically a rich gravy poured over soft noodles, then topped with the same noodles but crispy.
---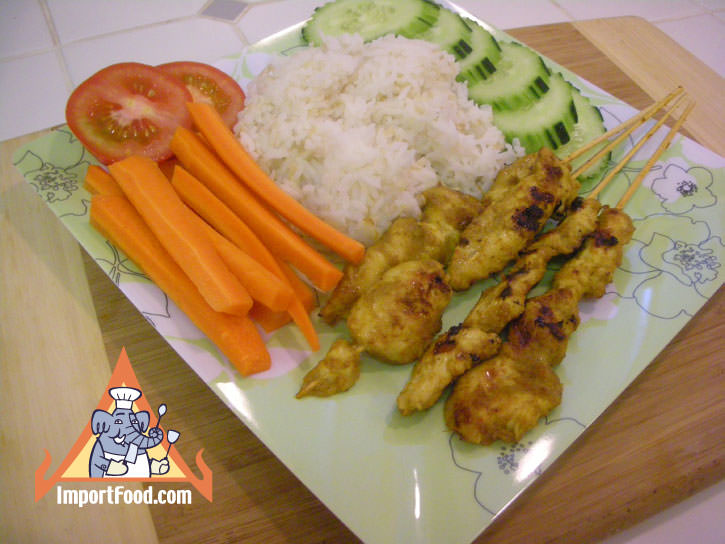 Southern Thai Barbecue Chicken, 'Gai Kor Rae'
This is a southern-style bbq chicken that's rich in spices, note the use of cumin and cinnamon which gives it a Thai/Malay style. The paste sticks well to the chicken and provides great flavor, so there is no need to serve this with a dipping sauce. It can be marinaded overnight or for just an hour or two.
---