Thai Hunglay Curry Paste - Mae Pranom
Thai Hunglay Curry Paste - Mae Pranom
Add to cart
Temporarily Out of Stock

Most people have heard of the famous northern Thai dish "Khao Soi", but what about Hunglay? One reason this is so unique is the number of ingredients used to make it.
Hunglay is a distinctive, rich beef stew and we prepared it to perfection using this Mae Pranom product. All natural ingredients.
The package of Hunglay Paste is 400 grams. For every 16 oz of beef, you want to use 100 grams of Hunglay Paste.
RECIPE:
Simply cut large chunks of beef, one pound, (thigh is recommended, or simply any rump roast) then marinade it in 1/4 package of this paste for 20 minutes.
Next, stir fry it in a saucepan with some shallot and a bit of garlic, until cooked. Add 4 cups of water and simmer over low heat for an hour or so (until the meat is tender and the stew thickens).
Season with 2 tbsp tamarind concentrate, 3 tbsp palm sugar, and 3 tbsp thin soy sauce, stir well and cook a bit longer then serve with steamed jasmine rice or sticky rice.
You'll love this home made hunglay. We sell a lot of this to restaurants. Served below in our 5" ceramic bowl with lid.
We also have for you an Authentic Hunglay Recipe
We've been offering hunglay powder for a few years but still, that requires a lot of work to complete the recipe.
This hunglay paste is made in Thailand of all natural, high quality ingredients. Mae Pranom spares no expense and is often more expensive than other brands. At $8.95 it may seem expensive but that works out to be about $2.50 per large pot of stew.
Ingredients: onion, garlic, dried chilli, ginger, coriander seed, cardamom, cumin seed, curry powder, shrimp paste (shrimp salt), soybean oil. No preservatives. No artificial colors. No msg.
Made in Thailand.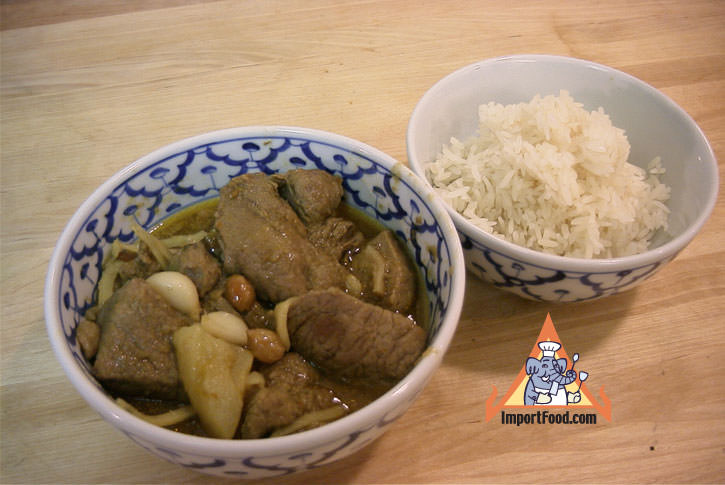 Northern Thai Pork Curry, 'Gaeng Hanglay'
In our continuing effort to present regional Thai recipes, here is an authentic version of Gaeng Hanglay, a northern Thai curry made with pork (or beef). Similar to massaman but without the coconut milk. The main ingredient is pork, and you can use a fatty belly pork or other cut of your choice. Other distinctive ingredients are ginger and pickled garlic.
Thanks to our distinctive Hunglay Paste from Thailand you can make a real masterpiece.
Some recipes call for Santol fruit (wild mangosteen) or pineapple cut into large cubes. We used fresh pineapple with good results. This dish originated from Burma, and in Burma this is usually served with Khai bananas (small bananas). You will usually find gaeng hanglay served in Khantok-style Thai dinners as one of the main dishes, together with sticky rice.
---
Chiang Mai Curry Noodles, 'Khao Soi'
This is a noodle dish, prepared in a rich creamy curry sauce, that is traditional in Northern Thailand. A popular lunchtime meal in northern Thailand. The flavor is not only distinctly "Thai" but it also goes very well with the American palate. We also offer a ready-made Kao Soi paste for quick preparation.
Try to use fresh egg noodles. We found flat, fresh egg noodles at our local Safeway supermarket in the refrigerated section. Khao Soi is typically a rich gravy poured over soft noodles, then topped with the same noodles but crispy.
---
Customer Testimonial and Recipe (from St Paul MN):
Hello,
Since visiting Northern Thailand, I've made Hunglay Curry using a packaged powder (which you also sell). But I recently ordered your Hunglay Curry Paste to try. I'm writing to send some photos, and to say in my opinion, the paste results in a far superior flavor that is simply outstanding!
I used a basic recipe - actually a compilation of 3 recipes - but because I like to include vegetables whenever I can, I added cauliflower, broccoli and green beans the last 5 minutes, cooking these just until tender at the very end. In my opinion the vegetables were a perfect addition, resulting a more balanced dish nutritionally, while not diminishing the overall rich and delicious flavor of this curry at all.
I also prefer not to have such a fatty dish, and so I used only pork loin and left out the pork belly that is normally called for. To make up for flavor, I added 4 tsp of ham soup base to the 4 cups of water, and this worked very well!
Attached are 2 photos, and my recipe in case you care to see or try it, or even post it.
I will now be ordering a jar of this curry paste for my son!
Best wishes, Kathy, Thai food lover from Minnesota
Chaing Mai Hunglay Curry Recipe
This makes a it a great make-ahead meal, as traditional recipes often recommended that it be made a day ahead, refrigerated, and reheated just before serving. The flavors develop overnight.
Mix the following very well and marinate for at least 15 minutes, or up to an hour:
1 pound or more pork loin, cut into 1/2" chunks
¼ cup + 1 Tablespoon Hunglay Curry Paste
¼ cup of liquid from pickled garlic, or the equivalent amount of rice vinegar
In a large pot or Dutch oven, stir fry the seasoned pork mixture until cooked, about 10-15 minutes.
Add:
4 cups of water
4 teaspoons ham soup base (optional, but adds flavor)
¼ cup well chopped onion
Stir well and bring to a boil. Simmer for 30 minutes
Add
¼ cup of whole pickled garlic or more (I used ½ cup)
¼ cup finely minced fresh ginger
¼ cup sugar
¼ cup soy sauce
4 tablespoons of tamarind concentrate
¼ cup finely diced fresh ginger
2 tablespoons fish sauce
Optional: 2 tablespoons chopped peanuts
Continue to cook another 30 minutes
Add
Vegetables cut into small pieces; however many as you like. I used about 3 -4 cups of a mix of sliced carrots, cut up green beans, and cauliflower.
Continue to simmer until vegetables are tender.
Serve in a bowl with rice and freshly chopped cilantro.
The taste will be sour and sweet with a little bit of salty.
---
We also offer the following Mae Pranom curry paste
Other Great Mae Pranom Products